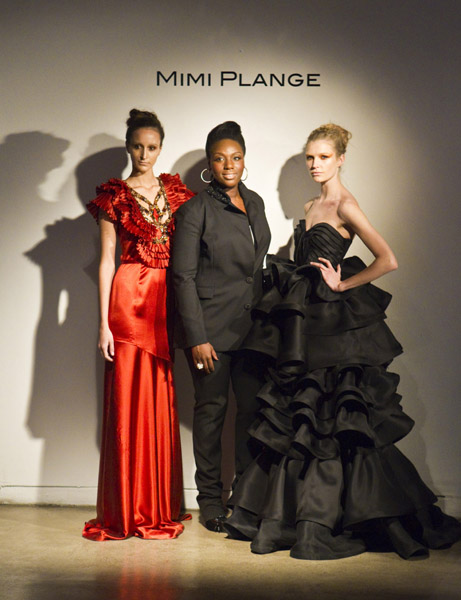 Mimi Plange (above) had no choice. When it came to selecting a New York City venue to showcase her Fall 2012 Collection it had to be luxe as her clothes. As editor after editor stepped inside the sprawling space -- a private residence in The Setai on Fifth Avenue -- her reasoning became clear. For a designer, a venue is the perfect punctuation for a collections' style statement.
Twelve blocks south, between Seventh and Eighth avenue, Idyl and Ayaan Mohallim -- the duo behind the brand Mataano -- echoed this philosophy. Their bright, airy, feminine frocks were perfectly at home at the Top of The Garden, an equally bright and airy penthouse. The twins (below) attracted an audience of chic, young fashionistas, entrepreneurs and editors who spent as much time looking at the clothes as they did tweeting about them.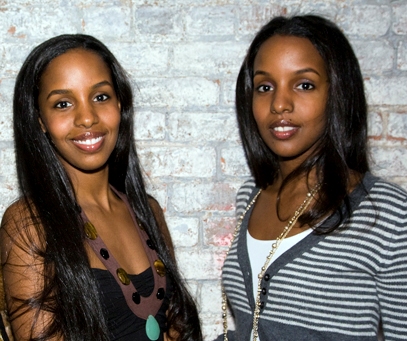 Fifty blocks south, and five hours later the evening preview for Tsemaye Binitie began. The London-based talent took Fashion Week by storm when he showed as part of the ARISE Fashion Collective at Lincoln Center last season. This time Binitie opted for a more intimate venue, a dimly lit private club which felt more suited for a party than a preview. But as model after model twirled in his decadent frocks fit for red-carpet regulars, you realized his pieces were oddly at home.
But it's more than a knack for the perfect venue that unites this trio of young designers. Descending from Ghana (Plange), Somalia (Mohallim) and Nigeria (Binitie) respectively, these three are bound by something else: They represent a generation of African designers mapping their path in America.
And they are not alone. In fact, these last few days have seen the number of boot-strapping African designers showing during NYFW grow from a trickle to a flood. The surge has roots in last season's awe-inspiring 'Arise Africa Fashion Collective' which showed at Avery Fisher Hall to over 1,000 celebs, editors, bloggers and buyers. The watershed moment exposed NYFW to a whole population of African designers who are primed and prepared for the West. Some of them are part of the wave of nearly a dozen African designers who showed independently this season joining labels like Korto Momolu (Liberia), Telfar (Liberia), House of Versatile Styles (Nigeria), and David Tlale (South Africa) amongst others.
From the exuberant sexiness of HVS to the sumptuous elegance of David Tlale to the architectural austerity of Telfar, their labels show an African aesthetic that goes beyond 'Tribal Prints.' Yet, that we are even exposed to their aesthetic at all speaks of their greatest triumph: an ability to break into the West despite scarce resources, scant mentorship and few mainstream fashion contacts. In fact with the exception of Plange, who counts Duro Olowu and Andre Leon Talley as mentors, almost none of the designers above can boast of similar connections. In addition, they seem far from being on the radar of career-changing program's like the CFDA Fund, Ecco Domani Fashion Fund or W Hotels' recently launched Fashion Next.
To solve this, these enterprising African designers are leveraging alternate methods like Twitter and Facebook to gain support and exposure.
"If it wasn't for social media," says Ayaan Mohallim of Mataano, "we wouldn't have a level playing field."
"It's part of our strategy to not sit around and wait for people to approach us," continues her sister Idyll. " We have been very proactive and from our website to finding amazing sponsors like IMAN Cosmetics; we've done it all on our own."
Tsemaye Binitie counts support from a global network he's persistently cultivated via emails and annual visits to America as key to his success. "We've had a lot of great support as a result," he shares. "We've been featured in several publications and have had several stockists visit us."
But for Plange, the ultimate tool for gaining exposure in the States is something they all have in common: talent.
"I think it's fascinating because it feels like we all came in at the same time," says Plange. 'The exposure it creates is good for all of us because the more people are noticed, the more we can all be seen. It gives us all a platform.'
It also gives them all one final trait in common. As these African designers launch their previews from the Upper West Side to Midtown East to Tribeca, they each echo a distinctive American theme -- they are learning to Manifest their Destiny.
Read more about these designers and more on Africa Style Daily.
Photos courtesy of the designers