Truth be told, I can't say that I blame her. The supermodel, who has been flaunting her love affair with (married? not married?) Russian billionaire Vladislav Doronin, is clearly in love. In addition to globe trotting from Dronin's homes in Brazil and Ibiza, it appears her Moscow man also has a home in Russia. That's where legendary fashion designer Karl Lagerfeld caught up with Campbell for this mini photoshoot.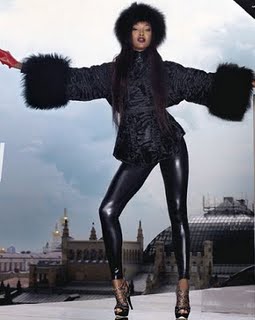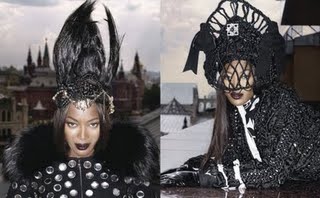 The leggy beauty dons a variety of lux brand from Chanel, which Lagerfeld designs, to Yves Saint Laurent and Marc Jacobs. The singular theme was obviously Russian chic, hence oversized furs and accessories . The shoot appears V Magazine. She's beautiful, wealthy, in love (with someone even wealthier) and wearing the latest couture ...
Must be nice....
Read more from Zandile on her daily fashion blog, The Blay Report.