It all comes down to one moment: when the light's dim, the models exit, and the designer takes a bow. For a journalist, this is when the real show starts. You must rapidly process what was seen then quickly craft copy that provides commentary and context. This Fashion Week ritual is easy enough when focused on bold-faced designers, but when it comes to unknowns the course gets complex. Reviewing rookies is akin to meeting a third cousin you've never seen. Even if you are uninterested in getting to know them, you feel obligated.
I grappled with this on Wednesday when I watched back to back presentations by two young designers. As I made my way through rows of metal folding chairs, I felt overwhelmed by the atmosphere they'd elected to present in. A rotation of party hits boomed from speakers as guests mingled with cocktails in hand. As showtime approached a mix of bold-faced personalities (editor, Michaela Angela Davis and Celebrity Stylist Ty Hunter) and C-list reality stars were guided to the front row, while guests in short skirts and high heels filled the rest. In truth, it wasn't a far cry from shows by certain established labels like Baby Phat, which offered style and spectacle in its heyday. But the presence of more fashion fans than fashion professionals bestowed the event with an air of a sophisticated high school production versus an official NYFW event.
Yet deride it as I might, what really mattered here was the clothing, so as the lights dimmed and the music rose, I waited to be wowed.
And waited...
And waited some more...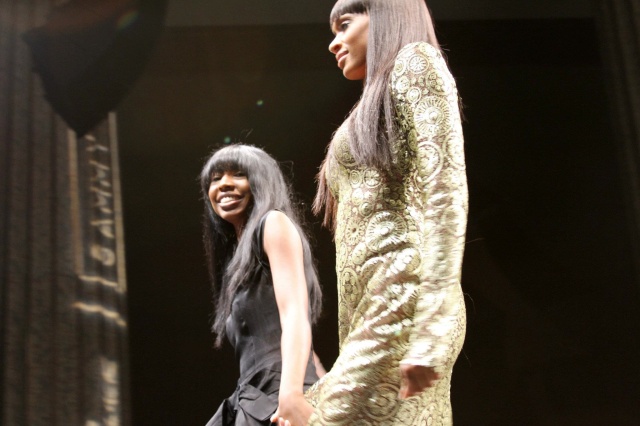 The black on black ensembles and messy layers sent down by the first label, House of Eleven was so underwhelming, I assumed the wow-factor would never come. Then the second label, Sammy B, debuted. The brand designed by Samantha Black (above with model Camille Belle), showed growth in it's sophomore year of existence. It was clear Black had evolved from her earlier amateur creations to mature pieces that told a story. But solid designs, like sheer gowns with asymmetrical hemlines and mixed material mini's suffered at the hand of overwrought styling and an odd run of show. Raw talent mixed with rough presentation was a recipe for the mixed feelings I nursed as the show wound down.
To love a collection for it's potential, or to loathe it for missing the mark? That was the question. Yet, I had only to surrender to the moment to grasp the answer. As I sat there perplexed by the show, the entire room erupted in unbridled applause. This rookie's show may not have delivered the polish of a Michael Kors or the production of a Diane Von Furstenberg, but for all its lows it had achieved the ultimate high: connecting with an audience. As the lights dimmed, the models exited and Black took her final bow, the real show once again began for me -- but this time reviewing a young designer was easier than ever before.
(Photo by Juliette Romeo)