To the untrained eye, the three women chatting in the corner of the restaurant could have been a girl group. While their make-up was understated and their clothing sophisticated, their obvious joy and friendship simply screamed 'Girl Power.' One quick chat with them and you discovered why: these distinct personalities share a lifelong friendship.
Julie Siden, the quiet, beautiful brunette could be dubbed 'Shy Spice.' She'd transitioned from a successful career designing women's clothing for private labels to focus on her two children and husband of eight years. To her right was Bernadette Odoms, a straight shooter with a stunning smile. She knew fashion as well as she knew numbers and combined them both in her current position as Marketing Communications Manager for Omega Watches. Her, we'd call 'Sophisticated Spice.' Facing them both was Jenn Zinn, a cute blond with a personality as bold as her style. After years as Public Relations Executive, she decided to focus on consulting for brands. She was clearly 'Sassy Spice.'
But instead of entertaining audiences, these 30-somethings have decided to dress them. Through their recently launched online vintage and consignment store, The Style Armory, Siden, Odoms and Zinn provide fashionistas with premium vintage luxury pieces like Akris, Bally, Margiela and Prada.
"We wanted to create something special, something more than just another vintage store" starts Siden "And we wanted it to be something we could share with our friends and people who love fashion," finishes Zinn.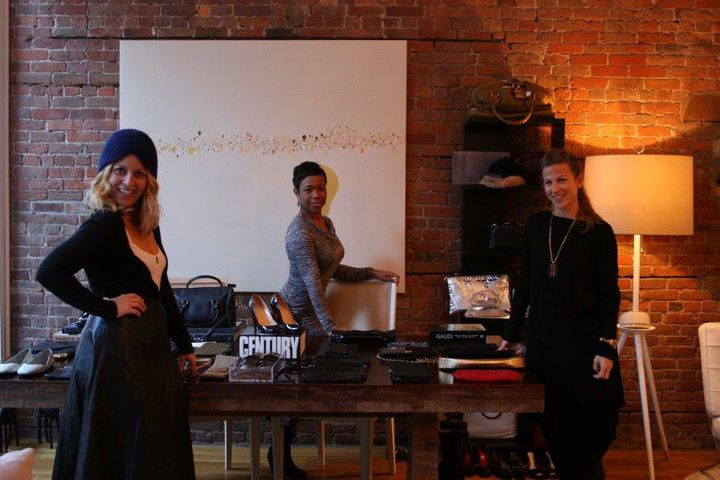 They've found just that with The Style Armory. Since debuting in July of last year, it's attracted a cult following of fashionistas who want luxe vintage finds without trolling bins, scouring stores or bouncing between estate sales. Customers who log on will find stylishly photographed handbags, jumpsuits, and furs paired with quirky captions, while others can attend The Style Armory's private trunk shows the trio hold throughout Manhattan. Through these offline events, dialogue with clients and robust social media outreach, they are connecting with customers on more than just clothes. Their clients are busy women like them. Some are juggling motherhood, marriage and career like Odoms, others have a strong understanding of fashion like Siden, and many are too busy with entrepreneurship, like Zinn, to carve out hours for shopping.
This connection strengthens the friendly feel of the site which punctuates pictures of Margiela shoes, Dior gowns and coin purses with captions as lively as the ladies themselves. In fact, a detail on a jumpsuit is called out in the captions with this line -- "YOU HEARD ME SIDE POCKETS WHAT WHAT" -- while a YSL bag is highlighted with this: "the gold feet detail on the bottom lets 'em know you mean business and by business we mean badass." As you browse the site, it's clear these women are having fun. Their chemistry is the direct result of decades long friendship. The trio met around the age of five at the Jersey Shore where they grew up with a tight group of friends. It's been a key foundation for a business that's as demanding as their already busy lives.
"Every single piece of the puzzle is put together by us," says Siden. Zinn continues, "From curating and taken photographs to creative direction, to buying the pieces, it's all us."
They are hoping this hard work and dedication will allow them to hit their main goal -- distinguishing themselves within the growing number of online vintage retailers.
"We are not new to the fashion business," says Odoms. "There are some competitors we aspire to, but some we blow out of the water." She stops and smiles knowingly before adding, "We're not gonna name drop the reality TV show that has some great pieces or that website with huge inventory," she smiles. "But we are there in middle of the spectrum."
Maintaining -- and advancing -- that position won't be easy. Currently the online vintage retail category is crowded with countless sellers, and new ones emerge daily. Yet, as the night wears on, the wine keeps flowing and their laughter rises, one thing is clear: This trio offers something their competitors can't: a genuine friendship that their customers can revel in too.