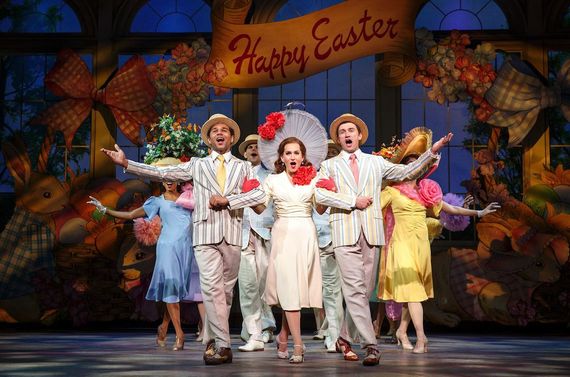 (l. to r.) Corbin Bleu, Lora Lee Gayer and Bryce Pinkham in Roundabout Theatre's production of 'Holiday Inn, The New Irving Berlin Musical;' Photo: Joan Marcus
By Chris Caggiano, ZEALnyc Contributing Writer, October 31, 2016
Right at the start, I must confess a personal aversion to "songbook" musicals like An American in Paris and Irving Berlin's White Christmas. They can certainly have their charms, but as a musical-theater historian, I'm reminded when I see these shows that the reason it's possible to repurpose songs from the musicals of George Gershwin, Cole Porter, and Irving Berlin is that the songs often weren't fully integrated into the plot of the original shows.
That said, I also must confess to involuntary waves of warm nostalgia as I sat watching the new Broadway musical Holiday Inn, The New Irving Berlin Musical, particularly as I heard the opening chords to such Irving Berlin classics as "Blue Skies," "White Christmas," and "Shakin' the Blues Away." (I mean, I ain't made of wood.) With Holiday Inn, co-librettists Gordon Greenberg and Chad Hodge have come as close as anyone before them to creating what feels like an organically crafted musical from a set of inorganic parts.
In fact, the show is a considerable improvement over the moth-eaten 1942 movie Holiday Inn, upon which the stage show is based. Sure, the authors have thankfully gotten rid of the horrifying blackface number "Abraham," performed so...memorably?...by Bing Crosby in the movie. (As a sort of retroactive recompense, the chorus in Holiday Inn features a high-than-usual number of people of color.)
But the authors have thankfully gone beyond such cultural reparations and crafted an eminently enjoyable time capsule from a time that never really was. This Holiday Inn is an admittedly slight but charming diversion that's old-fashioned in feel, but full of modern storytelling and staging knowhow.
The story of Holiday Inn centers around a song-and-dance nightclub trio: singer Jim Hardy (Bryce Pinkham), hoofer Ted Hanover (Corbin Bleu) and brassy chanteuse Lila Dixon (Megan Sikora). Jim wants to retire to Connecticut to become a farmer and wants his fiancée Lila to come with him, but Lila wants to stay on the road with Ted. A similar dynamic plays out when Jim meets and falls for teacher/songstress Linda Mason, the former resident of the farm he's just purchased in foreclosure. Jim and Lila decide to open the farmhouse up as a entertainment resort that's only open on holidays, ergo the title. But when Ted sees Linda perform, he decides that he wants to bring her to Hollywood as his new dance partner. Jim, of course, is none too pleased.
The interesting thing about Holiday Inn is that the interpolated songs fit into the narrative about as well as those that were were actually written for the 1942 movie. Which is to say, incompletely. In an age when Rodgers and Hammerstein were raising the standard for integration in musical theater, Irving Berlin actually prided himself in writing shows with stand-alone hit tunes rather than what Berlin disdainfully referred to as "story shows."
As such, the Holiday Inn score features not just songs from Berlin revues (e.g. "Easter Parade" and "Heat Wave" from As Thousands Cheer) but also songs from Berlin book shows ("It's a Lovely Day" from Call Me Madam, "An Old-Fashioned Walk" from Miss Liberty). As a result, we get some songs that sort of fit the story ("An Old-Fashioned Walk") and others whose relevance seems at best questionable ("Marching Along With Time").
But considering that Greenberg and Hodge were hampered by the necessity of working with somewhat generic songs, Holiday Inn is nonetheless a remarkably efficient and enjoyable show. In fact, the classic Hollywood musical machine could have used people like Greenberg and Hodge to make those creaky old plots more watertight and the dialogue more natural. Act one in particular features strong, effective transitions between disparate locations, and the central conflict with Ted stealing Jim's romantic partners is considerably more credible than in the 1942 movie.
As strong as Greenberg and Hodge's work is on the show, perhaps the most impressive achievement comes from choreographer Denis Jones, who whips up two crowd-pleasing, keister-kicking showstoppers for the show: the rousing "Shaking the Blues Away" and percussive "Let's Say It With Firecrackers." Jones's choreography is remarkably clever and yet grounded in 1940s idioms. He gives even the great Randy Skinner a run for his money in terms of creating airborne tap sequences and fully dressing the stage.
Jones's "Shakin' the Blues Away" is simply thrilling, and stopped the show cold both times I saw it. Jim's dancer friends have come to the farm to cheer him up at Christmastime, and as they decorate the tree, they begin using the wreaths and garlands as props in an ever-building whirl of tap and exuberance. It's a perfectly planned and paced number: just enough stage business, not too ornate, with a terrific sense of build, and coming in at just the right length. It's honestly a textbook example of how to build a showstopper.
The cast of Holiday Inn features a raft of old reliables as well as some welcome new faces. The most pleasant surprise is Corbin Bleu of the High School Musical franchise. Bleu has served as a cast replacement in a number of recent shows, including In the Heights and Godspell, but I hadn't personally seen him in those shows, nor in any of the HSM movies.
And what a revelation he is, an astonishingly deft and ebullient tapper, and a shining and personable stage presence. I was reminded of Laura Osnes, who came to Broadway via a similarly inauspicious route (reality TV versus Disney made-for-TV films), but who has nonetheless made herself invaluable on the Broadway scene. Perhaps a similar future awaits Corbin Bleu in the New York theater community.
The show's two leading ladies -- Lora Lee Gayer as Linda Mason, Megan Sikora as Lila Dixon -- are simply ideal. It seems as though they've stepped onto the Studio 54 stage right out of a Hollywood musical from the 1940s. There's so much authenticity to the way they both look and carry themselves throughout the show. Gayer was both memorable and intensely appealing in the recent Follies revival as Young Sally. Sikora was likewise indelible as Bambi (née Elaine) in Curtains.
Then there's Bryce Pinkham, a remarkably capable performer, and the highlight of many a recent Broadway production, including A Gentleman's Guide to Love and Murder, The Heidi Chronicles, and Ghost. But whereas in those shows his wild, bloodshot eyes and slightly crazed look were considerable assets, here they're a bit of a distraction. Pinkham has a near-flawless voice and always credible acting, but there's always something decidedly off about his stage persona, as if at any point he could have a psychotic break. Perhaps it's just based on his stage roles, but here I found him professional but miscast as the conventional romantic lead.
Holiday Inn runs through January 15th, 2017 at the Roundabout Theatre's Studio 54. It's probably for the best that the show came to Broadway under the wing of a well-heeled nonprofit, and for a limited run during the holiday season. That's just the sort of cosseted berth for this lovely little throwback to make a modest profit, and then proceed to the theatrical aftermarket, where it will likely make a mint.
__________________________
Holiday Inn at the Roundabout Theatre's Studio 54. Written by Gordon Greenberg and Chad Hodge; music and lyrics by Irving Berlin. Directed by Gordon Greenberg; choreography by Denis Jones; set design by Anna Louizos; costume design by Alejo Vietti; lighting by Jeff Croiter; sound by Keith Caggiano; music direction by Andy Einhorn; orchestrations by Larry Blank. Cast: Bryce Pinkham (Jim Hardy), Lora Lee Gayer (Linda Mason), Corbin Bleu (Ted Hanover), Megan Lawrence (Louise), Megan Sikora (Lila Dixon), Lee Wilkof (Danny). Also featuring Morgan Gao, Malik Akil, Will Burton, Barry Busby, Darien Crago, Caley Crawford, Jenifer Foote, Matt Meigs, Shina Ann Morris, Catherine Ricafort, Drew Redington, Amanda Rose, Jonalyn Saxer, Parker Slaybaugh, Samantha Sturm, Amy Van Norstrand, Travis Ward-Osborne, Paige Williams, Victor Wisehart, Kevin Worley, and Borris York.
Christopher Caggiano writes for ZEALnyc about theater performance and related topics.

Read more from ZEALnyc:
'Plenty' promises, doesn't deliver
'Puffs' Leaves Muggles Laughing In Their Seats
Things to do on and around Halloween
For all the news on New York City arts and culture, visit ZEALnyc Front Page.