By Mercedes Vizcaino, ZEALnyc Contributing Writer, December 29, 2016
As the holiday season winds down, you're left with the proverbial question: 'What am I doing for New Year's?' Many people find themselves reflecting on the past year's events and decide to stay in, some want to party like it's 1999 and visit opulent clubs, while others may be looking to explore new adventures that would provide them with an epic, end-of-year glorious time. We have pulled together a list of happenings and events that will be occurring all over the city, which we're hoping will motivate you to celebrate - all at your own pace (and budget). You may enjoy a midnight race through Central Park, join jubilant themed cruises and rooftop parties with breathtaking views, attend concerts at St. John the Divine and Lincoln Center, or even find yourself jiving at a jazz club in lower Manhattan. There is sure to be something here that will satisfy every New Year's Eve dream you've ever had--so start planning NOW!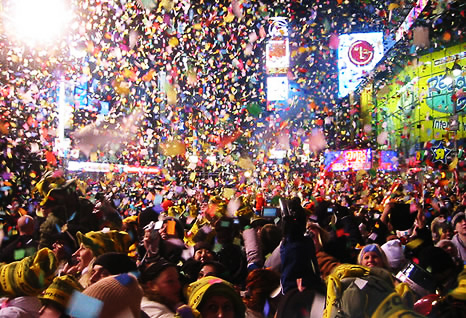 The quintessential New Year's Eve celebration is back at Times Square as millions of revelers will come out to see the famous Ball Drop. Musical headliners Gavin DeGraw and Rachel Platten will be performing their hit songs "I Don't Want To Be" and "Fight Song" for the live Commercial-Free Webcast and TV Pool Feed. Joining the singers for this stellar evening is platinum-selling producer, rapper and songwriter, Silentó and the inaugural New Year, New Voices selection Jojo Abot. The webcast and livestream will begin with the Ball Raising at 6pm EST; live musical performances, behind-the-scenes stories, and star-studded interviews as anticipation builds towards the midnight countdown of the famous Ball Drop. For more information, click here.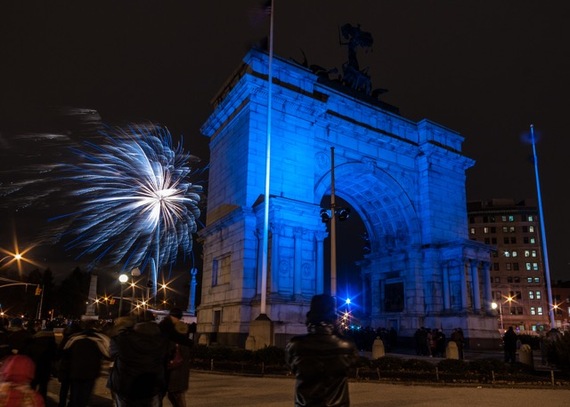 Prospect Park; photo: Andrew Gardner
Brooklyn Borough President Eric L. Adams and the Prospect Park Alliance have teamed up to celebrate Prospect Park's 150th Anniversary at Grand Army Plaza. Starting at 11pm, live entertainment will fill Grand Army Plaza in Prospect Park and attendees will witness the grand fireworks display with views from the north end of the Park's East and West Drives. Now in its 37th year, the event is free to the public. For more information, click here.
Join Fashion Avenue News Magazine for their 6th annual one-of-a-kind New Year's event featuring two fashion shows, a live DJ and renowned independent fashion designers, models and artists. Here's your chance to dress up in your finest duds and party with industry insiders. Special guest, model, Avadora Mimouni will be in attendance. Event organizer and Editor-in-Chief of Fashion Avenue News Magazine, Sofia Davis, says: "We are the friendliest people in the fashion industry and it's a way for us to give back to those that cannot afford the big-ticket prices for New Year's Eve events." For more information and tickets, click here.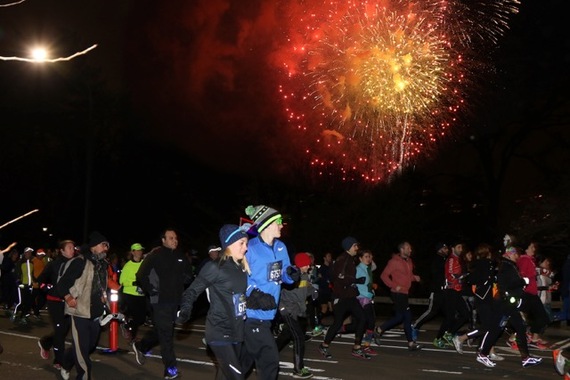 Photo courtesy of NYRR
Get your fitness resolution off to a great start with New York Road Runner's 38th Midnight Run event in Central Park. At the stroke of midnight on December 31st, fireworks and running devotees of all ages will set off the New Year with a bang! This is the first year the NYRR Midnight Run will be a scored race and award credit towards the 2017 TCS New York City Marathon. Runners and guests will partake in pre- and post-race dancing, snacks, and live music. Participants in the race will vie for a prize purse of $2,000. For more information and to register or volunteer, click here.
If celebrating the New Year by listening to your favorite psychedelic-rock band amongst 20,000 strangers is your cup of tea, then look no further. Phish will be performing their bluegrass, rock and folk music-influenced hits for their fans to enjoy on New Year's Eve at Madison Square Garden. For tickets and concert info, click here.
Tony-award winning and Metropolitan Opera baritone Paulo Szot and multiple Grammy-award winner mezzo-soprano Joyce DiDonato will join the New York Philharmonic orchestra with their rendition of classic Broadway musicals. Songs on the program include, "The Rain in Spain" from Lerner & Loew's My Fair Lady, "Climb Ev'ry Mountain" from Rodger's and Hammerstein's The Sound of Music. The orchestra will perform Four Dance Episodes from Copland's Rodeo, J. Strauss II's On the Beautiful Blue Danube, Rodger's Carousel Waltz, and Loew's Embassy Waltz. For more information and tickets, click here.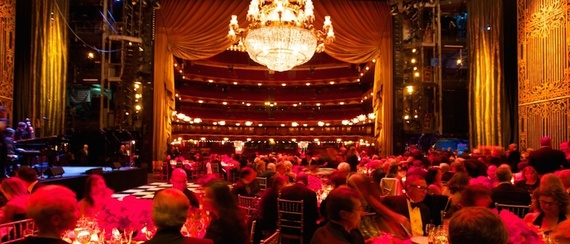 Come see the premiere of Bartlett Sher's production of Gounod's Roméo et Juliette at the Metropolitan Opera. Diana Damrau and Vittorio Grigolo sing the title roles; Gianandrea Noseda conducts. The performance is followed by dinner, dancing and fireworks on the Mercedes T. Bass Grand Tier. Tickets start at $1,000. For more information for Gala tickets click here; for tickets to attend the performance only click here.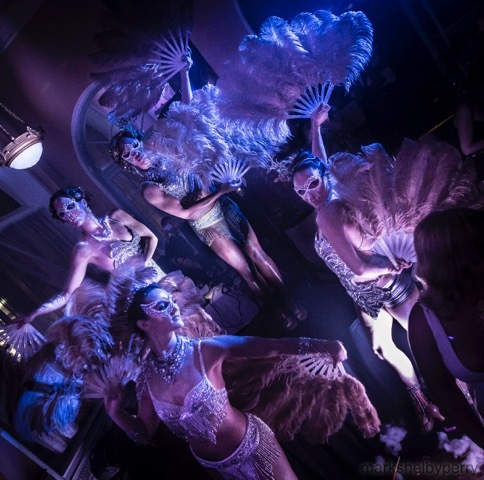 Parisian Follies; photo Mark Shelby Perry
Dances of Vice: Parisian Follies New Year's Eve Grande Spectacle
This extravagant review offers a blend of Parisian delights, from opera to vaudeville and can-can girls, all within the palatial walls of Brooklyn's famed the Grand Prospect Hall. As the clock strikes midnight, patrons will witness playful Rococo and Belle Époque entertainment with a dash of decadence from postwar Paris in tribute to the splendid history of infamous cabaret halls, including Folie Bergére, Moulin Rouge and Casino de Paris. Dress your best, eat French cuisine and brace yourself for a night of unbridled fun! Tickets start at $75. For more information, click here.
Does facing the New York Skyline in every direction you're standing appeal to you? If you answered yes, then that's one of the benefits of ringing in the New Year at the Standard Hotel for their black-tie affair. Spend December 31st at The Top of the Standard with Gladys Knight and count down the New Year with The Empress of Soul as she performs a special set for the evening. If you prefer to have your favorite house and disco songs spun on the ones and twos, then check out internationally acclaimed DJ, Danny Krivit at The Standard Hotel's Le Bain club. For more information and tickets, click here.
The McKittrick Hotel, home of the immersive theatre show Sleep No More, is a bohemian-inspired soirée complete with live pop-up theatrical performances, scenic installations and open bar all night long. On New Year's Eve, guests are required to arrive in costumes inspired by iconic films - all gold, black, white, or red for the McKittrick Masquerade. Tickets start at $225. For more information and tickets, click here.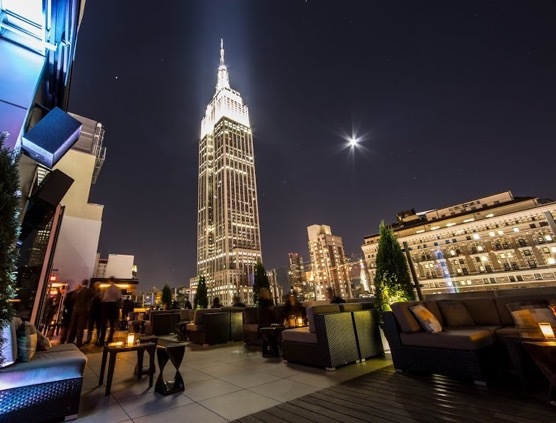 Perched 18 floors above Midtown Manhattan, this expansive 5,000 square foot of outdoor and indoor space with incredible views of the adjacent Empire State Building and city skyline will leave you in awe. There will be a DJ to spin tunes from 9pm - 4am, doors open at 8pm. For more information and tickets, click here.
New Year's Eve Cruises
If sailing around the New York harbor for New Year's sounds thrilling, then check out Cruise New Year's Eve sensational "New Year's Eve Fireworks Dance Cruise" Tickets start at $150. Boarding begins at 9:30pm and docks from the SkyPort Marina. For more information, click here.
If you're feeling nostalgic and want to relive the Roaring Twenties, then the Great Gatsby Cruise will fulfill your fantasies with open bar and Twenties-themed attire, setting sail from Pier 36. For more information and tickets, click here.
Nightclub / Cabaret
Watch Sandra Bernhard ring in the New (with shows all week leading up to the big night) at Joe's Pub in her new "Feel the Bernhard" show. The unapologetic comedienne is ready to take no prisoners and pulls no punches with her latest foray. For more info and tickets, click here.
If you're in the mood for comedy then check out Charles Busch's New Year's Eve Show at Feinstein's/54 Below at 7pm. The drag legend combines hilarious personal reminiscence, character sketches and superb storytelling through song. For more information and tickets, click here. Following Busch's magnetic performance is Annaleigh Ashford's New Year's Magic Show at 11pm. Tony Award-winner, Annaleigh Ashform will delight audiences with her eclectic mix of songs, stories, and impressive magic tricks. For more details and tickets, click here.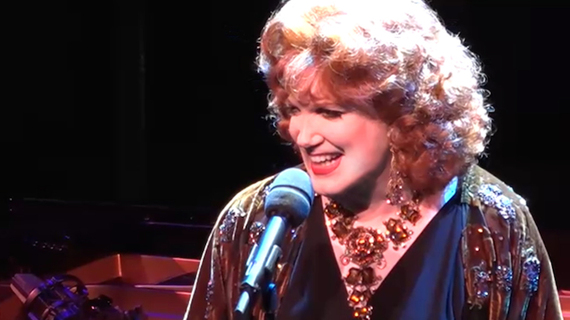 Charles Busch at Feinstein's / 54 Below
Singer/Songwriter Steve Tyrell is back with his resident holiday season at Café Carlyle performing his classic hits on New Year's Eve. For more info and tickets, click here.
Master organist Dr. Lonnie Smith will be at the Jazz Standard with a New Year's Eve performance showcasing his talents for blending ballads and climactic songs. For more information click here.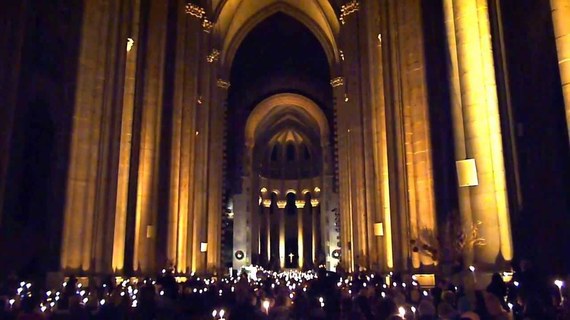 Founded by Leonard Bernstein in 1984, The Concert for Peace has become the Cathedral's most celebrated event. On its 32nd season, the concert will feature special guests Judy Collins, soprano Jamet Pittman performing "This Little Light of Mine" and Jason Robert Brown singing "To Build a Home" from the musical The Bridges of Madison County. The celebration culminates with the light of thousands of candles held aloft by audience members. There are a limited number of general admission tickets free and open to the public on a first-come, first-served basis, tickets start at $40. For more information and to purchase tickets, click here.
______________________________
Mercedes Vizcaino, a Contributing Writer with ZEALnyc, writes about lifestyle and cultural events in and around New York City.
More features from ZEALnyc:
Holiday Wishes and New Year's Resolutions (and what we're looking forward to next year!)
NYC Offers a Multitude of Movie Theaters for Your Holiday Viewing Pleasure
Finding your inner Olaf at all the NYC area ice skating rinks
For all the news on New York City arts and culture, visit ZEALnyc Front Page.