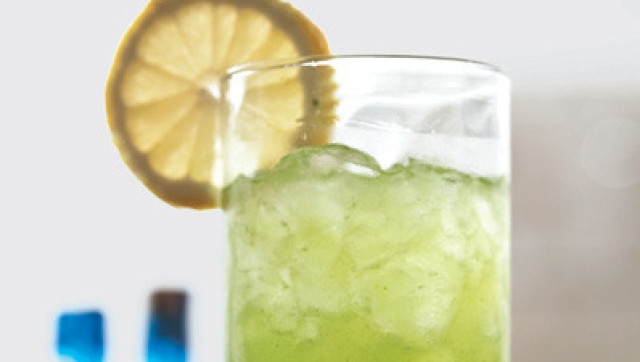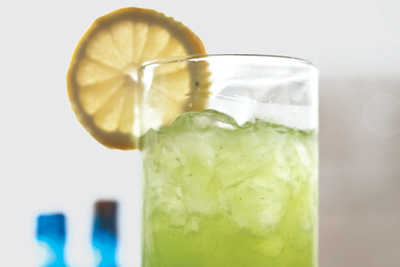 By Virginie Boone
Fresh, seasonal ingredients have become such a part of cocktail culture that even the big spirits houses that once touted high-fructose, corn syrup-based mixers are increasingly offering from-scratch recipes of their own.
Of course, there are the legions of bartenders who now prefer to be called bar chefs, because they really are drawing from a kitchen's worth of ingredients for their cocktails.
Bona fide food chefs are breaking into the drink scene too, from Michael Symon to Grant Achatz and Wylie Dufresne, so closely are the two disciplines becoming aligned.
So it's no surprise that the farm-to-table beverage notion would trickle into homes too. Bartender Katie Loeb believes anyone who can shop, boil water, measure ingredients and operate basic kitchen equipment can make their own garden-fresh cocktails. Her book, "Shake, Stir, Pour -- Fresh Homegrown Cocktails," includes step-by-step photos of some of the more complicated techniques for those still shaky around a shaker.
Related: Which spicy cocktails are hot?
A sommelier, creator of craft cocktails and restaurant consultant, Loeb has helped design cocktail programs for restaurants across the United States from her home in Philadelphia.
"I want folks to realize that making an herbal syrup or their own grenadine or infused spirits really isn't any harder than making a milkshake or steeping a cup of tea," she says. "And it tastes so much better and more organic and genuine than the commercially bottled products available."
Related: Grappa goes to California to find its spirit
In summer or early fall, fresh herbs or fruits like peaches or watermelon are easy to work with in a wealth of cocktails, while in spring she loves to work with lavender and rhubarb. For late fall or winter, think apples and pears.
"Flavors that remind you of the spices in dessert, like cinnamon, cloves and ginger, are naturally autumnal or wintery," Loeb continues, "and make you think of Thanksgiving pie and hot toddies by the fireplace."
Related: A champagne that make cruise ship fare come alive

Still, are we really ready? As fall approaches, let us take advantage of summer one more time with this week's cocktail, Loeb's Front Stoop Lemonade. It's named for what Loeb calls the architectural reality of her hometown, where people don't have front or back porches but do have front stoops, where they'll sit on warm nights and enjoy a drink with their neighbors.
For the gin, she recommends Bluecoat, produced by the Philadelphia Distilling Company, which has a citrus-forward flavor she thinks works well in this cocktail. The Thai Basil Syrup adds a layer of minty flavor and bright green color and will keep for weeks in your freezer, all the better to re-create the lengthy warmth of summer as the days get shorter.
FRONT STOOP LEMONADE
Serves 1
Ingredients
1 ounce Thai Basil Syrup (see recipe below)
2 ounces gin
1 ounce Lemon Cordial (see recipe below)
Splash of fresh lemon juice
Club soda
Directions
1. Put some ice in a Collins glass.
2. First add Thai Basil Syrup and gin to your glass to form the foundation of the Front Stoop Lemonade.
3. Add fresh Lemon Cordial to create the base lemonade flavoring to the drink.
4. Add the freshly squeezed lemon juice for acidity and to add brightness to the cocktail. Toss (pour back and forth between two glasses) to mix.
5. Top the mixture with soda to lighten and slightly carbonate your cocktail. Stir to combine.
6. Garnish with a lemon wheel and Thai basil leaf.
THAI BASIL SYRUP
Yields 2 cups
Ingredients
4 cups sugar
4 cups water
1 cup Thai basil leaves, rinsed clean and patted dry
Directions
1. Combine sugar and water in a saucepan. Bring to a simmer until sugar is dissolved, then cool to room temperature. Reserve 2 cups of this simple syrup and save the rest for another purpose.
2. Bring 2 cups of simple syrup to a boil in a medium-size pot. Blanch basil leaves in syrup for 1 to 2 minutes. Turn off the heat and let it cool slightly.
3. Pour mixture into a blender.
4. Pulse the syrup in the blender in small batches to expose maximum surface area. Remember, hot liquids expand. Always hold a towel over the blender when blending.
5. Cool the syrup to room temperature and transfer to a smaller, food-safe container. Refrigerate overnight.
6. Strain the syrup carefully the next day to remove leafy particles. Transfer to a food-safe container or a sterile glass bottle and keep refrigerated. Keeps for up to 1 month refrigerated or can be frozen for up to 6 months.
LEMON CORDIAL
Citric acid, sometimes labeled as "sour salt," can be found in some supermarkets and at spice purveyors. Tartaric acid, a food-grade preservative, can be found at home brewing and wine-making shops.
Makes about 5 cups
Ingredients
1½ cups sugar
½ tablespoon citric acid
1 teaspoon tartaric acid
3 cups water
1½ cups fresh lemon juice and the juice of four "naked" lemons
zest of 4 lemons, microplaned
2 stalks lemongrass, finely chopped
1½ teaspoons orange flower water
Directions
1. Combine sugar, citric acid and tartaric acid in a large bowl. Stir together with a whisk.
2. In a medium-size pot, bring water to a boil, then add the sugar mixture.
3. Stir thoroughly to dissolve the sugar mixture into water.
4. Add 1½ cups lemon juice, lemon zest and lemongrass to the water and sugar mixture and stir.
5. Juice the "naked" lemons right into the mixture.
6. Cook mixture for 10 minutes over high heat. Turn off the heat, cover with a lid and cool overnight.
7. The next day, strain out the zest and lemongrass pieces and add orange flower water. Refrigerate for another day before using (the flavor continues to change a bit). Stored in the refrigerator in a sealed glass container, it should keep for up to 4 months.
Photo: Katie Loeb's Front Stoop Lemonade. Credit: Steve Legato
Also fresh from Zester Daily:
Artist David Driskell talks about cooking, gardening and a hidden-gem seafood chowder
Elin's wine pick: Amid oceans of industrial vin de table, a surprising red wine in the south of France
Take a few liberties with a Granny Smith recipe, and try this apple chutney