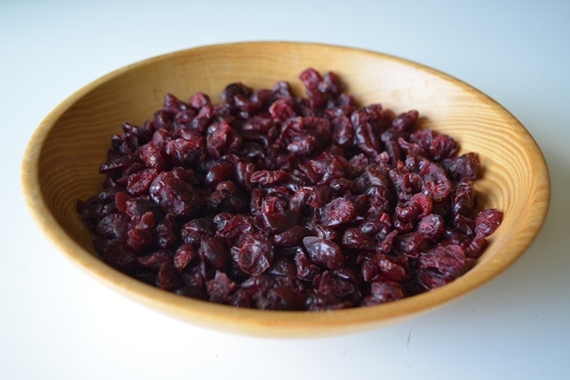 I have long been a devotee of cranberries as much for their history and lore as for their happy association with Thanksgiving, my favorite holiday. And they deserve to be an essential part of this totally American feast day because they are one of three fruits, along with blueberries and Concord grapes, that are native to North America.
We have evidence that long before Europeans settled in what was to become the United States, indigenous people used cranberries extensively both in their diet and as medicine. Pemmican, a preserved food, was made from crushed cranberries, dried deer meat and melted fat. As well as lasting through a harsh New England winter, pemmican was portable, a benefit for people on the move. As for cranberry's medicinal properties, the Indians were said to make cranberry poultices to draw poison from arrow wounds, but as far as I know, there has been no research done to measure the efficacy of this.
What we do know, however, is that cranberries contain a high level of vitamin C, and that in earlier times American sailors took them on voyages to avoid scurvy, just as the British took along limes for this purpose. We also know that cranberry juice is often recommended to people suffering from an urinary tract infection, so this fruit has a good reputation among the health conscious.
But it seems to me that the cranberry's greatest triumph has to do with its crucial place at the table as a delectable accompaniment to the Thanksgiving turkey. Just as holiday cooks vary as to how they prepare sweet potatoes, so do they differ in their preferred cranberry sauces and relishes. The easiest version, and perhaps the one with the most dubious reputation, is the canned jellied sauce that slithers out of its container with a long scar along its side, the imprint from the inside of the can, ready to be sliced and served.
Another canned sauce is similar to what we cook at home from fresh cranberries. Berries are left whole and cooked with plenty of sugar until a jellied sauce is formed. Raw cranberries bear the distinction of being both sour and bitter and must be tempered by sweeteners to be edible. (I recently came across the sobering fact that sugar has such a huge capacity for dissolving in liquid that one pound of water can easily absorb two pounds of sugar.)
Home cooks have been adventurous in their approach to cranberry sauce with recipes that embellish the simple mode of throwing the fruit into a pot with a little water and lots of sugar. Some introduce other fruits to the mix, especially oranges that give great flavor and an inviting complexity to the dish. Other cooks cast wider nets and add raisins, currants, blueberries and pecans or other nuts.
Then we get into the realm of spices. My preference is for a sauce made with cranberries and sugar, just a touch of orange zest, maybe a stick of cinnamon and nothing else. But I have come across recipes that call not only for cinnamon, but nutmeg, ginger, cloves and even allspice. To my mind, harsh spices take away from the tangy and unique flavor of a cranberry sauce whose fruity purity strikes me as the perfect companion to turkey with a rich gravy.
But canned or cooked cranberry dishes are not the end of how this Thanksgiving side dish is approached. Enter the world of relishes. What with the availability of meat grinders and food processors, home cooks have been busily grinding up fresh cranberries along with apples, oranges, even pineapple in mixtures that can include such flavored liqueurs as Grand Marnier to pep up the dish. And if such mixtures are not lively enough, white pepper, fresh ginger and even jalapeno peppers can be added, thus taking an innocent cranberry relish into the realm of south-of-the-border salsas.
National Public Radio's Susan Stamberg has received lots of attention for a cranberry relish recipe that includes an onion, sour cream and red horseradish, resulting in a shocking pink dish she admits looks like Pepto-Bismol.
This never-ending pursuit of novelty is displayed every fall when food magazines can be counted on to scramble up traditional Thanksgiving dishes. One magazine this year is offering holiday relish recipes that omit cranberries altogether in exchange for pomegranate seeds or kumquats.
For innovation, I would rather direct my attention to the cranberry industry, which has successfully attracted us to its products all year long and not just at Thanksgiving and Christmas. Cranberry drinks now occupy vast grocery shelves and are available in mixtures that include the juices of other fruits, and of course in diet form.
And dried sweetened cranberries are pushing aside the long-held monopoly enjoyed by raisins in such baked favorites as cookies and muffins. I have made the switch in my own baking, and am happy to encounter the bright flavor of cranberries in May or June and not just at the end of the year.
1ᅡᄐ cups unbleached all-purpose flour
1ᅡᄐ cups whole wheat flour
1ᅡᄑ teaspoons baking powder
4 tablespoons unsalted butter at room temperature
1 teaspoon vanilla extract
1ᅡᄑ cups sweetened dried cranberries
1 cup toasted walnuts, coarsely chopped
1. Preheat oven to 400 F. Grease a 12-muffin muffin tin.
2. Whisk together the flours, baking powder, baking soda and salt in a medium bowl.
3. Cream together the butter and sugar in the bowl of a stand mixer until fluffy. Scrape down the bowl to be sure the butter is thoroughly mixed. Add eggs one at a time. Add vanilla and sour cream and mix thoroughly.
4. Add dry ingredients to the wet mixture, mixing at low speed until batter is smooth. When all ingredients are mixed, add the cranberries and walnuts by gently folding them into the batter.
5. Using ᅡᄐ cup measuring cup, scoop batter into the prepared muffin tin. Bake for about 25 minutes or until a cake tester inserted in the center of a muffin comes out clean. Cool in pan for 5 minutes, then turn out onto cooling rack.
They are delicious served warm and freeze beautifully for reheating later.
Top photo: Dried cranberries for muffins. Credit: Wynne Everett
Zester Daily contributor Barbara Haber is an author, food historian and the former curator of books at Radcliffe's Schlesinger Library at Harvard University.