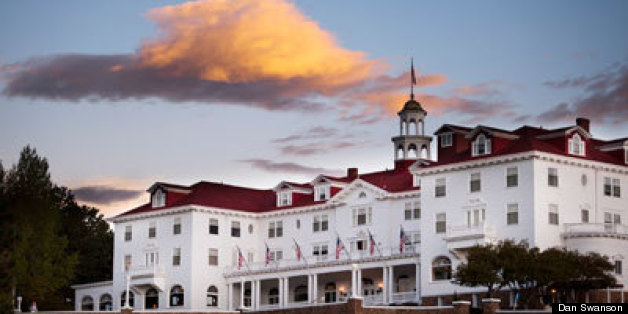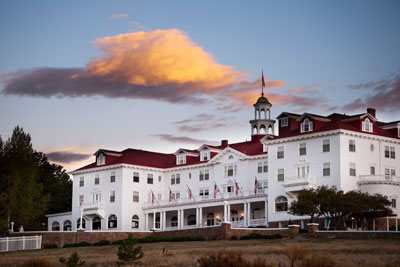 By Ruth Tobias
Though Colorado is home to two of the nation's biggest and brightest food-and-beverage events -- the Aspen Food & Wine Classic in June and the Great American Beer Festival in Denver each October -- I'm always on the lookout for wackier affairs. Case in point: the Stanley Film Festival to be hosted by the Stanley Hotel from May 2 to 5. While dedicated to horror cinema first and foremost, it's promising to ply its guests with provisions worthy of the legendary Estes Park estate.
I don't, of course, mean human flesh -- though there will be a Zombie Crawl on the Sunday of the festival, organized by the founders of the one of the nation's largest such events, which lures thousands of the would-be walking dead to Denver's 16th Street Mall come Halloween. What I do mean, for starters, is the re-creation of another All Hallows Eve institution: the Shining Ball. The Stanley, after all, was the inspiration for The Shining. Stephen King wrote the novel after staying in Room 217 and purportedly receiving a visit from the specter of a child.
Related: How do Rocky Mountain rums compare to that of Caribbean distillers?
King's hardly the only guest who's encountered paranormal phenomena in the real-life version of the fictional Overlook Hotel. Says general manager Rick Benton, "Every week, I hear from one or two different people who've had experiences with former guests and employees long since passed away. I'm very receptive -- and believe me, I wasn't raised that way. The hotel was built on quartz and limestone -- very strong, active minerals -- and it's by definition a portal for people to go from one place to another."
Though Stanley Kubrick's screen adaptation wasn't filmed here, the TV mini-series was, as have been episodes of the Syfy network's Ghost Hunters, whose crew, Benton swears, "had such a time they picked up and left." In any case, fans of The Shining will recall images of the lavish soirées thrown at the Overlook in the 1920s; on opening night, says festival director Jenny Bloom, they can attend one "decked out in costume, with the staff dressed in red jackets, just like the movie." One can only hope to sip a bourbon or two à la Jack Torrance (as unforgettably played by Jack Nicholson), served by a look-alike of Lloyd the bartender.
Related: What makes wine and kimchi a beautiful pairing?
But if bourbon's not your poison, never fear. Indeed, finding your drink of choice may be the one thing you won't fear during the festival at the Stanley, whose Whiskey Bar boasts the largest collection of bottles in Colorado, at 500-plus labels -- from 40-year Highland Scotches to celebrated local products such as Stranahan's, Leopold Bros and Dancing Pines. Upper-level pass holders will have the opportunity to dip into the stash while hobnobbing with filmmakers at an al fresco tasting on Friday.
And then there's the Bloody Mary Awards Brunch, hosted by the festival's "chief coroner," Andrew Novick. Though not a chef, Novick is a one-of-a-kind presence on the Denver culinary scene; his résumé is impossible to account for and delicious to behold.
Take his stint as a Peeps expert in the 2010 trial of a Boulder-area woman threatened with eviction after complaints about her yard display of the infamous Easter candy. Or "Sweet Tooth," the exhibit of 1,000 photographs of desserts he has eaten over the past few years, which just closed at the local bakery The Shoppe. As "entertainment director and breakfast boss" of the Denver County Fair, he throws notorious X-Treme Pancake Breakfasts, where the toppings number in the dozens (including Spam and kimchi); this year, he's organizing a Peeps diorama contest. He's also "resident grill sergeant" at the Museum of Contemporary Art. And in 2011, he pulled off an invitation-only Surgery Dinner at which he served the likes of "chest-cavity lasagna with ricotta ribs" and "mozzarella gauze rolls"; the table was set with surgical instruments rather than utensils. You can't make this stuff up, folks.
Related: Denver Chef Jenna Johansen talks about the meal that inspired her.
For the brunch -- where horror-industry multi-hyphenate Eli Roth will receive the Visionary Award -- Novick will be serving "Carrie" Pancakes, topped with a prom-queen figurine and accompanied by a "pail" of strawberry syrup for dumping on top, in a nod to the climax of the namesake 1976 classic directed by Brian de Palma. "Here's Johnny" Breakfast Burritos -- the name alludes to Nicholson's famous catchphrase in The Shining -- which will be halved with tiny toy axes, oozing salsa. And "Buried Alive" Parfaits, made with cookie crumbs, granola, yogurt, preserves and gummy candy shaped like body parts to suggest, of course, graveyard mayhem.
Novick will be working closely with the hotel's executive chef, Richard Beichner, who otherwise plans to showcase Colorado ingredients at the festival: lamb, striped bass, mountain trout and beef, for instance, like the locally raised steak tartare he'll be serving at a Stella Artois-sponsored paired beer tasting in the hospitality lounge -- and says he's ready for his brush with horror buffs. After all, "I grew up north of Pittsburgh, where they filmed Night of the Living Dead, he laughs. "This thing has already taken off so fast -- I think it's going to be huge."
Top photo: The Stanley Hotel. Credit: Dan Swanson
Zester Daily contributor Ruth Tobias is assistant editor at Sommelier Journal as well as a seasoned food-and-beverage writer for numerous city and national publications; she is also the author of "Food Lover's Guide to Denver & Boulder" and the upcoming "Denver and Boulder Chef's Table" from Globe Pequot Press. Her website is www.ruthtobias.com or follow her @Denveater.
More from Zester Daily:
» How supper clubs are changing the dining business for chefs.
» Cocktail hour: Why drinking vinegar isn't what you think it is.
» A list of the apps that help you make better choices, for dining out or in.
» Chef Susan Feniger reveals recipes inspired by her travels.