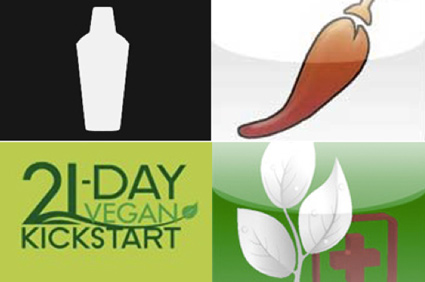 By Louis Villard
These app reviews will teach you to become a vegan in 21 days or to mix perfect cocktails from sight alone. There's also a complete guide to garden herbs (perfect for a farmers market) and finally, a tool to identify the hottest peppers. Enjoy!
Eyeball those cocktails
Clinq takes a strikingly different approach to the cocktail recipe. Instead of listing shot measures, Clinq shows you the ratio of ingredients, each represented by a different color. The idea being, whether you're making one drink or 20, you'll get the measures right without counting shots. The stunning yet simple visuals add to the app's appeal.
Related: Why Saint Germain is the bartender's bacon.
The home page gives you a choice of five different spirits (gin, vodka, whiskey, bourbon and rum) spelled out in stylish black typeface on a white background. Once you touch the screen to make your choice the screen slides to the left, revealing the outlines of four different glass shapes (highball, martini, hurricane and lowball). Choose your glass and you are given a choice of cocktails -- there are over 140 listed. Once the color-coded ratio is shown, you can press the screen for a few seconds and the ingredient names are revealed, then hold it again for a few more and the cocktail making procedure is shown. It may take a few times to get used to the controls, but this has to be one the more creative apps around. Happy mixing!
99 cents on iTunes

Help for the Virgin Vegan
Just how does one become a vegan? The first step is probably the most difficult, but if you want to take it, 21-Day Vegan Kickstart might just be the app you need. Designed by the Physicians Committee for Responsible Medicine, the app provides you with daily food lists and recipes to help you along your vegan route.
Related: A card-carrying vegan coming to the party? Here's what to cook.

You are able to see what ingredients you'll need a week in advance, then each day you are given a plan for breakfast, lunch and dinner, plus a snack (one I imagine you will look forward to each day). Click on the meal and the page flips, providing you with the recipe and nutritional information. All in all, a very resourceful app that is simple to use and follow. It might just change the way you eat, forever ...
Free on on iTunes

How hot is that pepper?
Say you're cooking up a vindaloo curry or making a salsa, and you want to calibrate the heat that you'll be bringing. When you're talking peppers, you need to know one word: Scoville. That's the name of the scale that measures a pepper's spiciness. Every pepper has a Scoville rating, from the slightly sweet bell (0 units) to the burn-your-head-off habanero (100,000 to 350,000 units).
Related: How to choose the right hot chili pepper.
The scale was invented by Wilbur Scoville a century ago -- and no, he didn't assign the heat levels by chomping his way through the world's chilis. He got other people to do it for him. Scoville the app lists pretty much every pepper in existence, its Scoville rating, and tasting notes or other background information. The "Jamaican hot," for example, has flavors of apples, apricots and citrus (under a furnace-like heat on your palate, one presumes) and is mainly used for hot sauces in the Caribbean. In fact, after a quick browse, it seems that everything higher on the scale than the habanero has some sort of health warning and can only be eaten in the tiniest of quantities, with a pint of milk at the ready. One of the hottest peppers, the terrifyingly named Naga Viper, has a Scoville rating of up to 1,382,118 units. It is usually dabbed on food with a toothpick, so as to only use a tiny drop - that is hot to the point of pain!
$1.99 on iTunes

Apps field guide to kitchen herbs
Most of us can tell the difference between rosemary and basil ... but to the untrained eye (especially my own), telling lavender from sage can sometimes prove difficult. That's where Herbs+ fragrantly wafts in. This app would be particularly good for finding fresh herbs in the wild. The entry for each herb offers gardening tips, culinary ideas, medicinal uses and an image to help you identify the herb. There's also a handy link to Wikipedia, which you can access without leaving the app. In the "Herb Garden," you'll find basic guidelines for how to launch your garden successfully as well as sections on harvesting, preserving, propagating and winterizing your herbs. There are also useful tips -- did you know dill doesn't grow well if planted near fennel? No, neither did I. All in all, a very good app to spice up your phone and quite possibly your next dinner too!
$2.99 on iTunes
Top image, clockwise from top left: logos for Clinq, Scoville, Herbs+ and 21-Day Vegan Kickstart.
Zester Daily contributor Louis Villard regularly contributes to the Santa Barbara News-Press and Edible Santa Barbara and also writes for Decanter Magazine, Imbibe and www.CataVino.net.
More from Zester Daily:
» How to eat the fish that eats everything.
» Best e-books and apps for savvy food lovers.
» Start serving summer now: four new California Rosés.
» Check out the high-profile chefs featured on recipe video app.