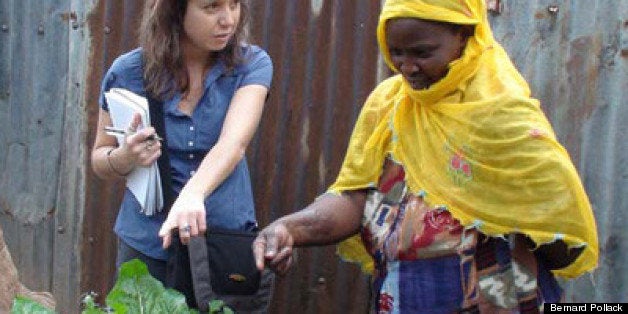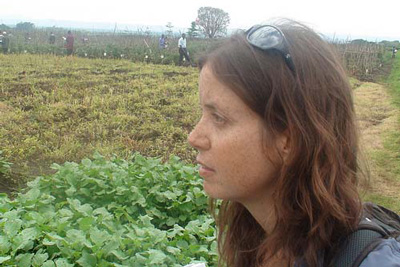 Follow Danielle Nierenberg, and you will end up in interesting places. I learned this reading the missives she e-mailed from developing nations around the world during her tenure with Nourishing the Planet and the Worldwatch Institute. The Tufts-educated Missourian delivered awful truths about the world's broken food system with an upbeat focus on inspiring individual-sized solutions. I missed her ever-present freckle-face grin when the e-mails stopped.
Now she's back! With her new venture, Food Tank, Nierenberg and partner Ellen Gustafson remain focused on solutions, but this time they are the sweeping, world-altering kind.
Food Tank will bring together farmers, policymakers, researchers, scientists and journalists with the funding and donor communities to participate in a clearinghouse of information and data. Solid information about what's working, they believe, will lead to more and better research and development. It's a step-by-step scientific process toward food justice and a sustainable agricultural system.
I recently asked Nierenberg to share some background on herself and Food Tank.
You have worked to raise awareness about food quality and availability for a long time. What led you to become involved in this cause?
I've always been obsessed with food. I'm the person who wants to know what she's having for dinner at lunchtime. I had the opportunity to work with a lot of farmers right after undergrad as a Peace Corps volunteer and that really helped me understand the connections between how we grow food and the impacts on health and the environment. Since then I've really tried to highlight what farmers, business, entrepreneurs, researchers, youth, policymakers and others are doing to make the food system more sustainable.
How did that work lead you to create Food Tank? What do you hope to accomplish?
We want to build a network of eaters, producers and policymakers and highlight the solutions that are already working.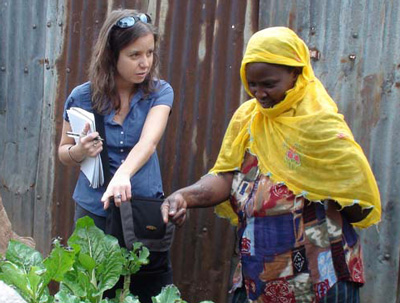 There is so much focus on investment in big, sexy technologies, and we want to highlight how many of the answers to our most pressing social and environmental problems are already out there.
If we start now, there is an opportunity to develop a better vision for the global food system. Fixing the system requires changing the conversation and finding ways that make food production -- and consumption -- more economically, environmentally, and socially just and sustainable.
We also want to work with our advisory group to develop a new set of metrics to measure the "success" of a food system. For the last 50 years, the measurements have been based on calories and yield and not on the nutritional quality of food, or whether a food system protects water and soil, or whether it promotes the empowerment of youth or gender equity.
What organizations and individuals are working with you on this project?
Ellen Gustafson is the co-founder of Food Tank. She and I have had a mutual crush and admiration for one another for years. Often she and I are the only young-ish women who end up at both industry conferences and sustainable food conferences. Ellen's work has been more on the entrepreneurial side. She co-founded FEED Projects with Lauren Bush and started 30 Project.
My work has focused on more on-the-ground research and evaluating environmentally sustainable ways of alleviating hunger and poverty. Over the last few years I've traveled to more than 35 countries in Africa, Asia and Latin America talking to farmers and farmers groups, scientists and researchers, policymakers and academics, youth, journalists and others collecting their thoughts about what's working to increase incomes, raised yields, improve nutrition and protect the environment.
People around the world seem to be far more aware of the issue of food quality and food security. What has caused this awakening?
I think that since the food and economic crisis began in 2007 and 2008 there's a growing movement around how not just to feed people, but nourish them. Most of the investment in agriculture is on starchy staple crops and less has been invested in leguminous crops, protein-rich grains or indigenous vegetables. These are crops that are not only more nutritious, but tend to be resistant to drought, disease, pests, high temperatures, etc.
And more and more young people are getting involved in the food system -- as producers in urban gardens in Asia, as bakers in New York, as seed distributors in Kenya, and as chefs, food manufacturers, etc. The food system and agriculture have often been something young people feel forced to do, rather than something they want to do. We need to find ways to make it more economically and intellectually stimulating so it becomes something that people want to do and know that they can make money from.
If you could snap your fingers and make one change in the food system, what would it be?
There's no one thing that can happen to change the system, but a big thing I'd like to see is more investment in agro-ecological practices. Again, most of the investment in agriculture is in sexy technologies and commodity crops and starchy staple crops, and not in the things that are already working -- everything from agroforestry and solar drip irrigation to combining "high" and "low" technologies through using the Internet and cellphones. The solutions are out there. They're just not getting the attention, research and investment they need.
Nierenberg visits with one of the female farmers growing food in vertical gardens in Nairobi's Kibera slum. Credit: Bernard Pollack
Corie Brown, the co-founder and general manager of Zester Daily, is an award-winning food writer at work on a book about climate change and wine.