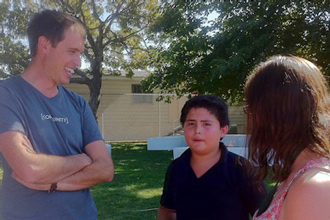 By Corie Brown
Kimbal Musk has an audacious plan to destroy America's appetite for junk food.
His big idea? Plastic.
Musk wants to revolutionize Alice Waters' concept of school gardens as societal change agents by making the gardens easy to build and maintain. More gardens will be installed and more students will learn the joy of growing and eating healthy fruits and vegetables.
As it is, Musk says, school gardens are a laudable idea that is dying on the vine. Raised wooden beds that look pretty when they are first planted disintegrate in a few short years. The alternative -- concrete beds -- is an ugly, expensive and permanent albatross schools grow to hate. Tear up school-yard blacktop to create green space? No public school has that kind of money.
Musk made it a personal project to design a solution. His modular plastic garden containers snap together to create customizable outdoor classrooms that can sit on top of existing hard scape. His concept is so slap-your-head simple that less than a year after launching his nonprofit Learning Gardens, Musk has commitments for at least 60 gardens each from Chicago, Los Angeles and Colorado to be installed by the end of 2013.
"I want to make the school-garden movement work," says Musk, who was in Los Angeles two weeks ago to witness the planting of two giant gardens, a total of 1,000 square feet dedicated to fruits and vegetables, at Samuel Gompers Middle School in South L.A.
The key to ensuring that the gardens flourish is local control. Musk partners with a local sponsor, who raises the funds and works with the individual schools to design the gardens. "I don't make a dime from this," says Musk, "which gives us credibility with the people raising money to build these gardens."
The Wasserman Foundation, led by sports business entrepreneur Casey Wasserman, took the lead at Gompers providing all of the funding and 100 Wasserman employees for the planting.
If gardens increase student engagement, they are a good investment, says Wasserman. "The success of our kids in our schools is the leading issue for our city."
High tech and an apron
Musk comes to the school garden party with a rare combination of technology expertise and kitchen cred. In 1995 at 23, he and his brother Elon founded Zip2, an early content management system that provided the first maps and door-to-door directions on the Internet. The company built online restaurant and city guides in partnership with 100 major media companies, including the New York Times. It was sold in 1999 to Compaq for a reported $307 million.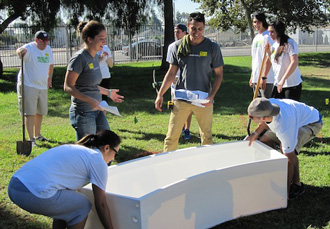 Among several investments in startup software and technology companies, Musk helped his brother launch the company that would become PayPal. That venture was acquired by eBay in 2002 for $1.5 billion in stock. Elon used his winnings to found SpaceX and Tesla Motors while Kimbal redirected his energies into his passion for food, attending the French Culinary Institute in New York City.
After traveling the country with his wife in search of a community to call their own, the Musk family settled in Boulder, Colo., and, in 2004, the couple opened The Kitchen. Its composting, wind-powered, recycle-everything culture earned immediate applause from Boulder's environmental community. Food critics from across the country raved about Musk's garden-fresh cuisine featuring ingredients harvested from the massive garden he planted near the restaurant.
Related: Forward-thinking roadside restaurants from Colorado to New York

From the earliest days, Musk's vision included a modest nonprofit to support school gardens, an effort he named The Kitchen Community. The huge leap from supporting Boulder-area school gardens to today's sweeping ambition to build gardens in every school in the country came after nearly dying in a tubing accident 2½ years ago.
"After my accident, the stuff that mattered was stuff that made a difference in the world, not the stuff that made money," Musk says in his soft South African accent, a lingering artifact from his childhood in Pretoria. He moved to Canada when he was 18.
"After Kimbal broke his neck, it super-charged the giving philosophy," says Travis Robinson, Kitchen Community managing director, who also traveled from Boulder to help with the Gompers planting. "Kimbal is a visionary, but he is pragmatic. It's step by step, day by day to create communities and empower people."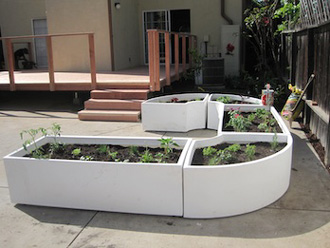 Building school gardens costs a fraction of what it would cost to lobby Congress to change farm policy, says Musk. And in the long run, it is the more effective way to change society. "Start with the young, work with them until they are adults, and they will demand real food. When you have the demand, you can change the government policies that create McDonald's and junk food."
"I knew if I could make this work in the South Side of Chicago with $2 million, I could raise $2 billion and make it work everywhere," he says. "We will have gardens in about 20% of Chicago's schools. That's a critical mass of students, enough for a movement that can change the food culture in that city. You do it child by child."
Related: How Bronzeville community garden works in Chicago

Students aren't the only people who can benefit from Musk's novel approach. Last May, I asked Musk for help on a project to overhaul the outdoor space for a shelter for homeless female veterans. The backyard of the Venice, Calif., home was one giant cement slab, and they wanted a vegetable garden.
Musk came to the rescue with a "starter garden" that could sit on the cement. The lady vets loved how they could move the modules around to redesign their garden whenever they felt like a change.
Building the demand for fresh, wholesome food one person at a time.
Corie Brown, the co-founder and general manager of Zester Daily, is an award-winning food writer at work on a book about climate change and wine.
Also on Zester Daily:
Wine review: New Zealand filmmaker Michael Seresin's biodynamic reserve chardonnay

Chef makes case for cultivated 'shrooms
What's a kid-friendly, pie-free pumpkin dessert for Thanksgiving?
Photo, from top:
Kimbal Musk with a student and special education teacher Holly Driscoll at Gompers Middle School in South Los Angeles. Credit: Corie Brown
Volunteers from the Wasserman Foundation and Kimbal Musk's Kitchen Community help assemble module units made of food-grade, indestructible plastic for school gardens in Los Angeles. Credit: Corie Brown
Finished gardens at homeless shelter for female veterans. The gardens at Samuel Gompers School will be 10 times this size. Credit: Corie Brown