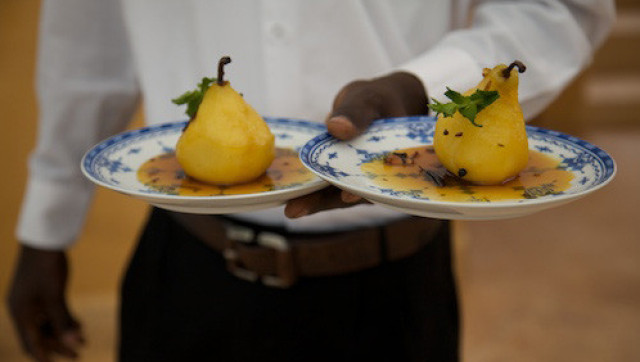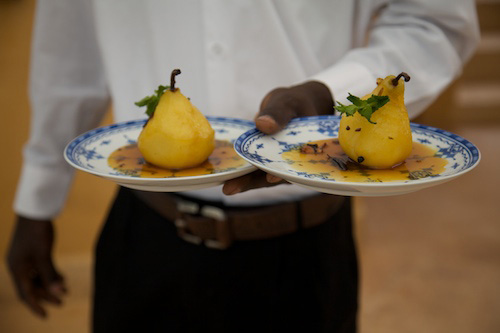 By Jeff Koehler
While it is often easy to oversimplify the unknown, or at least the unfamiliar -- a place, a cuisine, not to mention a culture -- the real pleasure in travel or eating comes from discovering the unexpected and exploring the complexities and contradictions that we unfailingly encounter. When we scratch beneath the obvious and accessible, those polished but rarely three-dimensional surfaces found in glossy magazines or mid-century travel books, we find the essential elements that profoundly inform on the place. We need to sift a bit through the layers to find its truer essence.
Like any number of countries and their magnificent kitchens -- Turkey, Mexico and even Spain spring to mind -- Morocco frequently suffers a simplified fate, considered by many to consist of a largely homogeneous landscape and handful of familiar (though generally misunderstood) dishes.
As elsewhere, the food of Morocco begins with the landscape, and the country's geography is far richer and more diverse than most people imagine. The image of this North African country as a parched place with fortified earthen villages and oases of date palms is not wrong, just incomplete.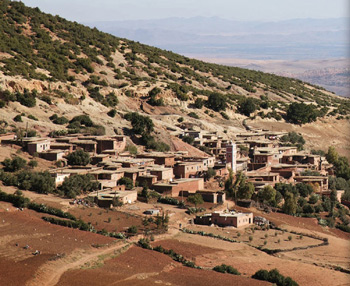 In a way, Morocco is an island, surrounded largely by water (the Mediterranean Sea, the Atlantic Ocean) and scrub (the pre-Sahara and Sahara). But within those ample confines, a wide variety of climates and features exists: four mountain ranges, river gorges, mesas, forests with cedars and cork oak, scrubby plains, olive groves (Morocco is the world's second largest exporter of table olives) and vineyards. It has valleys with fruit orchards, meadows with wild flowers, farms producing excellent fresh goat cheeses, and, off its southern coastline, some of the richest fishing grounds in the world.
I have been traveling to Morocco for 15 years, but work on my recently-published cookbook, "Morocco: A Culinary Journey with Recipes," took me to its many nooks and rural souqs. Although one can talk about a unified "Moroccan cuisine" with a common range of flavors and dishes found across the country, I was trying to get a sense of the regional differences. The more I traveled around Morocco in that search, the more impressed I became by the sheer diversity of the physical landscape and what it produces.
Driving through the Middle Atlas one day among fields of ripening barley with red-petaled flowers rising exuberantly among the silvery-green stalks, the pavement gave way to a gradually-worsening dirt track crossed with streams and strewn with boulders, the kind of chassis-thumping route best navigated in a 4x4 -- or at least a rental car.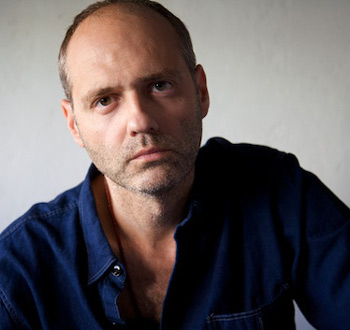 Many roads appear grander on Michelin's map #742 of Morocco than they are in reality, and this one was no exception. But I was rewarded by entering a valley splendid with cherry trees. A couple of white vans were parked here and there in the shade and extended families were quietly harvesting fruit from their own trees.
I backtracked to the Berber town of Azrou, where I managed to arrive in time for a late lunch at the Hôtel Panoramic, a stout Protectorate-era place opened in 1928. Trout farmed in a nearby river were a specialty and prepared in a handful of manners, including the way that I eventually included in my book: Stuffed with grated carrots, fresh bay leaves, and a generous grating of black pepper, the trout--netted that morning--were quickly pan fried. In the empty dining room, cool and dim under the high ceiling, the floors polished, the massive fireplace in the lobby not yet lit, the earthy flavors of the countryside--precisely this countryside, from the hills rising around the hotel--were fine rewards for my effort.
For all the lamb tagines, grilled chicken skewers, and vegetable-laden couscous I ate on my journeys, some of my most memorable moments working on the book were discovering such unexpected fare as these stuffed mountain trout.
Related: How to sort out safe from sorry when foraging for mushrooms
Another revelation was mushrooms. The High Atlas mountains, stretching some 450 miles northeast from coastal Agadir toward Algeria and rising to nearly 14,000 feet, are dramatic and foreboding, though quite barren; the Anti-Atlas range, to their south, are largely barren and rock strewn. But the Rif Mountains in the far north are damp, fecund, and home to dozens of varieties of edible wild mushrooms. In the hills not far from the isolated, blue-hued town of Chefchouen on a drizzly day, one of the last of the year, my wife, two girls, and I hunted for chanterelles and cèpes. (There were truffles, too, one of our local guides said, pointing to a nearby hill. "But those are for export.") We returned to a rural auberge and had the spoils of our morning hunt prepared in the most divine and herb-laden omelets I have ever tasted.
Related: Moroccan food beyond the couscous
Even more unexpected were oysters. South, down the Atlantic from Casablanca, the coastline becomes largely inaccessible, wild, and windswept, and the road meanders past rocky cliffs, great sweeps of undeveloped beach misty from the crashing surf, and a few fortified fishing villages where seagulls wheel above ancient ramparts and brightly painted sardine boats. One stop along here is the village of Oualidia, whose specialty is oysters. Just as I had not expected to feast on local trout in the Middle Atlas or wild mushrooms in the Rif, devouring a dozen Japanese oysters on the half-shell while looking out over the lagoon where they had just been harvested came as another stunning treat.
Morocco's rich, complex history -- from the ancient Berbers to the Phoenicians and Romans, the Arabs, Muslim and Jewish exiles from Andalucía, trans-Saharan caravans, French and Spanish colonial rulers -- has offered cooks plenty of inspiration. After driving thousands of backroad miles over the course of more than a year's worth of near-monthly trips to Morocco, it was clear that, just as important, the country's vast and varied landscape gave them the raw materials they needed to develop one of the world's richest cuisines.
Related: Turkish Organics Not Just for Export Anymore
For the traveler to Morocco -- or Turkey, Mexico, or Spain -- pleasure lies in the unknown and the unexpected, in those tasty surprises that may be just around the next corner. The key is to get off the main road and keep pushing ahead to find them. Satisfaction, of course, goes beyond a delicious meal. It helps in understanding the land as well as the people. I found that learning about Morocco's food was to learn about its culture -- and it was this idea that spurred me on, corner after corner.
Photos, from top:
Moroccan spiced pears. Credit: Jeff Koehler
Inside title page from Jeff Koehler's book "Morocco: A Culinary Journey With Recipes From the Spice-Scented Markets of Marrakech to the Date-Filled Oasis of Zagora." Credit: Jeff Koehler
Author Jeff Koehler. Credit: Kirk Giloth
Also on ZesterDaily.com:
Elin's Wine Pick: Whose Viognier makes this varietal worth revisiting in Napa Valley?
Kids eat smart: What's the trick to family dinner?
Homemade marshmallow pie recipe surpasses the classic Mallomar.
Spain Out of Champagne's Shadow With Sparkling Cava