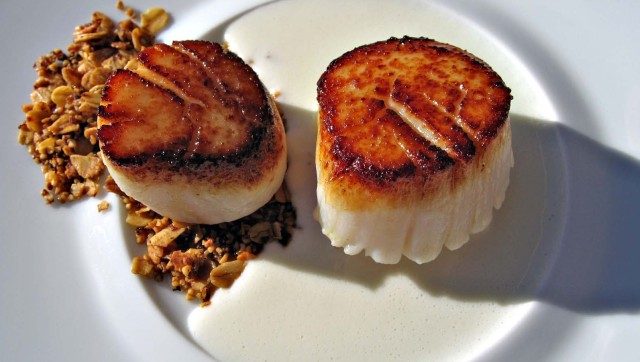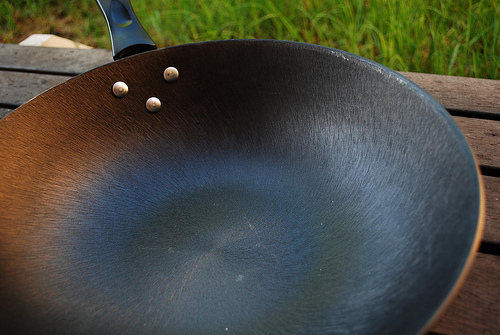 By Nancy Harmon Jenkins
Sometimes luck is in the pantry. On New Year's Day, good friends from distant parts phoned to say they'd be in town unexpectedly. Could they come for lunch? They'd bring a bottle of wine left over from celebrations the night before. But, with nothing open except the local 7-Eleven, what on earth would we eat? [aside] There was little in the house beyond a handful of scallops I'd bought the day before with the intention of turning them into some not-too-far-in-the-future supper. And that was it.
But a determined search yielded treasures. Fortunately I found in the pantry cupboard a package of little fagioli del Purgatorio, purgatory beans. Gustiamo.com imports them from Umbria in Italy, and they're so tiny they need almost no soaking at all. I set them in a small bowl, poured boiling water over and let them sit for an hour or so while I rummaged for something appropriate to add to them. There were the scallops, of course, but only three-quarters of a pound, plenty for two, not really enough for four.
Related: What makes Maine shrimp better


But way in the back of the freezer was a half-pound bag of sweet little Maine shrimp, left over from the last harvest a year ago.
And I can almost always drum up an onion or a leek, a piece of celery, a carrot or two and inevitably several cloves of garlic. So the beans got drained and steamed until tender, with a clove of garlic, several sprigs of thyme from the winter garden, and a dollop of new olive oil, then lightly crushed and mixed with the vegetables, including half a red pepper I managed to rescue from a terminal state, all chopped and sautéed in olive oil to bring out their sweet flavors. Then it was time for the shrimp, by now somewhat softened. Turned into the warm beans, they immediately loosened up and released their briny aromas without any further cooking at all.
The dish was evolving but definitely lacking something -- a hint of acid perhaps? Lemon juice helped, but then I found the most fortuitous serendipity in a package I'd only just received -- sun-dried California tomatoes, cut in julienne strips. Put up by Mooney Farms in Chico, Calif., they're marketed as Bella Sun Luci. They provided the very zing that the beans had been lacking -- a good thing, I think, to keep on the pantry shelf for just such an occasion.
Related: The lost art of stir-fry - olive oil or not?

By now, things were starting to look better, but lunch was less than an hour away. The scallops got seared in the wok in olive oil. (I have an ongoing argument about olive oil in the wok with wok star Grace Young, author of "The Breath of a Wok." I'm all for it. She's just as firmly against it.) And let me add a word in praise of that incredible kitchen vessel -- nothing at all, in my experience, beats a wok for frying. The way it concentrates and focuses the heat, the frying medium, and the subject of the exercise, whether scallops or tofu or onions and ginger, is quite incredible.
Those scallops for example: They had no need for any dredging in flour or cornstarch. Thoroughly dried with paper towels and dropped into oil so hot it was just starting to break out a wisp of smoke, they seared almost instantly into crisp golden-brown disks that were crusty on the outside, tender within. So I spread the shrimp and bean mix in a fairly deep gratin dish, first dribbling oil over the bottom, then nestled the browned scallops in wherever they would fit, and topped the whole with toasted breadcrumbs, a fresh grating of Parmigiano-Reggiano, and another dribble of olive oil backward and forward over the top. Into a very hot oven it all went, just long enough to produce a gratin, a bubbling crust on the surface, and there I was, ready for unexpected guests.
Who, in the end, called and said they actually had misjudged the distance and the threat of snow and wouldn't be coming after all. Tant pis pour eux, we invited in the neighbors and ate to our hearts' (or our bellies') content. A good way to start off a new year.
Recipe link: Gratin of What I Found in the Pantry
Note Be sure to ask for "dry" scallops -- scallops that have not been soaked in STP (sodium tri-polyphosphate), a bath that keeps them white. While apparently harmless, STP causes scallops to exude a milky liquid when sautéing and they will never brown properly.
Makes 4 to 6 servings.
Ingredients
1 cup small white dried beans, preferably fagioli del Purgatorio
6 tablespoons extra virgin olive oil
2 garlic cloves, crushed with the flat blade of a knife
Sea salt
1 cup mixed chopped vegetables, such as, onion, garlic, celery, red or green pepper, carrot
2 or 3 tablespoons chopped green herbs (e.g., basil, parsley, thyme)
Freshly ground black pepper
Pinch of chili pepper (optional)
½ to ¾ pound shrimp (see note above)
Juice of half a lemon
¾ pound dry sea scallops
¼ cup dry bread crumbs
2 tablespoons freshly grated Parmigiano-Reggiano cheese
Directions
1. Put the beans in a small bowl and pour boiling water over. Let them sit for about an hour to soften slightly. Then drain and transfer to a saucepan with more water to cover, plus 1 tablespoon of olive oil, and 1 crushed garlic clove. Bring to a simmer over medium-low heat and simmer, covered, until tender, about 30 to 40 minutes. Toward the end of the cooking time, add a good pinch of salt to the beans.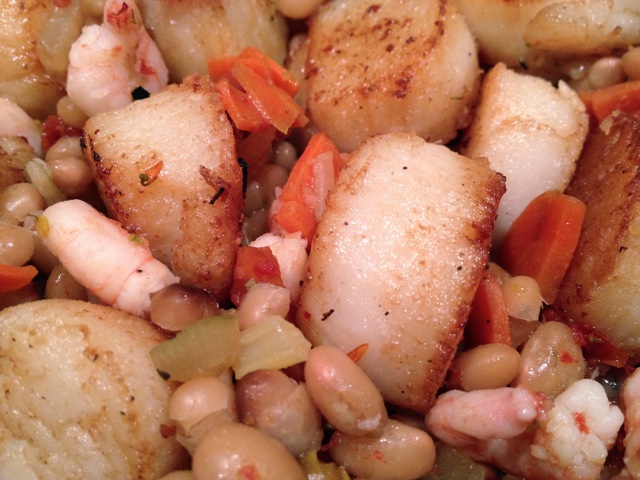 2. While the beans are cooking, prepare the vegetables, chopping them all into regular dice. Heat 2 tablespoons of oil in a skillet over medium heat and sauté the vegetables until they are softened and releasing their perfume. Stir in a couple of tablespoons of herbs, a little more salt, and black pepper. Add a pinch of ground chili pepper if you wish.
3. When the beans are done, drain excess water, leaving just a small amount of liquid. Stir in the prepared vegetables.
4. If using Maine shrimp or other small shrimp, stir them into the beans while they're still hot. If you must use larger shrimp, cut them into half-inch pieces and stir into the beans. Taste the beans and adjust the seasoning, adding more salt and/or pepper, and a spritz of lemon juice.
5. In a sauté pan or a wok, heat 2 or 3 tablespoons of olive oil. While the oil is heating, slice the scallops in half horizontally and dry them thoroughly with paper towels. As soon as the oil is hot, slide the scallops in and cook quickly, turning once, until the scallops are golden-brown on both sides. You may have to do this in batches.
6. Turn the oven on to 425 F. Have ready an oval gratin dish. Rub a little more olive oil over the bottom of the dish, then spoon the shrimp-bean mixture into the dish. Tuck the browned scallops into the bean mixture so that just their curving tops stick out. Sprinkle with bread crumbs and grated cheese and dribble the remaining olive oil over the top.
7. Transfer to the preheated oven and bake until the top is crisp and bubbly. Remove and serve immediately.
Top photo: Wok. Credit: Flickr / avlxyz

Gratin of What I Found in the Pantry. Credit: Nancy Harmon Jenkins
Zester Daily contributor Nancy Harmon Jenkins is the author of several books, including "Cucina del Sole: A Celebration of the Cuisines of Southern Italy" and "The Essential Mediterranean."

More from Zester Daily:
» Roasted vegetable pasta parmigiana