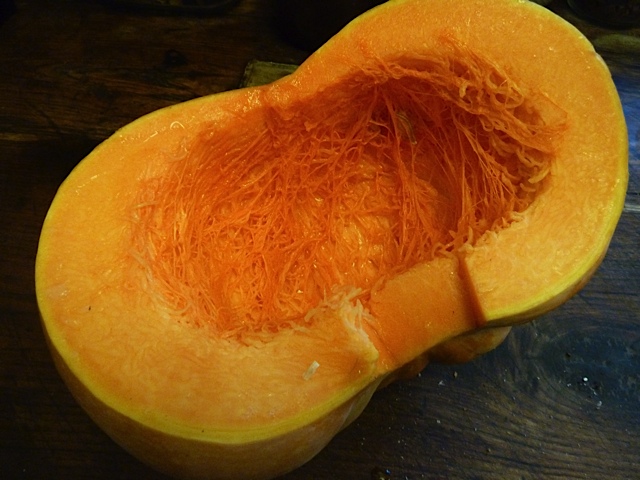 Thanksgiving was not my favorite holiday when I was a child. First of all, no presents: Who needs a holiday with no presents? And then, the food: so boring, so mind-numbingly uniform in texture -- dry turkey, mashed boiled squash, mashed boiled turnips, mashed boiled potatoes, boiled white onions in cream sauce, cranberry sauce from a can, Jell-O salad. This was not my idea of feasting. My mother was an excellent cook but somehow Thanksgiving seemed to try her skills -- possibly she didn't like that food any more than I did, but felt she had to prepare it, for tradition's sake.
Related: Yes, you can throw a fab cocktail party
Every now and then, something delightfully different would happen, like the year she decided on a succulent pork roast instead of turkey, or the time we all voted for lobster and no cranberry sauce for the feast. But when I think back, the best part was in the cut-glass relish dish handed down from Grandmother Hathorne. One side held celery sticks filled with a mix of blue cheese and cream cheese and the other had pimento-stuffed olives.
Later another innovation, served in an equally time-honored heirloom, was a curious salty-savory mix of mini pretzels, peanuts and cereal bits that I thought for a long time my clever mother had invented. But no, just now, while surfing the blessed Internet, I discovered it has a name, this mix, moreover a "registered" name: it's called Chex Party Mix (check it out at Chex.com). The original was developed by the mythical Betty Crocker, doyenne of General Mills, back in 1955. That original has since mutated and you can now find recipes for Gluten-Free Tropical Island Chex Mix and Kentucky Bourbon Bacon Chex Mix along with a host of others. But I like to think the original, with its elusive flavors of Worcestershire, seasoned salt, and garlic and onion powder, is the true classic of American Thanksgivings.
Related: Candied sweet potatoes and how people complicate holidays
Squash was the most problematic part of the meal, the unpleasant pablum texture of that boiled mash so integral to the Thanksgiving table. And don't try to tempt me with pumpkin pie, similarly mashed to a sticky texture and ineptly disguised with an overlay of sugar and spice. To misquote that old New Yorker cartoon about spinach, I say it's squash and I say the hell with it!
Squash, it turns out, is just another name, a Narragansett name in fact, for Olde English pumpkin, and it has an ancient, even venerable, history on these shores. For John Jocelyn, writing "New-England's Rareties" back in 1671, squash or pumpkin was already "The Ancient New England standing dish." Sliced diced squash or Pompion, he said was put in a pot on a gentle fire all day until it had sunk into a pottage, after which New England housewives "put to it Butter and a little Vinegar (with some Spice as Ginger...) ...and serve it up... with Fish or Flesh." "It provokes Urin extremely and is very windy," Jocelyn said. I rest my case.
It has taken me the best part of my life to learn to appreciate this vegetable of the unfortunate name. I've discovered only recently that great things could indeed be done with squash. Cut into French-fry sized fingers, rolled in a little seasoned flour, and deep-fried in olive oil, it reveals a whole new dimension of flavor. Sliced a little thicker and layered with onions in a baking dish, sprinkled with garlic, salt and pepper, plenty of olive oil and a thick dusting of grated parmigiano and bread crumbs, it bakes into a gorgeous gratin. Made into a pumpkin risotto (recipe below) or pumpkin-filled ravioli served with melted butter and sage, it brings glamour to the table.
Which squash is which? This is a question for your local Ag Extension Service. Because we're talking about November, we're talking specifically about winter squashes, which includes an enormous variety from small thin-skinned Delicata to pale blue and warty Hubbards to so-called Cheese Pumpkins, a paler version of the Halloween treat. Acorns, Butternuts and Buttercups are probably the most familiar varieties in supermarket produce sections, but farmers' markets will provide a much greater spread, including some Asian varieties, such as Kabocha (Japanese for pumpkin), that are delicious. Just steer clear of "pie pumpkins" or "sugar pumpkins" which have sweet flesh and are intended strictly for dessert.
Pumpkin sage puffs: a great holiday appetizer
My Thanksgiving table this year will be graced with this beautiful pumpkin (or squash, if you insist) risotto as a starter (after, of course, the platter of cheese-filled celery sticks and pimento-stuffed olives, plus the obligatory Chex Party Mix). My favorite cucurbit for this is a pumpkin called rouge vif d'Etampes, a French variety that is widely available in farmers markets. But butternut, acorn, Hubbard or other types of dark-yellow winter squashes will be fine too.

Pumpkin Risotto
Makes 6 to 8 servings
ᅡᄐ to ⅓ cup extra virgin olive oil
2 medium yellow onions, halved and very thinly sliced
1 small pumpkin or squash, peeled and coarsely chopped to make 2 to 3 cups chopped squash
2 or 3 sprigs fresh sage, slivered (optional)
2 cups arborio or similar rice for risotto
ᅡᄒ cup freshly grated parmigiano reggiano cheese
1 or 2 tablespoons unsalted butter, or more if you wish
Sea salt and freshly ground black pepper
1. Heat the stock to a bare simmer and keep simmering very gently while you prepare the risotto.
2. In a heavy kettle or saucepan large enough to hold all the rice when cooked, gently sautᅢᄅ the onions in oil over medium-low heat until they are thoroughly softened but not browned. Add the pumpkin and stir well to coat the pieces with the oil. Cover and cook gently for about 5 to 10 minutes, until the pumpkin is soft enough to break it up with a spoon. If it starts to scorch, add a little water or stock. The pumpkin should be very soft, almost a purᅢᄅe.
3. Add the sage and stir into the squash.
4. Add the rice and stir to mix well while the rice starts to change color and become almost translucent. Now add a ladle or two of simmering stock and stir. As soon as the rice has absorbed the liquid, add more, and continue adding simmering liquid, ladle by ladle, stirring as you add. There should always be liquid visible in the pan. Do not add all the liquid at once; this will produce boiled rice instead of risotto. The rice is done when it is al dente, with a bit of a bite in the center. Each grain should be well coated with brilliant yellow sauce, which should be dense and rather syrupy looking. When it is done, the risotto should be thick enough to eat with a fork and not at all soupy. (You may not need to use all the stock.) Total cooking time varies from 20 to 30 minutes, depending on the degree of doneness that you're looking for.
5. When the rice is cooked, remove the pan from the heat and immediately stir in about ᅡᄐ cup grated cheese and the butter. Add salt and pepper, cover the pan, and let it sit for 5 minutes to settle the flavors. Serve immediately, passing the rest of the cheese at the table.
For a holiday garnish take some fresh sage leaves and fry them in extra virgin olive oil, making sure the leaves are thoroughly dry before slipping them into the 360 F oil. Fry till crisp and drain on paper towels. Add a couple of fried sage leaves to each serving of risotto.
Photo: Halved Tuscan pumpkin. Credit: Nancy Harmon Jenkins