By Nancy Harmon Jenkins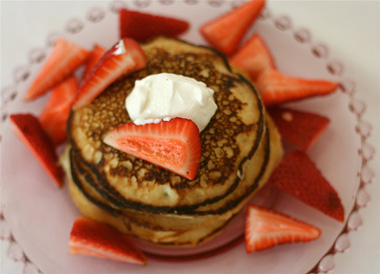 Strawberries! How do I love ye? Let me count the ways: strawberry shortcake, strawberry jam, strawberry pie, strawberry ice cream, strawberries and cream, strawberries and prosecco, strawberries and genuine aceto balsamico tradizionale di Modena, or just a little handful of fresh-from-the-garden strawberries sliced over the morning granola.
Related: Perfect buttermilk pancakes every time
There are so many reasons to love a strawberry, do you really need more? If so, turn to nutritionist Rosie Schwartz, who points out the health impact of strawberries on her Enlightened Eater blog:
Swartz offers state-of-the-art scientific evidence for these advantages.
Aside from their evident nutritional benefits, who could deny the sheer pleasure of this most remarkable fruit? When experts talk about fruity flavors in olive oil or in wine, the fruit that comes to mind, at least for me, is almost always strawberries. To me, the intense, pervasive flavor and aroma of ripe strawberries is the very definition of fruitiness, and it is irresistible.
Related: In Italy, they have a first and second breakfast

We have strawberries in the supermarket produce section almost all year round, but they come from industrial farms in California and they are often raised with an eye to their visual impact rather than flavor. For taste, however, nothing beats strawberries grown in a cool northern climate, where the intensity of sunlight around the solstice ripens them quickly and the cool temperatures give them an intensity southern-grown berries lack. Best of all, of course, are the wild strawberries found on the forest floor, but they are so few and so difficult to transport that they are best consumed sitting right down by a woodland path and eating them by the handful.
I have strawberries in my garden in Maine, but it's an annual contest with the local chipmunks as to who gets there first. Most mornings I find a few discards lying on the garden path, a bite taken out and then the berry tossed aside. Why? I hate to think the chipmunk is more discriminating than I am. Perhaps he was disturbed by the neighbor's cat.
So I rely on a farmstand nearby. Mrs. Beveridge's strawberries are dark red, big, luscious, full of flavor. And aroma -- just passing the stand in the car, with the windows down, I am drawn into their seductive web.
Strawberry shortcake is an all-time American favorite, of course. Who doesn't love it? Here in New England, the shortcake comes as a baking powder biscuit, with more than the usual sugar added, that is split in half, buttered, piled with strawberries, dolloped with sweetened whipped cream, and topped with a final garnish of the most perfect strawberry from the bunch. That's all well and good, but I've also discovered that ricotta pancakes, perhaps sweetened slightly more than you would want at breakfast, make an equally grand dessert when mounded with deep red strawberries and a fluff of white whipped cream with just a drop or two of vanilla added.
Here's the recipe, and I'm guessing it's going to be handy in a few weeks when blueberry season rolls around again:
Ricotta Pancakes

Makes about 12 pancakes, 6 servings

Ingredients
¾ cup whole wheat flour
¼ cup unbleached all-purpose flour
3 to 4 tablespoons sugar
1¼ teaspoons baking powder
Pinch of fine sea salt
1 cup well-drained ricotta
3 large eggs, separated
¾ cup whole milk
Grated zest of 1 lemon
¾ teaspoon vanilla extract
Vegetable oil or unsalted butter for the griddle
2 cups partially crushed strawberries, plus whole berries for garnish
Whipped cream flavored with a little sugar and ¼ teaspoon vanilla
Instructions
1. Toss together with a fork the flours, 2 to 3 of the tablespoons of sugar, the baking powder and the salt.
2. In a separate bowl, combine the ricotta, egg yolks, milk, lemon zest and vanilla, and beat to mix thoroughly. Fold into the flour mixture.
3. In a separate bowl, using clean beaters, beat the egg whites until stiff, adding 1 tablespoon of sugar about halfway through. Using a rubber spatula, fold the egg whites into the batter.
4. Heat the griddle or skillet and smear with about a teaspoon of oil or butter. Drop the pancake batter by ⅓-cup measures onto the hot griddle. Cook until done and golden brown on each side, turning once.
5. Serve each pancake topped with crushed berries and a dollop of whipped cream plus a couple of whole berries on top.
Zester Daily contributor Nancy Harmon Jenkins is the author of several books, including "Cucina del Sole: A Celebration of the Cuisines of Southern Italy," "The Essential Mediterranean," and "The New Mediterranean Diet Cookbook."
Photo: Ricotta pancakes with strawberries. Credit: Nancy Harmon Jenkins
More from Zester Daily:

» Cloudberries: A Scandinavian treasure

» A toast to the delicious domesticated blueberry

» Gooseberries' sweet tart balance is ideal for fool