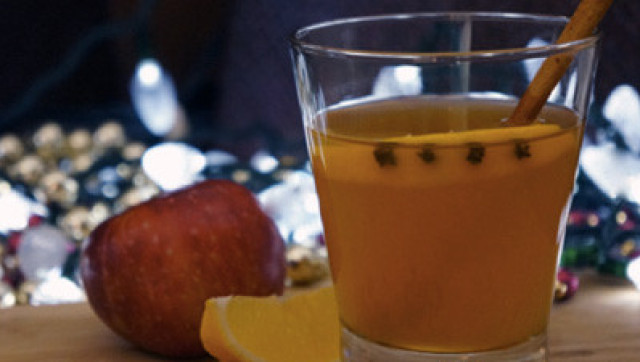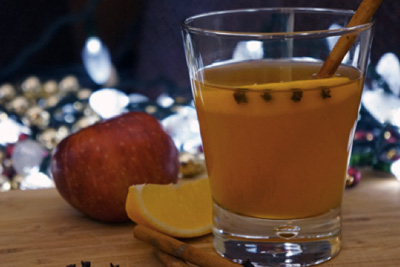 By Caroline J. Beck

When apple cider is pressed from an orchard full of heirloom varieties, the result has all the complexities of the best vintage red wine, but the finish is as crisp and clean as water from a spring-fed stream. Cider this good can be served ice-cold in a glass and downed in one long draw, making it the simplest of holiday drinks.
But as good as it is, there's still room for embellishment. Cider -- hard or sweet -- is enjoying a revival as the new "it" libation among the growing gluten-free crowd. And five minutes of prep time now will yield the perfect cocktail for a holiday party weeks away.
Related: What's the hottest trend in cocktails


"Banjo Bill's Anticipation" is a simple cider-based libation that comes straight out of old-time Arizona. Although the cocktail's history stretches back to the late 1800s, you only need three to four weeks to steep the spiced rum that marries with fresh cider to create a rich, warm apéritif.
With a color that mimics the intensity of the surrounding red-rock landscape, this cocktail is the house signature drink at Garland's Oak Creek Lodge in Sedona. Gary and Mary Garland have been serving cider-inspired cocktails at their historic rustic lodge for decades. But the inspiration for this one came from two other characters in the lodge's history.
Related: Best way to make country-style apple butter


The first was a settler named William "Banjo Bill" Dwyer, who came to the Oak Creek Valley in the mid-1800s and was known to share spirited refreshments from his own whiskey still at the end of a hard day. He was born long before some of the dozen or so heirloom apple varieties were even planted in Garland's orchard, but well in time to be one of the original lodge kitchen's customers in 1908. The second source for the recipe was Forest "Captain Vacation" Hunter, a modern-day customer turned dining-room manager at Garland's who dreamed up the home brew for the spiced rum.
Related: 3 cocktail recipes that are fresh from the garden


I first tasted this drink after an hour-long tour of Garland's organic apple orchards and gardens. Rob Lautze, master orchardist, explained that the biggest, boldest cider flavor comes from blending a balance of sweet and tart varieties. In making Garland's cider, he was lucky enough to have more than one dozen heirloom types to pick from, including Grime's Golden, Star King Double Red, Spitzenberg and even one that Lautze named Thomas, a hybrid apple grafted from a neighboring orchard of Winesap and Arkansas Black.
The fresh cider served to me had been pressed the previous day, and it was proof that the best ingredients can elevate even the simplest of drinks to a deeply rich and nuanced flavor. The magic behind the recipe is its reliance on truly fresh cider, not processed apple juice, and homemade spiced rum created from fresh ingredients not found in common bottled brands.

Banjo Bill's Anticipation
From Garland's Oak Creek Lodge
If you want to serve this piping-hot spiked cider for the winter holidays, you should get started now -- even if it only means assembling a few ingredients and hiding them away to steep until it's time to bring out this rich, warm holiday grog.
Serves 1
Ingredients
1¼ ounce spiced rum (see below)
6 ounces fresh apple cider
Directions
1. Mix ingredients.
2. Serve hot, in a mug with a cinnamon stick garnish, or over ice with a garnish of lime or a sprig of mint in warmer weather.

Captain Vacation's Spiced Rum
Ingredients
2 750-ml bottles of light rum
1 lemon
1 orange
2 fingers of fresh ginger, peeled and julienned (about 2 ounces)
4-5 sticks cinnamon
2 tablespoons whole cloves
1 tablespoon whole cardamom pods
1 tablespoon black peppercorns
Directions
1. Wash and dry lemon and orange, removing any residue from the surface.
2. Peel the fruit, avoiding the white pith under the peel. Place the peels into a large, clean glass container.
3. Add the remaining spices and the rum, making sure that it completely covers the peels, ginger and spices. Stir the mixture and cover the container tightly. Place the container away from heat or sunlight and let the mixture steep for up to 3 to 4 weeks.
4. After steeping, place a colander lined with cheesecloth inside of a large bowl. Pour the rum mixture into the colander and drain, using a wooden spoon to press out any excess liquid from the peels. Discard the peels.
Photo: Banjo Bill's Anticipation. Credit: Caroline J. Beck
Caroline J. Beck is a freelance food and wine writer and a strategic advisor to specialty food start-ups. Her articles and columns have appeared in such publications as the Santa Ynez Valley Journal, Michigan BLUE -- Michigan's Lakestyle Magazine, and The Olive Oil Source, the world's top-ranked olive oil-related website, where she has served as editor since 2007. Caroline's website, www.carolinejbeck.com, provides common sense advice for enthusiastic entrepreneurs looking to succeed in the specialty foods business.