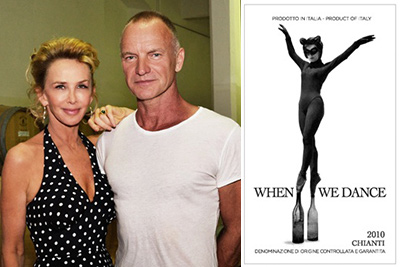 By Elin McCoy
Dozens of celebrities have become vintners in the past decade or so, but only a handful are making wines as interesting as the three reds from rocker Sting and his producer, philanthropist wife Trudie Styler. The latest debut from their Tuscan estate, Il Palagio, is fresh, charming 2010 When We Dance Chianti, which has wonderful aromas of cherries and lilies, a bright, lively taste of red cherry fruit and a very down-to-earth price.
Related: A magnum question: Are bigger bottles better when it comes to Chianti?
I think of it as a go-to everyday Chianti, one that is perfect with summer pastas with fresh heirloom tomatoes, mozzarella, garlic, the best olive oil and chopped basil from the garden. Made in a fruity, drinkable style and fermented and aged in stainless steel, When We Dance is a blend of mostly Sangiovese, Tuscany's signature grape, with dashes of Canaiolo and Colorino for color and tradition. This red has no resemblance to the many over-oaked, overripe, global-style Chianti Classico Riservas that have hurt the region's reputation.
Sting and his wife, Trudie Styler, convert vineyards to biodynamic agriculture
Sting and Trudie bought the 16th-century Il Palagio estate, about 45 minutes from Florence in the Chianti region, in 1997. They set about acquiring more land -- they now have 900 acres -- and restoring the villa, vineyards, olive groves and gardens. Renowned viticultural consultant Alan York oversaw the conversion of the vineyards to biodynamic agriculture, and the estate's commitment to biodynamics surely contributes to the very pure, exuberant flavors of When We Dance.
Now the property is almost self-sustaining; it markets its own honey and olive oil, grows its own organic vegetables and even has a studio where the musician and singer-songwriter records.
Related: Think you're buying sustainable foods? Maybe you're not.
When We Dance is the low-priced red in Il Palagio's trio that includes two IGT Toscana wines, Casino delle Vie and top label Sister Moon, all of which I tried a few months ago at a Vintus Wines portfolio tasting. This summer I've sampled When We Dance several times over dinner, and liked it just as much as I did then.
The name comes from one of my favorite Sting songs, first on 1994 album "Fields of Gold," and included on several other albums since. No, When We Dance is not from the prestigious Chianti Classico Zone, but it has the mellow tannins, lovely racy acidity, and wild red cherry character that makes Chianti so good with food. I sipped it with homemade pasta on my terrace with the song playing in the background -- a great pairing of food, music and wine.
* * *
2010 Il Palagio When We Dance Chianti

Price: $22
Region: Tuscany, Italy
Grape: 95% Sangiovese, 5% Canaiolo and Colorino
Alcohol: 13%
Serve with: Fresh tomato and mozzarella pasta, grilled Italian sausages
* * *
Also fresh on Zester Daily:
Where to find Mexico City's best ceviche.
How 'demon rum' wins more souls.
Who's the creative chef couple behind NYC Indian cuisine?
The secret to making fast, easy marshmallows at home?

* * *
Photo composite: Trudie Styler, left, and Sting; label from When We Dance