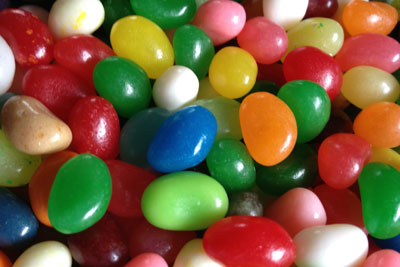 By Evelyn Iritani
In the face of global economic uncertainty, a nail-biting presidential election and record-breaking temperatures, my problem might seem small. Even at a half-inch long. Let me assure you, it isn't.
For as long as I can recall, my guilty pleasure was Jelly Bellies, a mouthwatering burst of exquisite flavor. Toasted Marshmallow. Cream Soda. Café Latte. Until last Halloween that is, when I discovered that my high-priced sugar fix was being used to game the democratic system. Thanks to the U.S. Supreme Court ruling in Citizens United vs. Federal Election Commission, the floodgates were opened for Herman Rowland Sr., chairman of the board of the Jelly Belly Candy Co., to put his money where his heart is. And apparently, his heart is filled with the causes embraced by the Tea Party, Rick Santorum and other uber-conservatives.
Related: Candy is sacred to Halloween

It was OpenSecrets.org, the nonpartisan guide to money in politics, that burst my Jelly Belly bubble. I knew of Ronald Reagan's jelly bean fixation. But I had no idea how far right of the Gipper the company tilted. Over the past two years, Rowland, his family and the Jelly Belly company (which also makes candy corn) have poured more than $100,000 into conservative candidates and causes, including political action committees and super PACS with flag-waving names like Tea Party Express, Citizens for Economic and National Security, and Americans for Accountability in Leadership.
I clearly needed a new sugar fix. A Google search for "progressive jelly beans" returned 567,000 hits. Topping the list was a customized jelly bean gift company and a record titled "Jelly Bean" by a musician named Kinky Koala. How about "progressive companies"? Up popped Progressive Insurance and an article from Daily Kos about how to be a progressive company. Hint: Focus on core values. Nice advice, but no closer to filling my candy jar.
Related: Filipino holiday candy
I'd already shared the bad news with my daughter, who immediately shelved her plans for a Jelly Belly candy table at her wedding. Honestly, it didn't take much persuading. She's a marine biologist, and for years, she has been helping me align my stomach and a better world. Thanks to her -- and the Monterey Bay Aquarium Seafood Watch -- I will never again enjoy Beluga caviar with sour cream and blintzes.
The helpful folks at OpenSecrets.org sent me a copy of the "The Blue Pages," their in-depth ranking of companies based on their political contributions and practices. But a quick perusal of the 4,500 listings found no jelly bean producers, progressive or otherwise.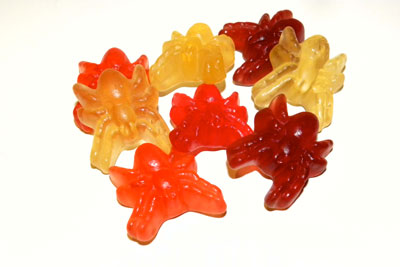 My next Google search -- "rating companies by politics" -- seemed promising. It took me to the GoodGuide's Vote With Your Dollars Web page, which ranks major corporations based on their political contributions. Unfortunately, no candy producers were listed there either. GoodGuide"s smartphone app, where consumers can scan bar codes and retrieve product rankings by health, environmental and social performance, has been downloaded more than 1 million times.
But Dara O'Rourke, a University of California, Berkeley associate professor and co-founder of GoodGuide, said his job is getting tougher. Citizens United has made it much easier for corporations and wealthy individuals to disguise their political leanings while tilting the electoral playing field to their advantage. "A lot more money is flowing and it's harder to see even than it was two years ago," he said. "We're really trying to play catch-up."
O'Rourke warned me that consumer advocates aren't big fans of the candy industry, citing concerns about links to childhood obesity and exploitative labor practices, particularly in the cocoa bean industry. "Have you considered making homemade jelly beans?" Clearly he hadn't toured the Jelly Belly factory in Northern California, where visitors learn about the French-inspired, 21-day process that goes into the creation of a single jelly bean.
Related: Missing candy raisins
O'Rourke's advice? Look for a jelly bean made by a fair trade or organic company committed to progressive causes. That led me to Bert Cohen, the president of TruSweets, the Illinois-based producer of SurfSweets jelly beans and gummy bears. His candies are made with natural or organic ingredients, such as fruit juice and tapioca syrup.
Cohen set me straight. "We are politically agnostic. We are solely focused on producing better-for-you products that people can enjoy whether they have food allergies or not." (Cohen came up clean in the OpenSecrets.org database.) But apolitical doesn't necessarily mean uninvolved. Cohen donates a portion of his company's profits to causes his customers deem important: energy conservation, a healthy ocean, dealing with food allergies. "We're more about bringing people together than dividing them," he told me.
I could live with that. More than anything else, I value transparency and honesty in politics. If the profits from my jelly bean addiction are funding solar panels in schools rather than misleading, anger-filled political ads, I am happy. So I've made the switch. If you come to my door on Halloween, expect to find SurfSweets Gummy Spiders in your bag. Or maybe an organic apple.
Evelyn Iritani, a former economics writer for the Los Angeles Times, won the Pulitzer Prize in 2004 for a series she co-authored on Wal-Mart's impact on the global economy. An interest in Japan, her family's ancestral homeland, was the inspiration for her book, "An Ocean Between Us: The Changing Relationship of Japan and the United States Told in Four Stories from the Life of an American Town." In her spare time, she loves making wickedly rich desserts and herding cows in Montana.
Photos from top:
Jelly beans. Credit: Evelyn Iritani
SurfSweets Spooky Spiders. Credit: TruSweets