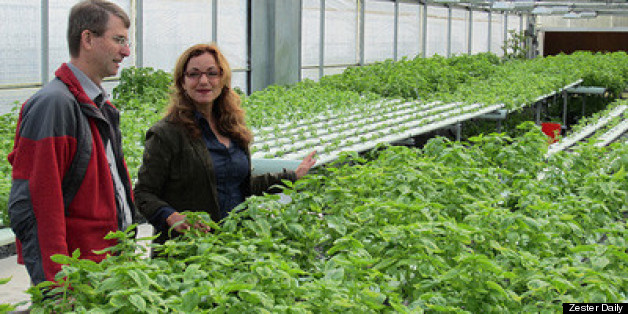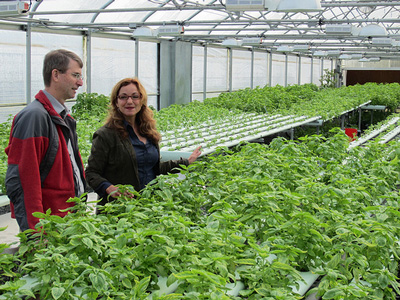 By Mark Winkworth
I was taken aback recently to hear the hard statistics: The United States imports more than 38 percent of the fruits and more than 17 percent of vegetables we put on our tables.
We regularly see produce from Mexico, Canada, Chile, China, Guatemala, Ecuador, Peru and more -- imports that have tripled since the 1990s. The produce is harvested before it is even ripe, so that it can be cheaply and efficiently boxed and shipped to our shores for consumption often weeks later.
And while it is a fact that the local food movement is growing exponentially, the reality is that these small farming efforts are often built on marginal land or urban plots. As for big agriculture, according to the American Farmland Trust we lose more than one acre of farmland to urban development every minute of every day, 24/7.
It all adds up. Stifling competition from often inferior product from abroad. Aggressive developers here at home. Shopping malls. Young farm family members choosing not to follow in their parents' footsteps.
According to the USDA, the number of farms in the United States fell to a six-year low in 2012.
Related: A closer look at the film "At Any Price" on GMO farming.
According to the USDA, as of 2007 (the latest date for such statistics) the average age of principal farm operators was 57 years old and there are few prepared with the skills to take their place. How could it be that the Unites States, once the envy of the world in terms of agricultural output, is not even producing enough to feed our own people?
As a nation it's no secret that we eat too much and too much of the wrong foods, and this has dire consequences on our health. We are currently ranked 33rd on Newsweek / Bloomberg's 2012 survey of the world's healthiest countries.
I was reminded of these and other sobering statistics at a screening of "Ground Operations: Battlefields to Farm Fields," a powerful documentary that addresses the urgent need to retool and reboot U.S. farming practices.
Thanks to the efforts of Dulanie Ellis and Ray Singer, award-winning filmmakers in Ojai, Calif., a social action campaign has been launched nationwide to give combat veterans the opportunity to become a new generation of farmers.
Related: The real secret garden, and it's secret herb recipes.
In 2000, Dulanie Ellis launched Walk Your Talk Productions to explore what it would take to protect the world-class farmland in her region of California from development. Thus began her commitment to agricultural activism. Her partner in the documentary, filmmaker Ray Singer, shared her passion and together they embarked on a three-year journey that has profoundly affected each of them. Their goal is to strengthen the growing network of combat veterans who are transitioning into organic agriculture and to build resources for veterans so they can create healthy new lives for themselves and contribute to food security for our nation.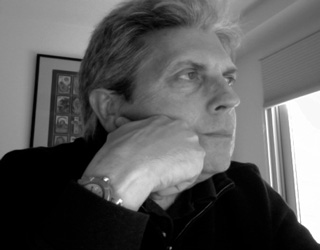 Recently returned from protecting U.S. interests overseas and having traded in their fatigues for overalls, hundreds of veterans returning from Afghanistan and Iraq are now committed to growing organic produce and selling it to local communities from Seattle to Florida.
Colin and Karen Archipley, founders of Archi's Acres in Valley Center, Calif., have taught more than 100 veterans not only how to grow crops, but how to run a farm as a business through their Veterans Sustainable Agriculture Training (VSAT) program.
VSAT is a proprietary hands-on six-week training program "from seed to market" with an emphasis on developing a business plan. Colin and Karen purposefully tap into the skills and military training of the veterans -- attention to detail, dedication and thoroughness -- and assist with job placement and business creation at the end of the immersive training. Graduates include successful farm owners and workers, soil-testing pioneers, restaurateurs, and owners of food companies.
Michael O'Gorman, a passionate advocate for the cause of teaching veterans to farm, is the founder and director of the Farmer Veteran Coalition (FVC) located in Davis, Calif. This national network of independent veterans-in-agriculture has teamed up with the USDA to offer free educational retreats in sustainable agriculture all around the country, open to veterans and their spouses.
Related: Tips on stalking wild asparagus the way Euell Gibbons did.

The coalition serves as an important networking agency. Veterans are able to talk with farmers, attend workshops on financing and related business topics. FVC also offers the Fellowship Fund, which makes small but strategic grants to farmer-vets so they can get what they need most to strengthen their operation.
"Our goal is to connect the latest generation of veterans from Iraq and Afghanistan to viable careers in agriculture," says Michael. "What we see amounts to religious conversions. These young folks have taken on the military and farming -- two of the hardest challenges we face -- and they're not even 30 years old."
Related: A Southern city that is making an urban farm cooperative work.
American-grown food for all -- it's more than a wish. The United States is projected to add some 18 million people by the year 2020. With nearly 334 million mouths to feed by the end of this decade, food supply is arguably one of the defining issues of our time. Think about it. Homegrown food is healthier for you. Healthier for your children. Healthier for our communities. Healthier for America.
The next time you plan your week's shopping, check first for a local farmers market. You may just find a veteran farmer continuing to do service for our country.
Photos, from top:
Miles McEvoy, the National Organic Program's deputy administrator, and Karen Archipley, co-founder of the Veterans Sustainable Agriculture Training program, tour the Archipleys' organic basil garden in 2012. Credit: Flickr / USDAgov
Mark Winkworth. Credit: JJ Britt
Zester Soapbox contributor Mark Winkworth is a marketing communications consultant, creative writer and artist living in Pasadena, Calif. He relishes making his weekly rounds to the local farmers markets.
More from Zester Daily:

» A wine pick that worked for President Obama's first state dinner.
» Do we really need to name the Best Female Chef anymore?
» How to prepare broccoli rabe in a way that wins over all ages.
» Apps that make your life easier when picking dining hotspots.