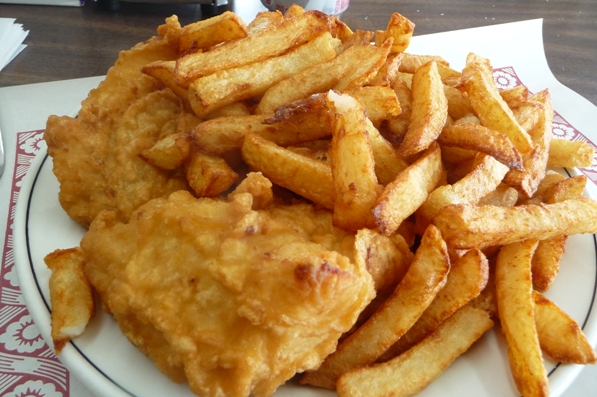 The 2013 World Series features a matchup between the Boston Red Sox and the St. Louis Cardinals. Many of us expect to spend a bit of time in front of the TV. And we'll need to eat.
There are three approaches to game-time TV food. The first is junk food like tortilla chips and salsa, potato chips or popcorn. The second is approximations of what you might eat at a ballpark, such as hot dogs. The third I propose here.
Baseball games require a lot of TV time, so you'll want a real meal at some point, and it should be a meal you can eat in front of the TV without much hassle. I like culturally appropriate foods, so I suggest Boston fans serve up some fish and chips and St. Louis fans serve up hot dogs. Beer and soda go without saying.
Fish and chips along with baked beans, fried clams and clam chowder are typical Boston foods, but fish and chips are perfect when you don't want to look down at your plate during an exciting hit-and-run.
The hot dog is the perfect St. Louis food for baseball watching because you can bring it up to your mouth without taking your eyes off the called third strike. Furthermore, the invention of the hot dog, a frankfurter in a bun, is sometimes ascribed to the wife of a German named Antonine Feuchtwanger who sold hot dogs with buns on the streets of St. Louis in 1880 because his customers kept taking off the white gloves handed to them to prevent their hands from being burned while they ate. For our purposes, this story alone is good enough to declare the hot dog St. Louis food and an appropriate choice for watching the Cardinals in the World Series.
Another St. Louis food story relates the invention of peanut butter to the city in 1890, when an unknown St. Louis physician encouraged a food products company owner, George A. Bayle Jr., to process and package ground peanut paste as a nutritious protein substitute for people with poor teeth who couldn't chew meat. No one knows where the peanut butter and jelly sandwich was invented, but that it existed around 1900 and it's a good addition to the hot dog on the Cardinals' menu.
The hot dog is easy enough, so here's the recipe for fish and chips.
2 tablespoons extra virgin olive oil
Salt and freshly ground black pepper to taste
4 egg whites, beaten to form peaks
8 cod fillets (about 2 pounds)
Directions

1. Preheat the oil in a 12-inch cast iron skillet over medium-high heat.
2. In a bowl, prepare the batter by stirring together the flour, beer, olive oil and season with salt and pepper. Fold in the egg whites.
3. Dip the fish fillets into the batter making sure both sides are coated. (You'll have leftover batter). Using tongs carefully place 4 fillets in the hot oil making sure you do not crowd the skillet; cook in more batches if necessary. Cook, turning once with tongs, until golden brown on both sides, 8 to 10 minutes in all. Remove and keep warm in the oven. Repeat for the remaining fish fillets. Serve with lemon wedges, tartar sauce or malt vinegar.
Ingredients

4 russet potatoes (about 12 ounces each), peeled and cut into 3-inch lengths not more than ᅡᄑ-inch thick
2ᅡᄑ quarts peanut or canola oil for frying
1. Dry the potatoes very well with a towel or multiple sheets of paper toweling. It is very important that the potatoes be dry.
2. Preheat the frying oil in a deep-fryer or large 12- to 14-inch skillet to 360 F. The oil should be at least 2 inches deep and no cooking should happen before that temperature is reached.
3. Cook the potatoes in five batches so they are never too crowded (otherwise the temperature of the oil will drop). Cook for exactly 5 minutes. Remove, drain and transfer to a paper-towel-lined platter. Repeat until all the potatoes are cooked. Let the potatoes cool completely, covered with paper towels. Do not salt. You can place them in the refrigerator for 8 hours if you're not to be serving them until later in the day, but do bring them back to room temperature before proceeding.
4. Preheat the frying oil to 370 F.
5. Cook the fries in five batches again for exactly 4 minutes. Taste one fry and see whether you like it. If not, cook for another minute. As you remove the fries to drain on more paper towels, salt them immediately. Transfer the French fries to a platter and serve.
Top photos: Fish and chips. Credit: Clifford A. Wright
Zester Daily contributor Clifford A. Wright won the James Beard/KitchenAid Cookbook of the Year Award and the James Beard Award for the Best Writing on Food in 2000 for "A Mediterranean Feast." His latest book is "One-Pot Wonders" (Wiley).