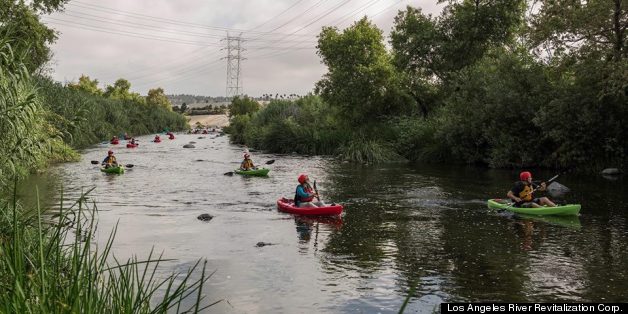 Co-authored by Allan J. Abshez

For most longtime Angelenos, the Los Angeles River has represented little more than a concrete scar across the county, a channel sending urban runoff and debris towards the sea. Although largely justified in the past, that perception has failed to keep pace with the river's emerging new realities and its potential to become one of the grandest urban greenways in America.

There was a time when the Los Angeles River was a lifeline for our region. Along its banks, the Gabrielino Indians hunted, fished and lived. The Spanish established the city's earliest settlements on the river, which would later power the area's industrial growth. But by the early 20th century, the river simply could no longer co-exist with the Los Angeles Basin's explosive growth. A deadly flood in the winter of 1938 finally led to its encasement in concrete, paving the way for the river to become more famous as a backdrop for movie car chases than for its real-life story.
To be sure, long stretches of the river's 51-miles remain as barren today as they did a quarter-century ago. But elsewhere, a rebirth has been taking root like the lush foliage that again blankets the riverbed between downtown L.A. and Griffith Park. In fact, through a burgeoning public-private partnership, a reimagining of the river's place in modern-day Los Angeles is gaining unprecedented traction.

President Obama recently made the rejuvenation of the L.A. River a top priority in his urban waterways initiative. And with the federal government's earlier recognition that the river should be open for recreational use, higher water quality standards are also on the way.
The City of Los Angeles, along with the county and other municipalities, has built miles of new bikeways along the river. In April, NBCUniversal committed nearly $14 million toward the completion of a 6.4-mile gap between Griffith Park and Studio City. Pocket parks also are sprouting on the river's banks. A summer pilot program has people from across the region kayaking and fishing in its Glendale Narrows passage. And on Tuesday, we'll celebrate the generous public and private support that will soon give rise to La Kretz Crossing -- a stunning pedestrian, equestrian and cyclist bridge near Atwater Village.
But all this is only a start in turning the river into a truly vibrant public space, where our diverse population can not only share recreational opportunities but also forge a broader sense of community from the valley to the ocean. In one of the nation's most densely developed regions, the Los Angeles River represents a unique opportunity to transform blighted infrastructure into a scenic refuge -- a quintessentially L.A. version of New York's hugely popular "High Line," a mile-long aerial park built along old railroad tracks.
That's the charge of Greenway 2020, an initiative spearheaded by the nonprofit Los Angeles River Revitalization Corporation, which has an immediate goal of completing all 51 miles of the river bikeway by the end of this decade. Filling in gaps totaling 24 miles through government and private financing, the path would extend from the west San Fernando Valley to Long Beach, complete with amenities such as bike shops, eateries and picnic sites.
Daily commuters would be able to ditch crowded roads and buses in favor of a beautiful -- and healthy -- bike to work. The 100,000-plus cyclists who've turned out for the street-closing CicLAvia events is proof of the pent-up demand for bicycle experiences that don't compete with automobiles. Entire families, meanwhile, would have a desperately needed getaway in our concrete landscape to play, to breathe and to build memories.
Every world-class city has public spaces that define it. But these monuments to urban life don't build themselves. Communities come together to create them, and such will be the case for Greenway 2020. It will require coordination and commitment among L.A.'s community leaders, its governmental agencies and its private sector, including business and property owners along the river.
Most of all, it will require a grassroots movement to prove that Los Angeles is ready to make this vision a reality. We urge you to get involved -- sign up at www.larivercorp.com to join Greenway 2020's efforts and learn more about the project. Attend community meetings. Convey your support to your elected officials. Participate in L.A. River cleanups. Bike and kayak with your friends.
And help us chart a course for the river that will, once again, let it nourish life across Los Angeles.
Yaroslavsky is a member of the Los Angeles County Board of Supervisors
Abshez is on the board of the Los Angeles River Corporation