Wildlife needs wilderness -- not just to survive, but also to live freely. These eco-friendly, ethically sourced artisan gifts are inspired by the natural colors, textures and tones of the arctic region's remaining wildlife. Because many species struggle to survive as humans encroach on their habitats, you might also want to consider a gift donation to one of the nonprofit organizations working to preserve and protect the precious arctic wilderness.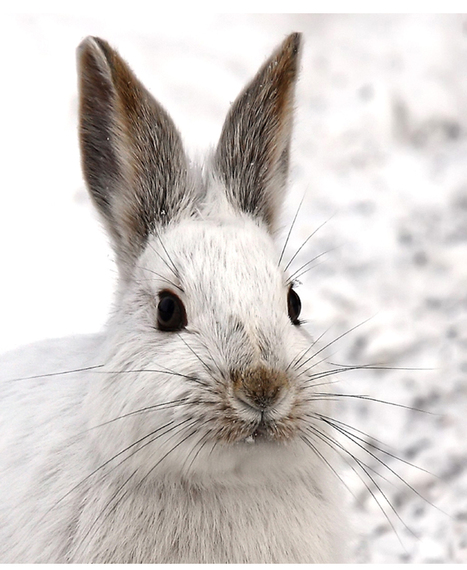 THE CANADIAN WILDLIFE FEDERATION (www.cwf-fcf.org)
The Canadian Wildlife Federation informs and educates Canadians about regional wildlife and wilderness habitats, presenting real-world options and opportunities to take responsible action and providing assistance to wildlife in trouble. Its educational programs inspire young people experience the natural world and help with wildlife conservation. Join this community of educators -- including teachers, youth leaders, park naturalists and more -- which has already reached more than 1 million students across Canada.
The remarkable snowshoe hare's coat morphs from mottled brown in summer to white in winter, allowing the hare blend into its surroundings. The shy and mostly nocturnal snowshoe hare is named for its large hind feet, which helps it escape from predators in even the deepest drifts. PHOTO: Snowshoe hare (Lepus Americanus) by Jim Cumming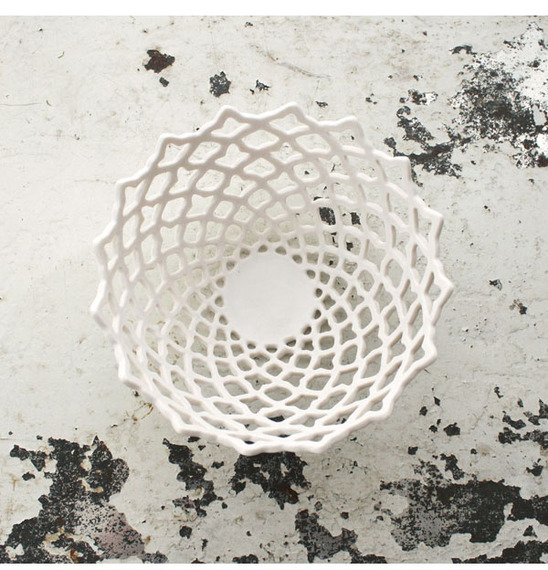 ISABELLE ABRAMSON Porcelain Lattice Bowl, $475; isabelleabramson.com
This carved snowy white porcelain bowl, handmade in Massachusetts and Vermont, celebrates the beauty of seasonal snowfall. Available in several sizes, the bowls feature Abramson's hand-carved latticework and are glazed with food-safe, milky white matte glaze.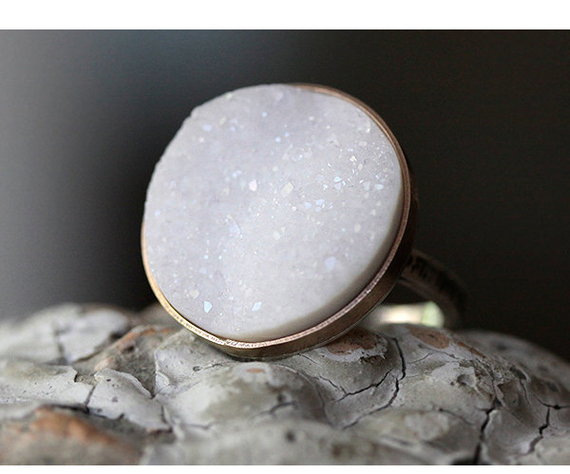 ANDREA BONELLI Glistening Druzy Cocktail Ring, $128; andreabonelli.com
This pretty, ethically mined Druzy shimmers and sparkles like powdery, sugary snow (a Druzy is made of tiny quartz crystals that form on rocks). Handmade in the USA with Recycled Sterling Silver and sustainable Yellow Gold.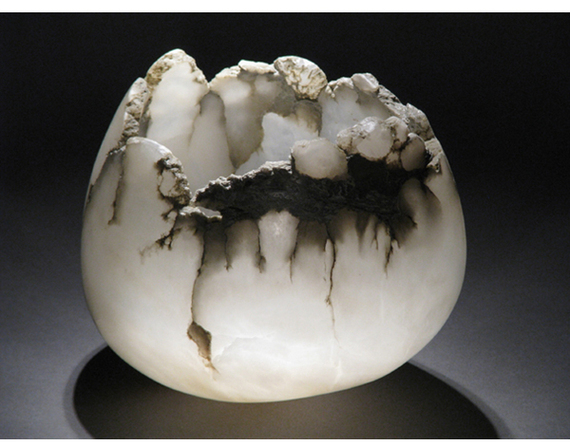 ALABASTER Hand Carved Alabaster Votive Candleholder, $600; alabaster.net
Artists around the world have carved alabaster, the "queen of stones," into sculptures for thousands of years. For more than four decades, husband-and-wife team Susan Zalkind and Paul Hawkins have hand gathered rare alabasters throughout the American Southwest and transformed them into works of art that grace global collections.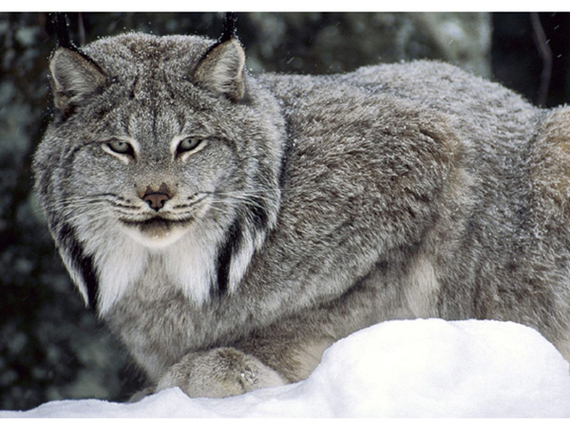 CENTER FOR BIOLOGICAL DIVERSITY -- Save the Canada Lynx (www.biologicaldiversity.org)
These big kitty-cats have thick, snowshoe-like cushions of hair on the soles of their paws so they can hunt in deep snow for snowshoe hares. The lynx, the only cat that relies almost exclusively on one prey species to survive, is threatened by habitat destruction. PHOTO: Canada Lynx (Lynx Canadensis) Photo by Calxibe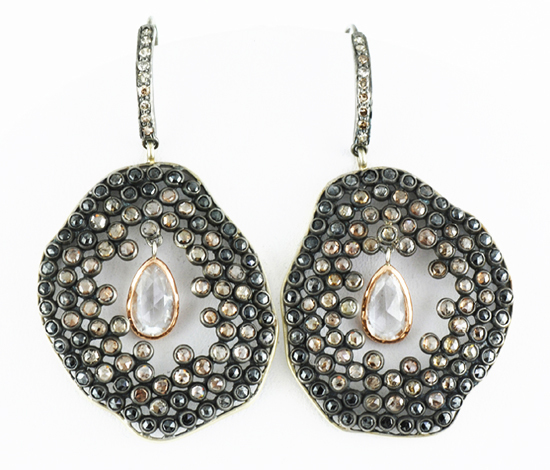 PAVE Zicron and Diamond Earrings, $5,750; pavefinejewelry.com
One-of-a-kind oxidized sterling silver and 14-karat yellow gold earrings feature black and champagne rose-cut diamonds and white zircon drops set in 18-karat rose gold. Led by jewelry designer Michael Endlich, the Pavé Fine Jewelry team creates luxury jewelry "with a conscience" using recycled metals and gemstones, certified conflict-free diamonds.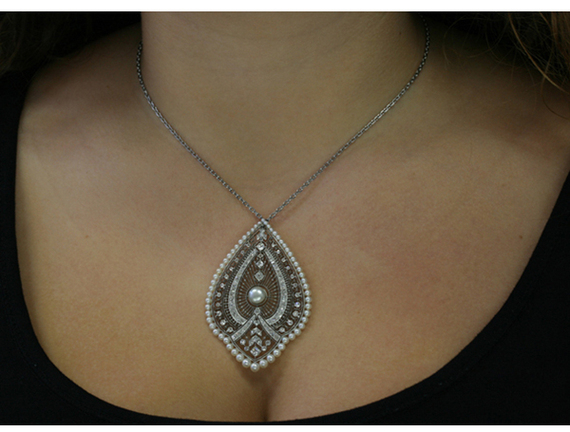 EDWARDIAN Princess Pendant, $18,850.00; etsy.com/shop/adinantiquejewellery
This exquisite 1910 French Edwardian princess necklace crafted (hued) from a single piece of platinum and boasts 124 diamonds and 60 real natural orient pearls. A museum-worthy lacework masterwork encrusted with natural pearls and diamonds. Inspired by Mother Nature and the plumes of a peacock, associated with the Greek goddess Hera and the Hindu God Krishna. Excellent antique condition.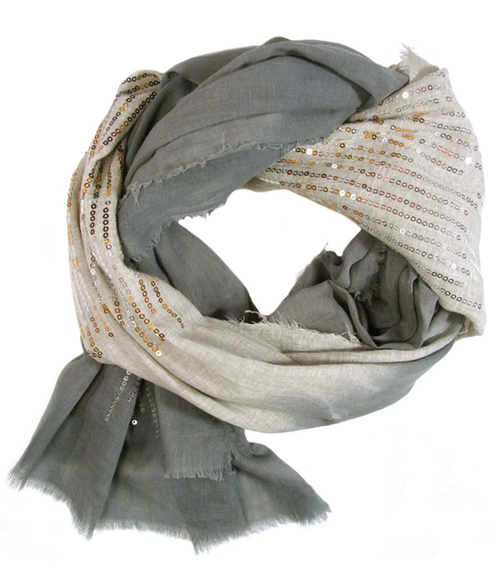 RANNKA NYC Double Silver Scarf with Sequins, $60; rannka.com
New York-based designer Anabela Jevtovic handcrafts one-of-a-kind scarves made from salvaged vintage fabric. She only uses natural and salvaged fabrics and eco-centric, chemical-free, water-based color systems.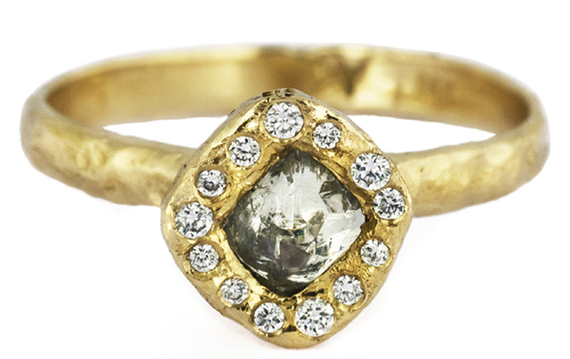 ANOUK Earth and Sky Diamond Ring, $2,778; anoukjewelry.com
Designer Anat Kaplan's old world meets new world styled gold solitaire ring features a conflict-free raw diamond surrounded by small white diamonds.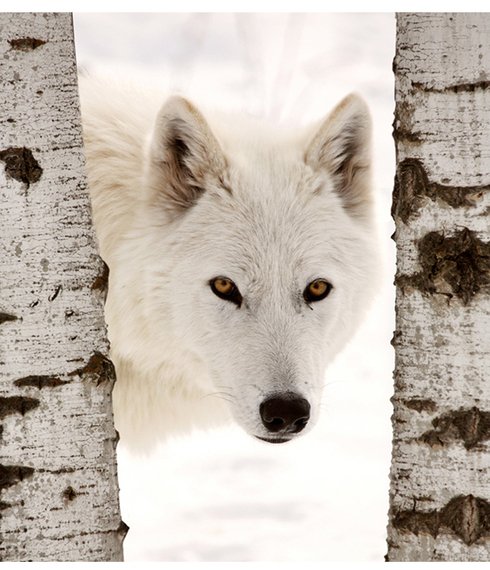 DEFENDERS OF WILDLIFE -- Adopt a Wolf (defenders.org)
Defenders of Wildlife is best known for its outspoken, unyielding fight for the rights of wild wolves, which are threatened by aggressive and widespread anti-wolf extremism. Your gift helps fight for wolves' rights to live freely, in their natural homes. Support the Arctic National Wildlife Refuge's efforts to protect a vital habitat for arctic wolves (such as the one in this photo) who depend on the region to survive. PHOTO: Artic Wolf (Canis lupus arctos)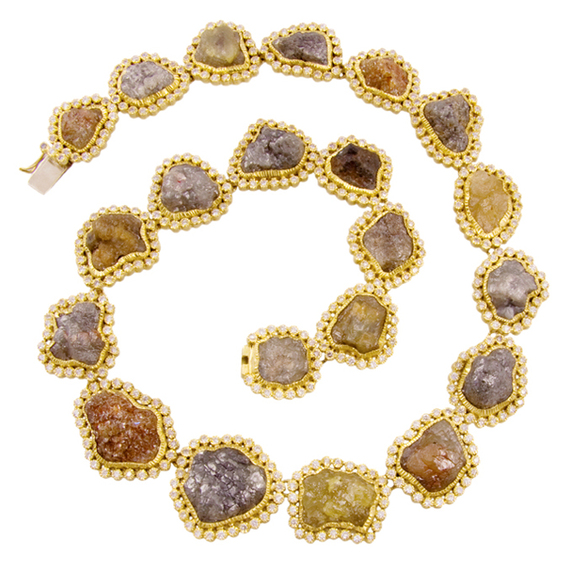 TODD REED Raw Diamond Necklace, $42,680; toddreed.com
Colorado-based jewelry master Todd Reed is a sought-after expert in natural, uncut diamonds. His museum-quality contemporary jewelry features responsibly sourced raw diamonds sublimely set in high-carat recycled gold and other precious metals.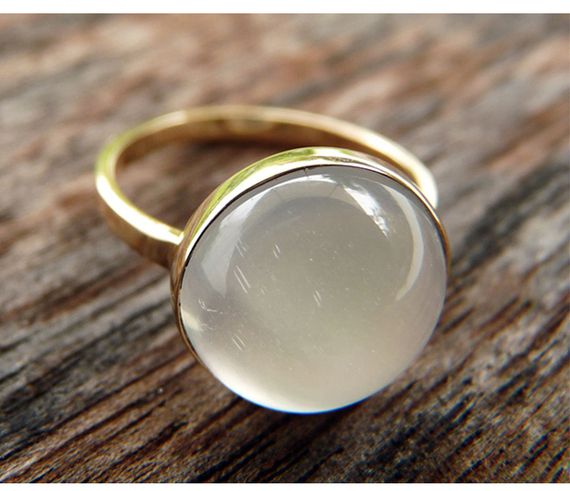 MARIA BURGOS Magic Moonstone $640; etsy.com/shop/mariaburgos
The perfect gift for a woman who runs with the wolves, this conflict-free moonstone, set in a simple open bezel setting made from fine recycled gold, glows like a mystical full moon on a midwinter night.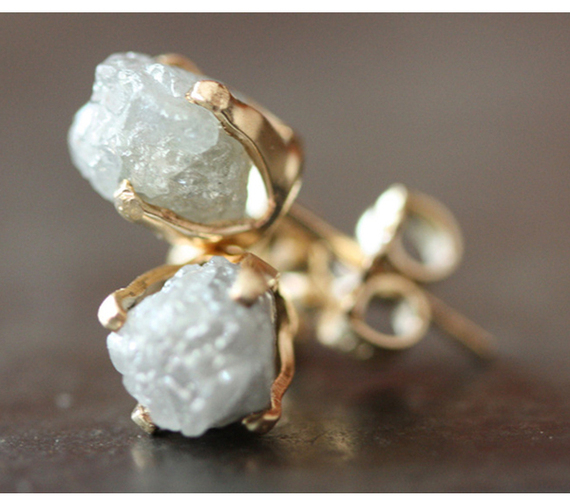 ALEXIS RUSSELL Raw Diamond Studs, $198; alexisrussell.com
These icy, conflict-free raw diamonds are set in contrastingly warm recycled gold. Each piece is handcrafted, blending classic modern design with natural, organic elements.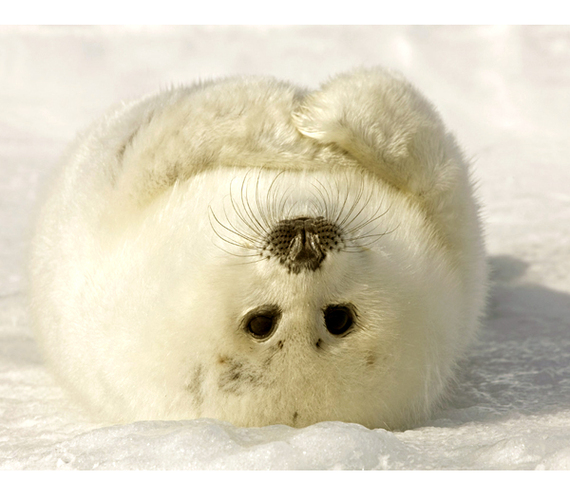 GREENPEACE Save the Arctic (greenpeace.org)
Support Greenpeace USA's Arctic 30, Captain Peter Willcox and the cosmopolitan crew of the Arctic Sunrise, who risked their freedom to defend the arctic region, a vital and endangered eco-system that is extremely vulnerable to oil spills. The Russian Coast Guard illegally boarded the Arctic Sunrise following a peaceful protest against giant oil company partners Shell and Gazprom, the first companies to drill for oil in the arctic region. The activists remain behind bars in Russia. Stay tuned for an upcoming interview discussion with Greenpeace USA executive director Philip D. Radford on Huffington Post.
Arctic harp seal pup populations are declining as they are commercially hunted for oil and fur and global warming causes the ice where pups are born to break up and melt. Now the pups face yet another human threat: oil spills. PHOTO: Harp seal pup (Pagophilus groenlandicus) by Keren Su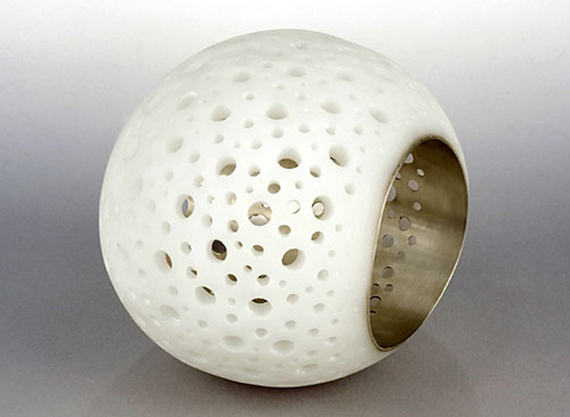 SARAH KING Snowball Bangle; jewelerswerk.com
Sarah King uses Bioresin, a nontoxic resin made from plant cellulose, to create hollow forms that are hand drilled and inlaid with sterling silver. King has been experimenting with the eco-plastic since 2000.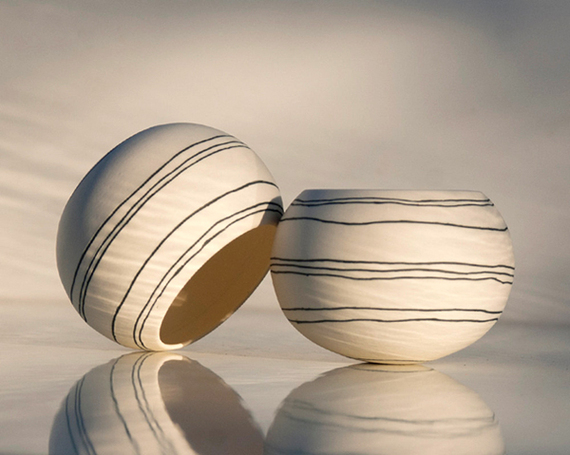 WAPA STUDIO Porcelain Globe Candle Holder, $40; etsy.com/shop/wapa
Ceramic designer Ady Shapira hand carves casual, flowing thin lines on these contemporary spherical vessels, then fills them with black porcelain slip to complement the warm white spheres.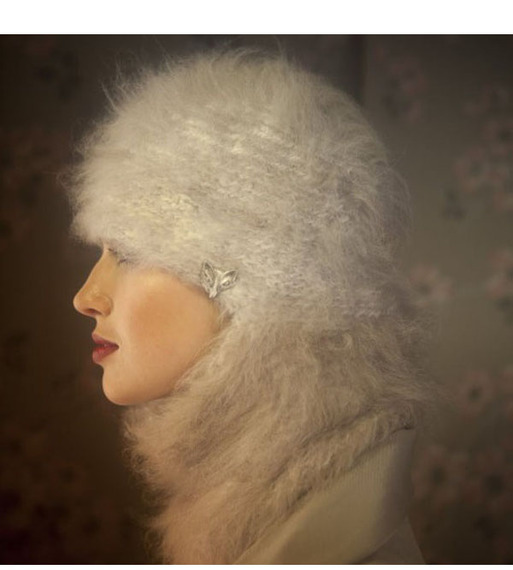 AMBIKA Friendly Fur Angora Balaclava, $440; ambikaboutique.com
Hand-crocheted from naturally soft angora, which is 800 percent warmer than sheep's wool, this garment is fluffy, feminine and warm. The balaclava can be worn traditionally, as shown in the photo, as a hat or a neck warmer. Loops fasten over your choice of hand-crafted pewter buttons. This designer's animal rights mission of love for Angora bunnies runs deep. These (very) loved and lovable bunnies are shorn every three months, in sync with their natural molting cycle. Visit the website to learn more about this fascinating process and history of Angora rabbits.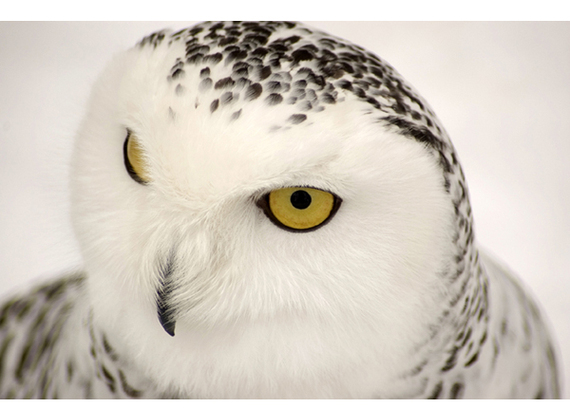 AUDUBON -- Arctic National Wildlife Refuge (audubon.org)
Home to 42 mammal species and more than 160 bird species, the Arctic National Wildlife Refuge is one Earth's most intact and untouched biologically diverse ecosystems. Birds from six continents and all 50 United States migrate to and from the region to feed and mate. Audubon works to prevent gas and oil drilling in this priceless world treasure.
Your gift helps protect snowy owls, who live in colder regions of the United States and Canada and depend on threatened habitat to survive. PHOTO: Snowy Owl (Bubo scandiacus)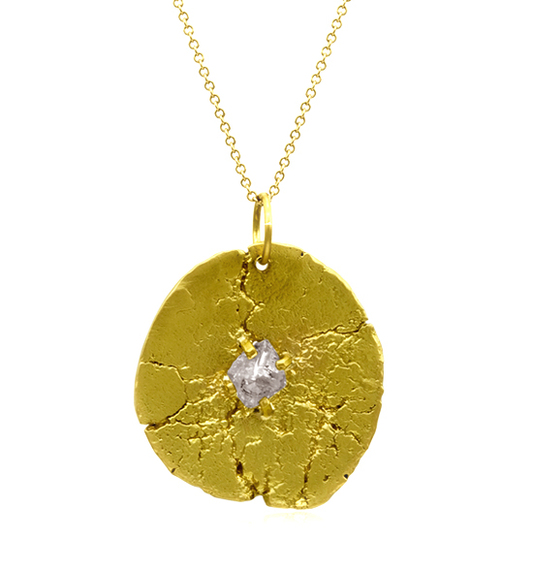 RUFF & CUT Gold and Diamond Medallion Solitaire, $5,970; ruffandcut.com
This medallion made from texture-enhanced, recycled 18-karat gold is set with a brilliant, responsibly sourced rough diamond. Founder Wade Watson is a leader in ethical sourcing of fine materials, and 10 percent of his company's proceeds support better living conditions -- particularly for women and children -- in mining communities.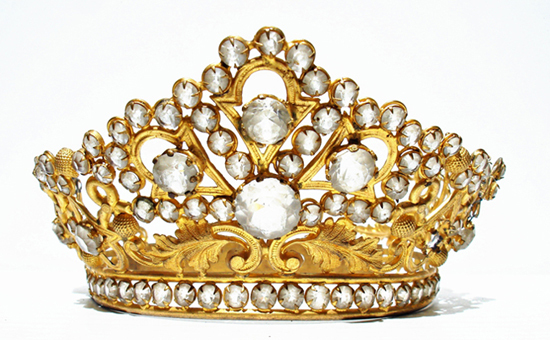 FRENCH ANTIQUE 19th Century Ormolu Tiara, $450; etsy.com/shop/LeBonheurDuJour
This bejeweled gold-tone ormolu tiara dating from the mid-1800s would have been used to adorn a Madonna statue or a saint in a French church. Embellished with simulated diamonds and faux precious stones, the tiara is in very good vintage condition.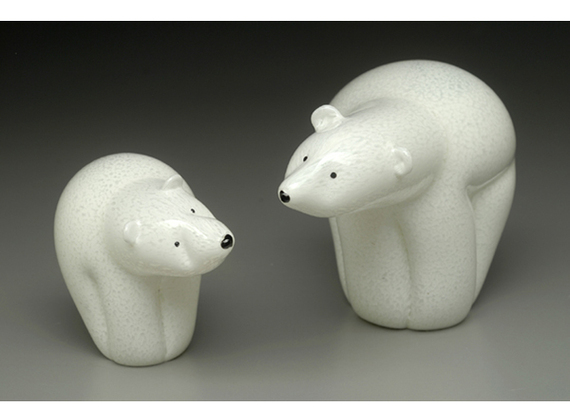 SHERWIN ART GLASS Polar Bears, Adult $90; Cub $70; sherwinartglass.com
Chris Sherwin's motto "Create Happiness!" is reflected in these art glass polar bears. The artist describes his work as "painting with glass" and he lovingly shapes each piece by hand in a hydro-electric-powered studio.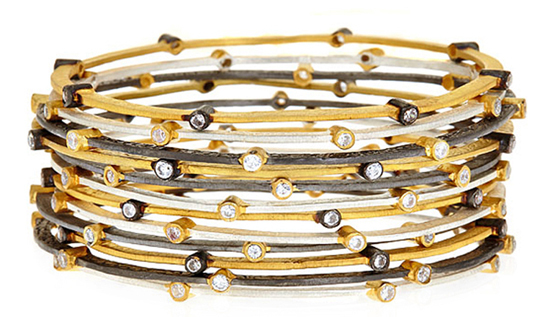 BODAI JEWELS Stacking Bangles, $145; regaliajewelsllc.com
The metal and gemstones for these fun, modern bangles are sourced from conflict-free countries. Bodai supports ethical work conditions for artisans and adheres to Organization for Economic Co-operation and Development (OECD) standards. The company uses replenishable material such as jute, cotton and bamboo and outsources packaging through NGO organizations that promote better living in rural craft villages.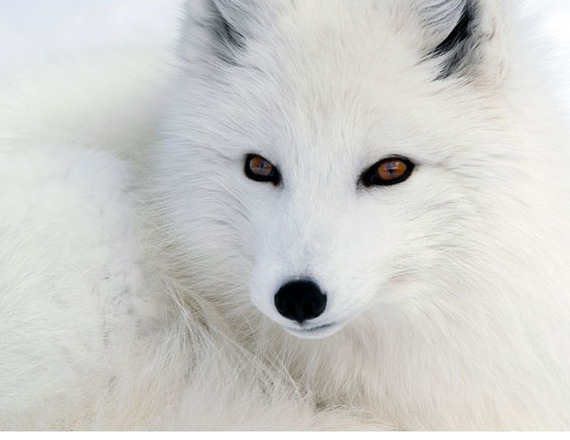 NATURE CONSERVANCY Adopt an Acre (adopt.nature.org)
The Nature Conservancy's USA Adopt an Acre program helps protect and restore threatened vital wilderness habitats. You can choose which threatened regions you'd like your tax-deductible gift to support. To protect the beautiful animals in this feature, choose the majestic Northern Rockies, home to many iconic North American plants and animal species. This pristine 80-million-acre landscape faces intense, unprecedented pressures from human encroachment. Your gift will help create a network of wildlife corridors connecting large tracts of land.
The arctic fox (Vulpes lagopus), also known as the white fox, polar fox or snow fox, must be one of the planet's most beautiful species. Native to the Northern Hemisphere's arctic regions, it has adapted to survive some of Earth's most extreme cold weather. Its thick, deep fur shifts with the seasons, turning white to disappear in snow and mottled brown in summer. PHOTO: Artic Fox (Vulpes lagopus), by Alain Turgeon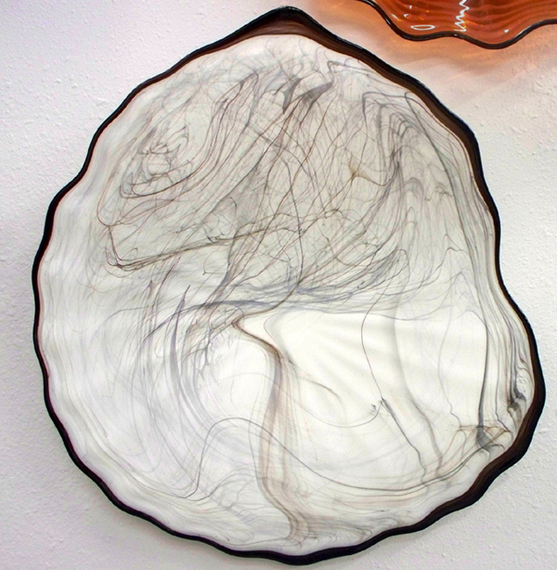 O'NEIL'S ARTS Hand Blown Glass Art Marbled Platter, $295; etsy.com/shop/oneilsarts
Stan O'Neil, who has been working with his hands since he was 14 years old, combines metal and glass -- both formed from the heat of fire -- in this hand-blown glass marbled platter with a custom metal bracket. Eco-friendly glass, which comes from the earth and returns to the earth, can be continuously shaped and reshaped.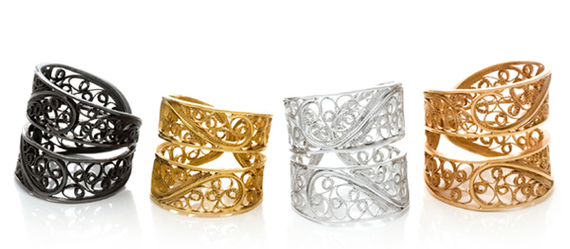 ARABELLE BRUSAN Filigree Links Rings, $250 -$290; arabellebrusan.com
Arabel Lebrusan's exquisite ethical filigree collection is classically feminine and versatile. Master craftspeople in Spain handcraft the filigree from recycled sterling. Black, Yellow Gold, White, and Rose Gold.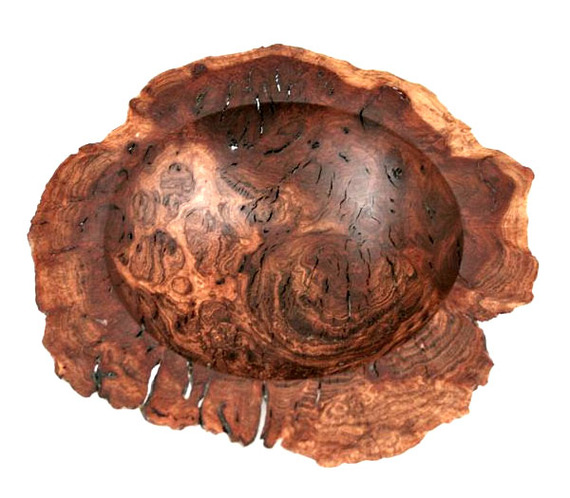 KEIM ARTWORKS Coolibah Burl Wood Bowl, $250; etsy.com/shop/KeimArtworks
Woodturner Matt Keim created this bowl from a salvaged burl with deep, rich tones. The bowl's natural burl edge wing showcases the wood's beauty. Keim states that woodturning "gives a piece of wood a second life" for future generations to enjoy.
SPECIAL THANKS to Jim Cumming and Alain Turgeon for permission to publish their stunning wildlife photographs.