As we count down the final days of 2010, it's evident that Chicagoans are connected to several of the biggest stories to hit the airwaves this year.
Here's a roundup of the top 10 stories that we won't forget.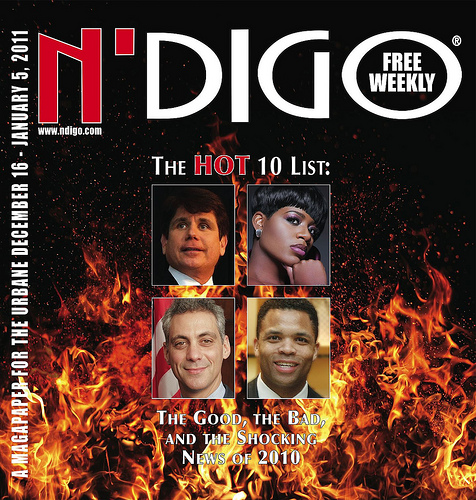 Chi-Town Politics

1. Blago walks. There was never a dull moment in Chicago politics, as former Gov. Rod Blagojevich and his dream team proved when Blago skated on 23 of 24 corruption charges. Judge James Zagel has set an April 20 trial date for the second corruption trial, but clearly, the city has bigger problems than the former governor with the gorgeous hair.
2. Rahm returns.
Mayor Richard M. Daley announced his retirement, and as N'Digo's political contributor Bob Starks predicted, White House Chief of Staff Rahm Emanuel returned to Chicago to run for office. Emanuel tried to reclaim his Ravenswood home (that he rented to tenant Rob Halpin), but when Rahm asked Halpin to vacate the premises early, Halpin said
hell-to-the-nawl,
and that he was running for mayor too! Only in Chicago, folks. Only in Chicago.
3. The uh-oh moment.
Jesse Jackson Jr.'s blonde social acquaintance surfaced, and N'Digo's Hermene Hartman explained the psychology behind the slip-up.
"The psychology of the hostess, waitress, and nanny overwhelms the powerful man because these are women of comfort; they have the Ga-Ga Factor. They hold the fascination of The Yank. The wife is accomplished, educated, a good partner, a good wife, a wonderful mother and you play with the waitress that you call the social acquaintance. Congressman Jesse Jackson Jr. Why?"
4. Publicist takes a dive. Carla Oglesby, a former top aide to former Cook County Board President Todd Stroger, was jailed and charged with felony counts of money laundering and theft of government property, a class X felony punishable by six to 30 years upon conviction. In 2008, N'Digo recognized Oglesby, an award winning publicist at that time, as one of the city's top Go-Getters; she has since maintained her innocence.
5. Democrats take a whupping. Republicans Mark Kirk and Dan Rutherford defeated Democrats Alexi Giannoulias & Robin Kelly. Shaking tradition, Illinois failed to diversify the U.S. Senate.
Arts & Entertainment
6. Who's the daddy?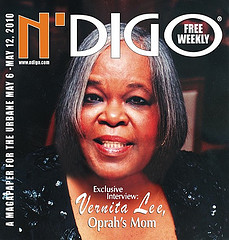 In an exclusive interview, Oprah's mom, Vernita Lee, told me that she knows who Oprah's father is and it is
not
Norh Robinson, the bedridden vet who publicly challenged Oprah to take a paternity test.
"I really think this is outrageous for that man to say that and I don't even know him. I would have to know him for him to be Oprah's father, and I don't know him at all. He just wants Oprah to give him some money. That's why he's saying he is her father."
7. Diva Gone Wild!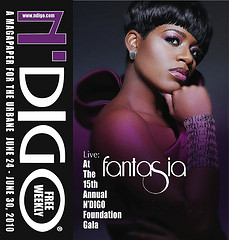 In June, Fantasia Barrino performed at the Sunday Soul at the Symphony Center (the N'Digo Foundation's annual gala) without shoes. Months later, she's on video, allegedly, without clothes. According to TMZ, "Court documents filed by a woman in North Carolina alleged her husband had an affair with former "American Idol" champ Fantasia Barrino -- and that the two made a sex tape."
8. Talk show pulled. "Garrard McClendon Live!" is canceled. After working with CLTV for two yearsand with stellar ratings, McClendon and the station could not agree on a new contract, and CLTV pulled the plug on the show. There is good news, McClendon will continue on his distinguished journey with yet another show to be announced in 2011. Stay tuned.

Newsmakers
9. N'Digo's Hartman vs. Sun-Times's Mitchell.
Chicago Sun-Times
columnist Mary Mitchell penned a column about Haki Madhubuti's (publisher of Third World Press, noted poet, and professor), abrupt resignation from Chicago State University after 26 years of service. Mitchell asserted that Madhubuti was unfairly treated and wrote:
"Are you telling me that a Black man can rise from pushing pamphlets on the corner to selling books across the globe, and still have to fight for respect? That that man can marry, raise his children, look out for his mother-in-law, build up a business on the South Side, and still have to fight for respect?"
Hartman responded that Madhubuti must work a full courseload in order to be paid a full salary. She wrote,
"instead of, where's the support for Madhubuti?, the more appropriate question is, how did Professor Haki Madhubuti and the previous Chicago State University presidents justify a professor, (icon or not) to earn a full-time salary for teaching just one course per year?"
10. MOST SIGNIFICANT MOMENT.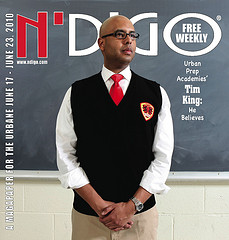 Urban Prep Graduates 100 Young Men. It's uplifting to know that there are adults and young men willing to take that extra step to encourage, learn, achieve, and conquer. Tim King and his Urban Prep education platform enabled 100 men to graduate high school and enter college. Tim King volunteered with the N'Digo Foundation scholars, and was honored by the foundation in 2010.