In a word, Dr. Margaret T. Burroughs is unassuming.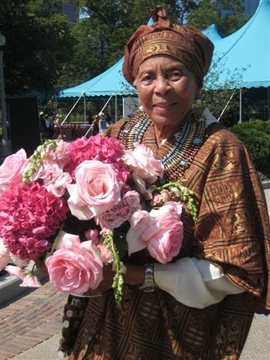 If you didn't know her, you wouldn't suspect that she's an institution, who has built institutions. You wouldn't suspect that she's been involved with nearly every major art program or establishment in the state of Illinois since the roaring 50s.
And you surely wouldn't suspect that the well-dressed senior, neatly accessorized with a matching baseball cap and tennis shoes, is also a devout community activist with an FBI case file* as long as the River Nile.
On this warm fall day, the diminutive, golden brown, 92-year-old--who doesn't look a day over 60, by the way--enjoys a lunch of Mary's Sea Food Gumbo at Pearl's Place. It's one of her favorite Creole dishes, although the Louisiana native could never prepare it herself. "I'm not a cook," Burroughs shares, laughing at the thought. "I do not cook."
Never mind her lack of culinary skills, the artist/activist does just about everything else.
"When you don't keep moving, you die," she says.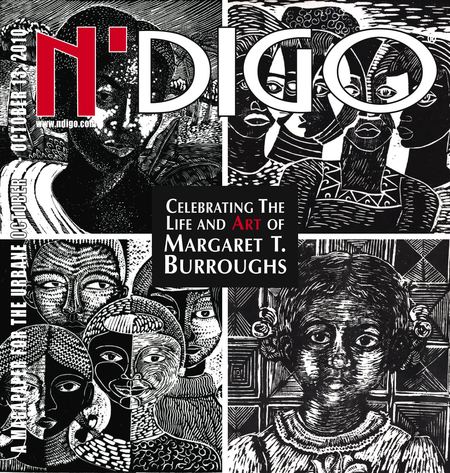 To that point, Burroughs bowls a healthy 175 average; she roller-skates--"I'm trying to learn to skate backwards now," she says--and she also teaches art to inmates at Statesville Prison.
Without warning, Burroughs breaks into an impromptu dance move while seated. She shakes her shoulders and weaves her head. "See? You've got to keep on moving."
Margaret Taylor Goss Burroughs was born in 1917 in St. Rose, La., and migrated to Chicago with her family as a young girl. After attending Chicago Teachers' College and The School of The Art Institute of Chicago, Burroughs taught art for more than 20 years at DuSable High School. She also earned a Master's Degree and Honorary Doctorate from The School of The Art Institute of Chicago (SAIC).
SAIC will honor Burroughs with the Legends and Legacy Award (a program of the Leadership Advisory Committee of the Art Institute of Chicago). The award honors exceptional African Americans in the visual arts who have excelled in their artistic careers for fifty years or more, and have achieved national recognition.
Ideally, the honored artist should have a Chicago connection, works on display in the Art Institute of Chicago's museum collection and/or be an alumnus of the School of the Art Institute of Chicago.
The first Legends and Legacy Award was granted to Elizabeth Catlett in November 2005; Burroughs will be the second awardee on October 22, 2010.
The prolific poet and writer, having published several books including What Shall I Tell My Children Who Are Black and Jasper The Drummer Boy, has a body of work full of wise and witty maxims that are shared widely with school children today.
She's excited about the honor. "Give me my flowers while I can smell them," Burroughs says with a wink.
She adds, "Every individual wants to leave a legacy, to be remembered for something positive they have done for their community. That's my legacy, that's my philosophy and that explains my everything."
*About that FBI file: someone falsely accused the artist of being a Communist in 1952; after 40 years of monitoring her whereabouts and activities, the Feds closed her file in the 90s.