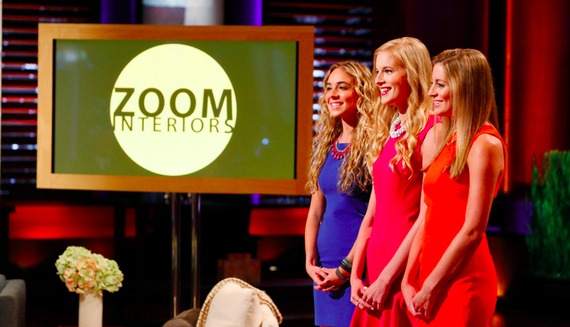 Source: ABC/Kelsey McNeal
Well, well, well, the time has finally come to spill the beans. What is it REALLY like to be on Shark Tank? Imagine that feeling, standing in front of the Tank doors as they are about to open. You are seconds away from being face to face with some of the most famous (or infamous) entrepreneurs of all time. We imagine it's like the hyped-up feeling that football players experience right before they are about to run through the tunnel and onto the field. In essence, it's the Superbowl for business people.
ZOOM team vs. the Sharks.
So, you ask, what is it like in the months leading up this momentous occasion? Pan to January 2014. We were just silly college kids who applied on a whim. Never did we think we would make it pass the first round. We had a 0.05% chance of actually pitching our company to the Sharks, essentially a shot in hell. Oh, how wrong we were. Apparently, our audition video was cute and cheesy enough to catch the attention of producers. (Side note, we still cringe at the site of that audition video). But looking back, we knew what we were doing.
And then, it happened. We got the call from the producers. We were ACTUALLY going to be thrown into the Tank. That's when it his us... 3 ZOOMers, 5 Sharks, and 8 million viewers, just one week out of finals. As interior designers and creative-minded people, we had to gear up and gear up hard for the kind of presentation that goes down in the Tank. We essentially got a crash course MBA.
Next up on the "ZOOM does Shark Tank" agenda: Hollywood, circa June 2014. The production team flew us out to LA and put us up in a hotel with all of the other contestants. We practiced and pitched all weekend, poolside, in our bikinis, but of course. We were like pitching machines, or more like broken records. But no amount of practice or rehearsals could have prepared us for what was about to happen: being thrown into the Tank with living, breathing, blood-sucking, cockroach-crunching Sharks.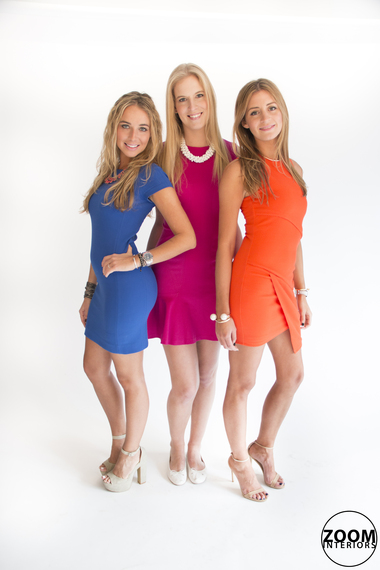 Pitch day came way too fast. We were taken to set, sent to the hair and make-up trailer, and mic'd up. Pan to the moment we were standing in front of the Tank doors, about to lock eyes with the Sharks for the first time. Go time. We gave our pitch and then came the onslaught of questions. And so, it began. It was the ping-pong match of the century, even Maxim Shmyrev would have had a hard time keeping up. We had to keep telling ourselves, "Just keep swimming. Just keep swimming". It was touch-and-go at times, but overall, what an experience!
What we took away from the Tank: validation that we were onto something. With 4/5 Sharks (WONDER which Shark was in opposition? ahem Mr. WONDERful) were in complete agreement that we had a genius and innovative company, with wise words from Mark Cuban "You have a good idea, just go for it, grind". But, what is interesting is the way in which the hour-long presentation was edited down for television. The overall consensus from the Sharks was very positive and supportive, but what was aired was a less-so version of that. We had a huge influx of emails with people writing to us, saying "Mark was way too harsh". Aw how sweet, but in reality, he was just as supportive as the other Sharks, it just wasn't portrayed that way.
We came out of the Tank (alive) and with nothing but amazing things to say about the experience. It was the opportunity of a lifetime as business owners, and we treated it like so. You have the undivided attention of five genius and renowned entrepreneurs imparting their wisdom on you. Their feedback was invaluable to us. Come on, corporations pay top dollar to get advice from a panel of experts. So, we have put their guidance and encouragement to good use. Over the past eleven months, we have been hard at work reevaluating, reworking, and restrategizing.
Sharks, you've been ZOOMed!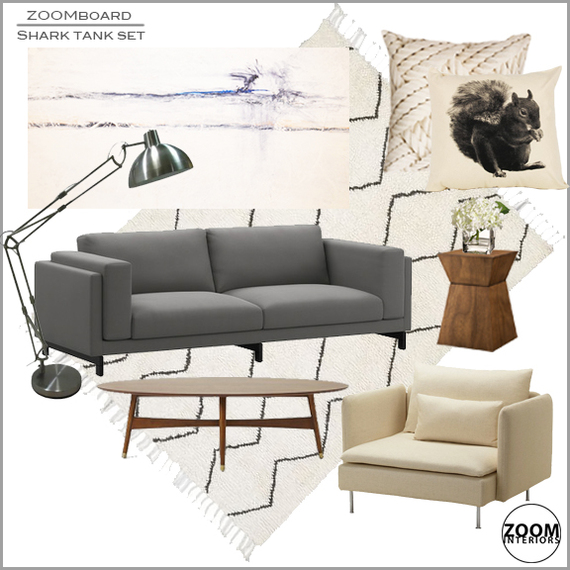 We put a lot of thought and effort into the design of our set. We wanted to demonstrate our ability to design for the stylish urbanite on a budget. Cutting edge pieces and the latest trends were of the utmost importance, all while staying super affordable. We went for a neutral design that would appeal to both men and women. And the best part... we are offering 15% off for the Shark Tank set look at the ZOOMshop.