Gifting suites were out in full force in the week leading up to the Academy Awards on Sunday. With the Oscars being the film industry's highest honors, the gift lounges this year also trotted out the best of their brands, often held at the best hotels the city has to offer. With a record number of suites this year, there were plenty of options for Oscar nominees and attendees to sample.
GBK's ANNUAL GIFT LOUNGE at the W Hotel in Hollywood benefiting The Worldteam Foundation, The HollyRod Foundation, Drawing for Hope and The Sugar Ray Leonard Foundation: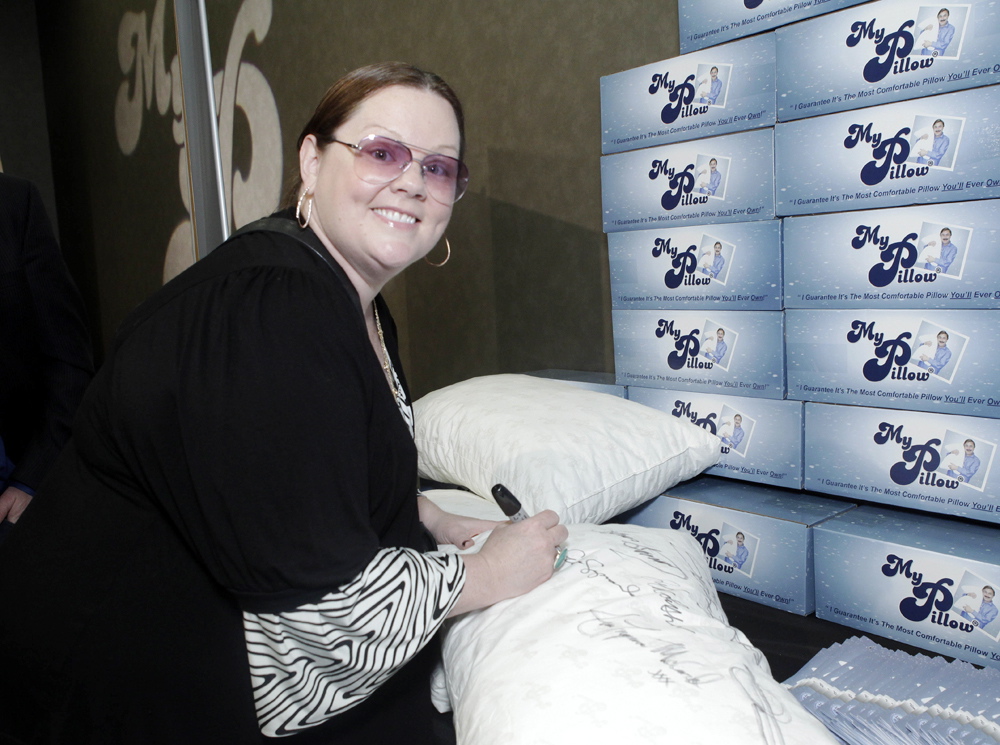 Oscar nominee Melissa McCarthy at GBK.
Items included a stay at luxury retreat Lumeria Maui in Hawaii; premium down pillows from My Pillow; metabolism boosting dietary supplements Capsiate Natura from Ajinomoto; I-Wipey, a peel + stick antibacterial iPhone cleaner; and a transportable glass bottles with protective stainless steel covers by Tkaro. Also, British watch company Paccioni had stars custom designing their own timepieces.
There was also jewelry by Chloe + Isabel, Julep's toxin-free nail polish & mani/pedi products, and chemical free products such as make-up, teeth whitening tools and tanning treatments from Australia-based Vani-T.
Artisan Group gave out tote bags stuffed with jewelry, bath products, stationary, journals, fine art photography and other samples from their collective of over 700 small-business entrepreneurs.
Max Mirani luggage was handing out their MOVE Mobile Closet suitcase that comes with a shelving system to keep clothes organized and preventing the need to unpack or repack. Want one? The company is providing readers with $100 gift certificate towards one at maxmirani.com. Enter code: ACADEMY100. Offer expires on March 31, 2012
TMG/PANDORA JEWELRY LUXURY 'RED CARPET READY' PRE-OSCAR SUITE at the Beverly Hilton Hotel Penthouse Suites: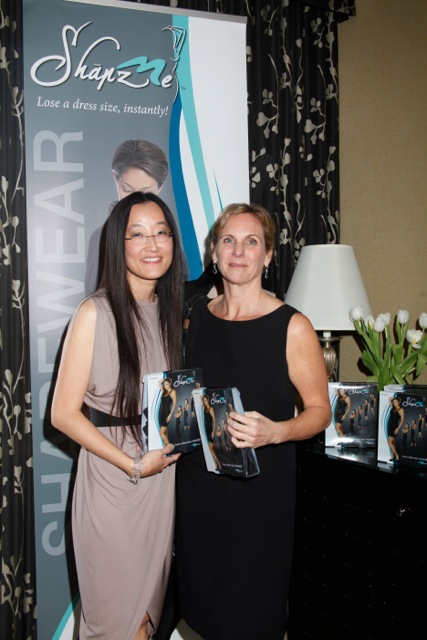 Oscar nominated filmmakers Jennifer Nelson Yuh & Melissa Cobb ("Kung Fu Panda 2") at TMG.

Skincare products and facial treatments by Dr. Renaud, styling and hair care products by Surface Hair Health Art and various assortment of designer jeans and tops from online shopping site Excess Baggage. There was also Bling Dental products by dentist Dr. Raymond (aka Dr. Bling) including his Diamond Elite Ultrasonic Toothbrush that comes with an ultraviolet sanitizer.
Celebs could also build their own charm bracelets by Pandora and choose from several different style of functional yet luxurious reversible scarves by Robdechi that come with built in hoods, pockets, clasps, sunglass wipes and inflatable neck pillow (yes really!) that makes for a truly hybrid product!
ShapzMe shapewear that comes in both undergarment and outwear such as legging, capris and high-waisted pants. Made by the Marena Group, the shapewear uses medical grade compression, proves UPF50 protection and has built in odor-control antibacterial protection.
KARI FEINSTEIN'S OSCARS STYLE LOUNGE at the Mondrian Hotel to benefit The Creative Coalition who shot a PSA during the gift suite: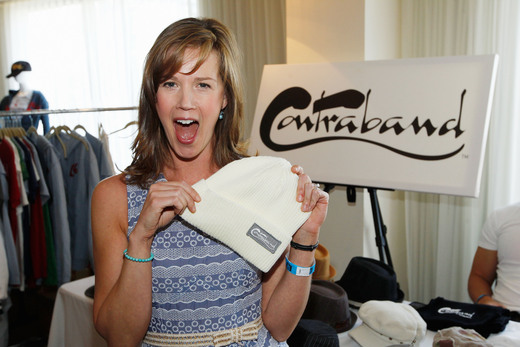 The Artists' Audria Tenor at Kari Feinstein's Oscar suite.
Jewelry by Silpada, kitchen products by The Pampered Chef, T-shirt and hoodies by Big Chief, teeth whitening kits and tooth paste from Rembrandt and mini-facials by BeautyMint skincare.
Plus, Lendingluxury.com was onsite to loan out dresses for weekend festivities, while Capella Resorts in Cabo San Lucas was gifting trips to their hotel.

WOW! CREATIONS LIFESTYLE OSCAR GIFTING SUITE at the L'Ermitage Hotel in Beverly Hills:
Red wine infused with dark chocolate by Chocolate Shop, gift certificates to Versailles Cosmetic & Laser Center, ergonomically designed memory foam portable head pillow for traveling by C-Zen, Sound Oasis' Glo to Sleep eye mask made from hypoallergenic foam with glo points that helps you relax and go to sleep.
Antimicrobial fitness towels with zippered compartments for keys, phone, cards, etc. by Sweteez, cryotherapy wraps from Arctic Ease, jewelry by Visible Treasures, airline approved travel bottles from Brincatti, red and white wines from Gnarly Head, mosquito repelling candles from Bite Lite.
ROGER NEAL STYLE HOLLYWOOD 16TH ANNUAL ACADEMY AWARD BEAUTY AND COUTURE SUITE at the L'Ermitage Hotel, Beverly Hills:
Oscar-nominated screenwriter Annie Mumolo ("Bridesmaids") with the film's co-star Wendy McLendon Covey showing off their Ulinx magnetic jewelry at the Roger Neal's Oscar suite.

Stars got a chance to get pampered before the big weekend by indulging in such services as manicures by Sparkles Nail Products, eyelash extensions by Daniel Dinh of Long Mi Lash, brow services by Beauty Call LA and massages by Mario Serban of L.A. Training Room.
There was also opportunity to browse through various designer gowns (Shekhar Rihate Beverly Hills), handbags (Timmy Woods) and jewelry (Rodeo Dr.'s Rasiah Raju) as options for the Oscars.
The suite also spotlighted two charities -- Andy Transplant Foundation and Safety Harbor Kids. As a thank-you to the celebs for supporting the two charities, the suite gave attendees gift bags works $15K featuring everything from custom magnetic bracelets by Ulinx Jewelry to House of Sillage's $1200-per-bottle Tiara perfume. Gift certificates ranged from overseas trips to the Belleek Castle in Ireland to a more local getaway such as Gold Mountain Manor in Big Bear.
SECRET ROOM EVENTS RED CARPET LUXURY LOUNGE held at the rooftop of the L'Ermitage Hotel in Beverly Hills and benefiting the Humane Society of the United States.

Quilted, three quarter length fitted winter down jackets from Lole, stylish multi-purpose cotton tops from Ball Room Panic, children's tutus and matching tanks from Giavanna's Closet, mini and maxi dresses from Tiare Hawaii.
Jewelers such as Portobello and Lolo were also gifting along with skincare companies Atzen, Eminence, Hylunia, Jock Soap and Nu Skin while Whitening Lightening handed out teeth whitening kits.
DEBBIE DURKIN'S ECO-OSCARS MUSIC, CELEBRITY AND PET STYLE LOUNGE held at the historic Pickford Mansion in Hancock Park benefiting Music Saves Lives and Fur Fitness Foundation.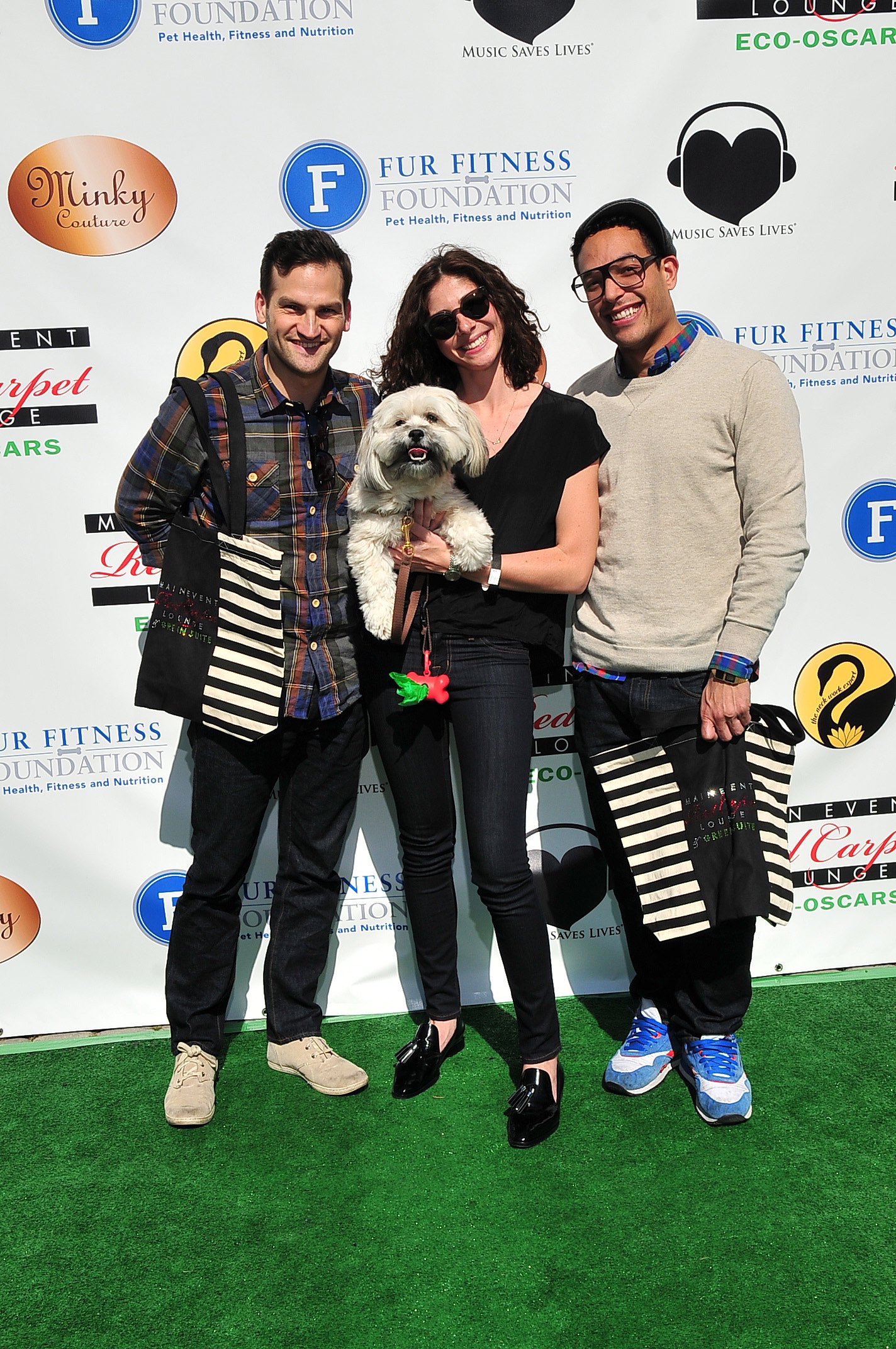 Dan Lindsay and TJ Martin from the Oscar winning documentary "Undefeated," pose with Martin's wife Sarah and their dog Theo at Debbie Durkin's Eco Oscar suite.
This suite featured fashionable boot wraps by Huggrz that attach to the calf of your boot to instantly change the look; a box of chemical-free cleaning products by Shaklee worth $3400, roll-up sneakers and ballet flats by Solz, plush blankies from Minky Couture ranging from baby to adult size, custom bling apparel and accessories by Bling Is The New Black, mineral make-up and skincare by Mademoiselle and hair tools by Hai Technology.
KATHY DULIAKAS' 4th ANNUAL CELEBRITY OSCAR SUITE & PARTY held at Lexington Social House in Hollywood to benefit Hats Off for Cancer:
This pre-Oscar suite had hard shelled spinner luggage from Beverly Hills Country Club; the Hotty Hoody, a heat resistance silicone sleeve to fit over your hot styling tools for quick storage; Bakluvit Baklava in flavors like chocolate and butterscotch,
There were also edgy yet feminine jackets and tops from Tough Luv, expression shirts from socially conscious All the Above Clothing, Satissimi activewear and dresses by Single Dress.
Additionally, there was skincare by Prana and The Healing Bath; jewelry from cast-off and vintage parts by Twisted Silver and silk wrapped bracelets from Charmed Design.
KIM KREISS & PATRYCIA TOWN'S "ALIVE! EXPO GREEN PAVILION/MIX MEDIA LUXURY LOUNGE WITH FORTUNATE ANGLES on the rooftop of the Petersen Automotive Museum benefiting "Project Green:"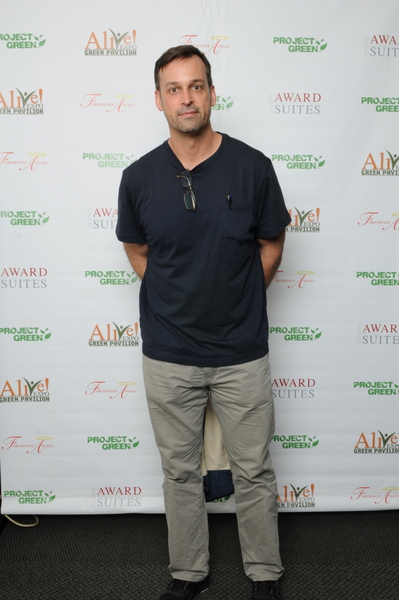 Ed Cunningham, producer of the Oscar nominated documentary "Undefeated" at the Alive! suite.
Guests indulged in certified organic olive oils by Bari in an assortment of flavors ranging from garlic to tandori masala to orange, make-up infused with botanicals by Pixi, mineral make-up by Ferro Cosmetics, beauty products from YouNique Plastic Surgery and Aubrey Organics, preservative free organic dog treats by O-Doggie, Naked Grape wine, probiotic drinks by Bio-K+ and author Donna Gates' latest boo, about growing younger, "The Baby Boomer Diet."
BWD GIFTING LOUNCE IN CELEBRATION OF THE 84TH ACADEMY AWARDS at Confidential Beverly Hills to benefit the Unlikely Heroes:

Dietary supplements from Duzoxin Weight Management System, facial moisturizer by Fenix, styling tools and body products from Brilliance New York and handbags by Imoshion. Guest could get spray tans from Soleil Tanning Salon and have a consultation with Beverly Hills Chiropractor Dr. Theodore Kousouli. There were also gift certificates for facials at Maya Medical Spa among other things.
And we can't for get the fabulous gifting suite backstage at the Independent Spirit Awards. Though technically not an Oscar suite, the Spirits occur that same weekend and bring out many of the stars who are also nominated for Oscars.
ON 3 PRODUCTIONS' SPIRIT AWARDS GIFT LOUNGE backstage at the 2012 Film Independent Spirit Awards in Santa Monica, CA: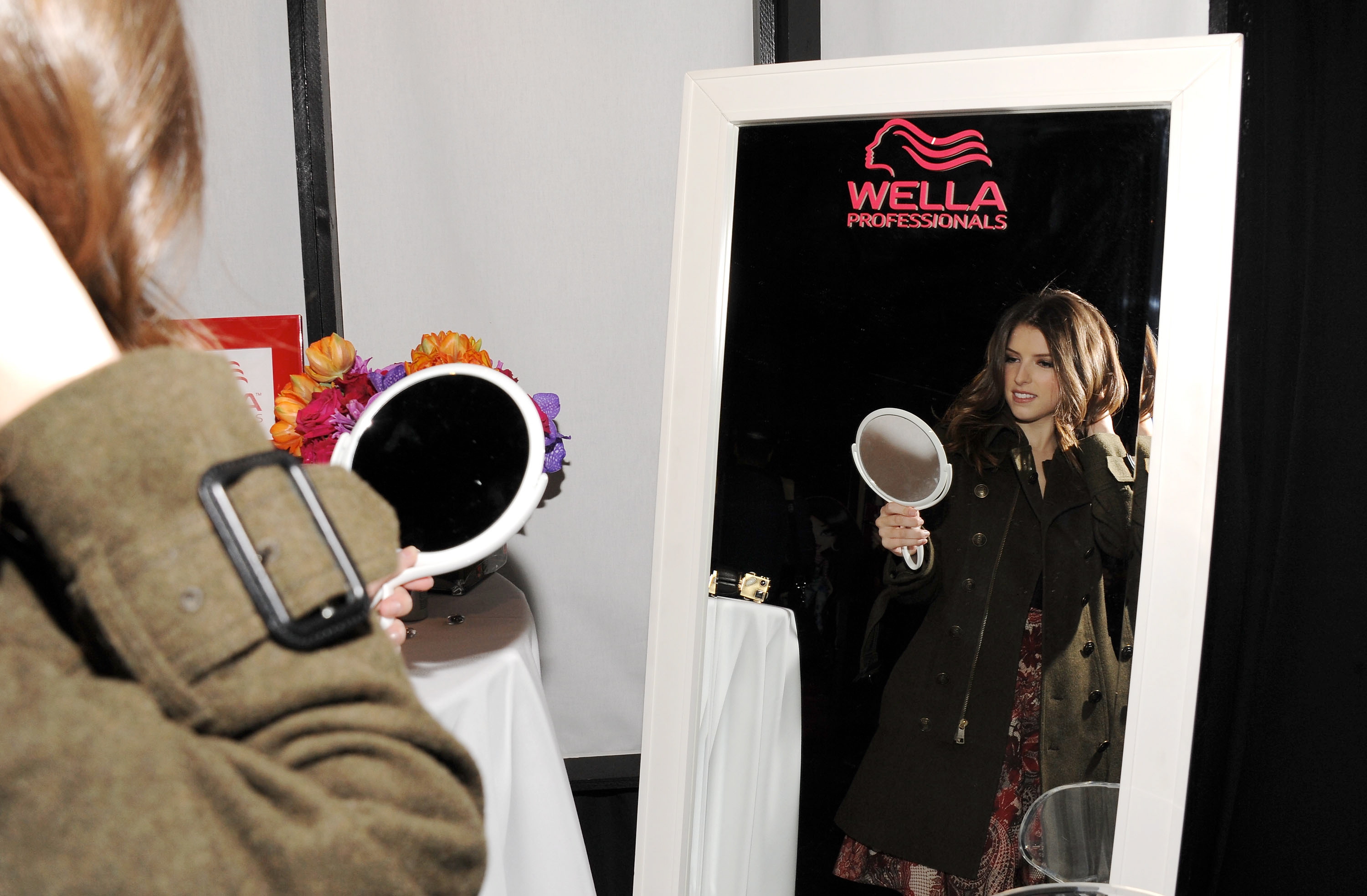 Past Oscar nominee Anna Kendrick back stage at On 3 Productions' Indie Spirit gifting suite.

Celebs were invited to customize their own gift bags, choosing from a variety of products including hair care products by Wella Professionals and one-year supply of Tree Hut Body Care products that came with a Samsung ST80 wifi enabled digital camera (Tree Hut's limited edition shea sugar scrub is made with real rubies!).
There was also New Balance sneakers, lingerie accessories by Fashion Forms, skincare by Votre Vu, one-year supply of Emergen-C vitamin drink mix, P5 headphones not yet on the market from Bower & Wilkins and Bratz dolls.
Plus gym memberships to Crunch, a year pass for free movies at any AMC theaters across the country, vintage denim and tees from Cult of Individuality, Carlos Falchi shopping totes and a gift certificate for a weekend stay in a one-bedroom city view suite at the Ritz-Carlton New York in Central Park.
PHOTO GALLERY
Oscar 2012 Gifting Suites