With the first major awards show of year - the Golden Globes - comes the first major round of gifting suites associated with the event. It's not all take, take, take, as some of the events had a charity component. Though it is not possible to list all of the suites and lounges, below is a sample of what the stars had at their disposal:
GBK LUXURY GIFT LOUNGE HONORING THE 2013 GOLDEN GLOBE AWARD NOMINEES AND PRESENTERS held at L'Ermitage Beverly Hills:
Burke Williams Spa was on hand to give celebs mini-massages, products from their H2V skincare line and gift certificates for services at their facilities.
California Caviar Company gave out gift certificates for a custom caviar gift set in such selections as Truffle Whitefish and Bacon Trout. The Real Juice handed out gift certificates for their 3-day raw, cold-pressed juice cleanse. Vita Organic Foods gifted boxed sets of their raw organic chocolates. GBK owner Gavin Keilly's sister Tracey made her gifting suite debut with her much sought after Big Bertha's Black Market Biscottis that are butter-less and with very little sugar. Prima Dolce Company offered up gift certificates for their Bella's Berries Compotes.
Celebs were able to choose ready-made footwear in both classic and trendy collections by Ron Donovan. BeachCandy Swimwear by BrittB gifted celebrities with custom made luxury swimsuits. To complete the beach look, Essilor of America Inc. had luxury sunglasses from designer brands like Prada, all made with their premium polarized Crizal UV lenses.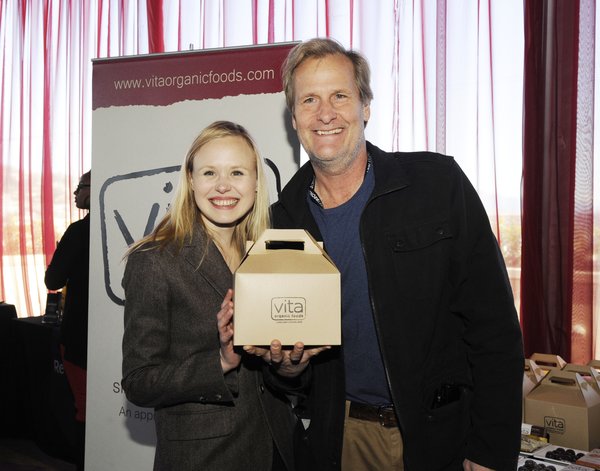 The Newsroom's Alison Pill and Jeff Daniels at GBK
There was an array of beauty products such as eye and brow products by RevitaLash and Tweezerman, press on nails and stickers from Broadway Nails' imPRESS and Kiss Nail, infrared blow dyers from Jose Eber Hair and fragrance from Sexual by Michel Germain. Accessories included a range of necklaces from Uniquely Designed Jewelry such as dolphins, seahorses and waves, while SwedArt from the Arctic Circle in Sweden gifted handmade reindeer leather bracelets.
Other products included Beanpatch & Co.'s stuffed horse baby toys, haute couture dogwear from Couture by Sophie, bike helmets from Daytona Helmets and candles from Sweet Shoppe Candles. Caribbean Living Magazine and Seven Stars Resort handed out gift certificates for a four-day stay at Seven Stars' Turks and Caicos Islands location.
The Artisan Group, a collective of designers, put together goody bags featuring a range of products from their members including fused glass art pendants from Art Box Designs, Bizzy Fizz bath treats, body scrubs by Bubbles Bath Boutique, French lavender shea butter soap from Three Sisters Apothecary and matted photographs from Klings & Things.
GBK's Charities of Choice: Beat Liver, City of Hope and Lambda Legal.
SECRET ROOM EVENTS' LUXURY CELEBRITY GIFT SUITE IN HONOR OF THE 2013 70TH ANNUAL GOLDEN GLOBE AWARDS held at the SLS Hotel in Beverly Hills:
Clothing included dresses from Nue by Shani, which contain compression fabric woven in to the outfits, giving the wearer an appearance of being a size smaller. Designer David Kahn handed out his denim stretch skinny jeans. For toddlers and little girls, there were children's clothing from Born 4 Couture and Picky Bunny. To complete any of the aforementioned looks, luxury hair accessories France Luxe and L. Erickson had jeweled headbands, barrettes, ponytail holders and decorative combs.
There was skincare from Dermaesthetics, Mediel, Eternna Cosmetics and Dermagenix, haircare by Osis and organic self-tanning system by Vita Liberta from Ireland. Babies also received their own line of organic products by Shoosha.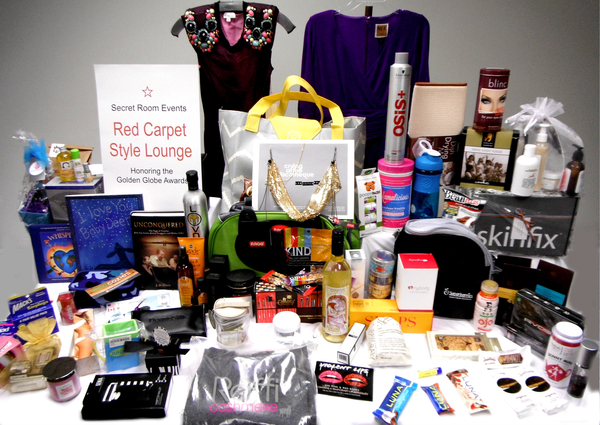 The Secret Room Events' products for their luxury gift suite
Caribbean Living magazine was handing out gift certificates for a free five-day stay at Hard Rock Resort's various Caribbean locations including Cancun and Dominican Republic.
Shani Cosmetics had 120 color-eyeshadow palettes and 24 piece goat and badger brush sets among other products. Meanwhile, eye make-up Blinc offered a full range of their products including amplifying mascara, lash enhancer, eye shadow primer and eyebrow mousse.
Celebs left with an additional goodie bag that included such items as doggie biscuits from Bunches & Bunches, electronic cigarettes from Rivosig, nutritional supplements from VitaMedica, "I Love You Baby Deer" children's book from author Linda Gillelland and triple chocolate toffee from Marich Premium Chocolates among others.
Secret Room Events' Charity of Choice: To Write Love on Her Arms, a non-profit movement dedicated to presenting hope and finding help for people struggling with depression, addiction, self-injury and suicide.

KARI FEINSTEIN'S PRE-GOLDEN GLOBES STYLE LOUNGE at the W Hotel in Hollywood:
Items included hair products by Lanza, skincare by Bioxidea, cosmetics by Mary Kay and OPI nail polish from Nail Garden Salon. Fashion-wise, there were dresses by Aidan Mattox and Adrianna Papell as well as accessories by Loud Love Jewelry.

There were digestive and anti-aging supplements NutriDiet and Okinawa Life from Kowa Health Care America whose philosophy is based on the Japanese diet. There was also a collection of liquid vitamin sprays by Marz Sprays.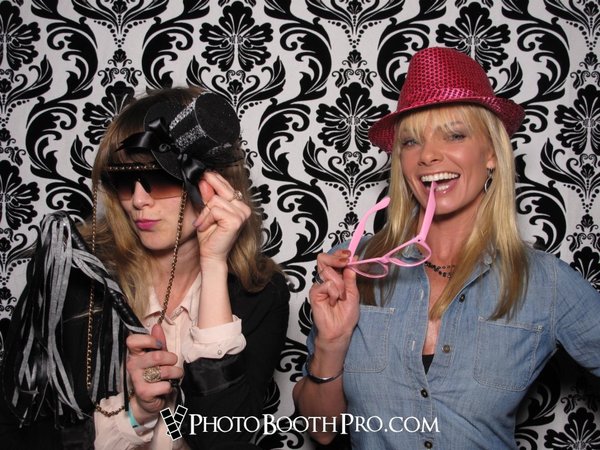 Also on hand were ePuffer electronic cigars and cigarettes, flavored no-calorie water by AguaCon and flavored antioxidant-infused tea by Gizmo complete with a pressurized cap.
Caribbean Living Magazine was handing out gift certificates for a two-night stay at Surfcomber Hotel in South Beach, FL with $150 resort credit, as well as a two-night stay at Epic Hotel on Miami River's Biscayne Bay.
Celebs such as actress Jamie Pressly (pictured above, with friend) got to let loose inside the Photo Booth Pro with fun, over-the-top accessories.
COLGATE'S PRE-GOLDEN GLOBE BEAUTY BAR at Nine Zero One Salon in West Hollywood:
This beauty bar saw the best in pampering including hair braiding form the salon's Braid Bar, manicures, foot massages, make-up application and spray tanning.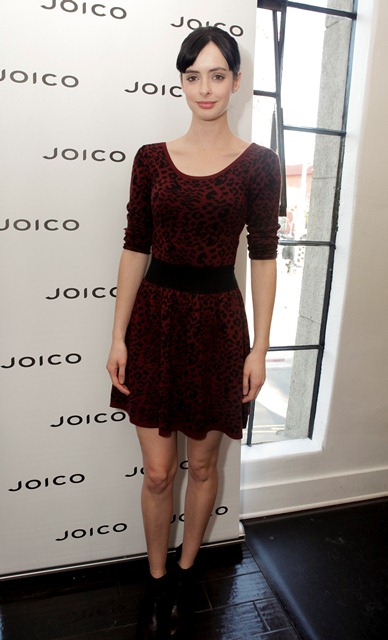 Krysten Ritter poses with Joico at Colgate's Beauty Bar
Joico Hair provided a range of hair products for all type of tresses, Schick razors gave out their hydro silk blades containing water-activated moisturizing serum. There was Bio-Oil for the skin, homeopathic energy patches and of course, toothbrushes, paste and mouthwash from Colgate.
Lucky celebs got to pick out the latest footwear from Koolaburra, and vintage-looking jeans by Mavi among other fashions. They were also able to indulge in a photoshoot with fun accessories like mustache sunglasses and oversized lips.
See more pictures of stars at the various gifting suites below:
PHOTO GALLERY
2013 Golden Globes Gifting Suite
Saved Get Code
Slideshow type: