With the American Music Awards taking over downtown Los Angeles this past weekend, lifestyle gift lounge and special events company GBK held their annual GBK Gift Lounge at the Andaz West Hollywood.
One hundred percent of the event proceeds went to the American Red Cross' relief efforts to those suffering from the effects of Hurricane Sandy. GBK also worked with A Rose of Thanks, which had attending celebrities signs cards and personalize notes for the New York and New Jersey Hurricane victims.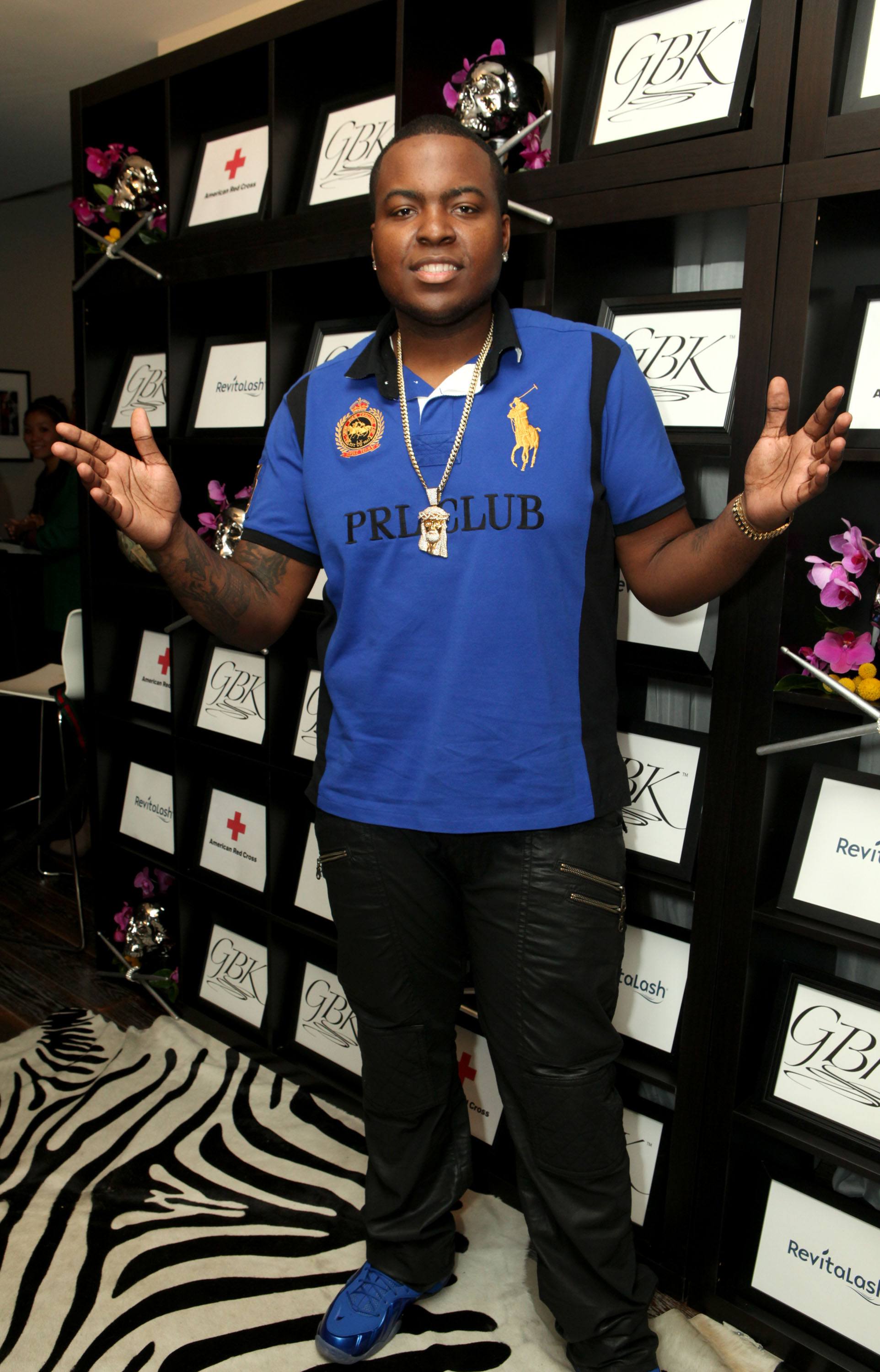 Sean Kingston at the GBK Gift Lounge
The gifting lounge had a decided rock 'n' roll theme beginning with The Beamz Player, an interactive music system featuring a laser trigger-based instrument that makes sounds when the beam is broken.
Caribbean Living Magazine handed out gift certificates for a five-night, all-inclusive stay at a Hard Rock resort with a choice of three locations including Cancun, Punta Cana or Puerto Vallarta.
Jewelry and accessory designer Michelle Roy had a spread of her skull collection including Day of the Dead skull bracelets, candy skull key chains and skull-decorated leather coffee mug "cuffs." Barbara Conner Jewelry handed out genuine Louisiana alligator leather dog collars from its Swamp Dogs of LA collection.
Accessories included Fly Watches in the L.A. Lakers' purple and yellow color combination and handcrafted Italian leather bags by Moni Moni. Hong Kong luxury fashion house iiJin debuted their suede mukluk boots lined with faux fur complete with their signature Invisible Wedge that adds anywhere from 2 to 5 inches.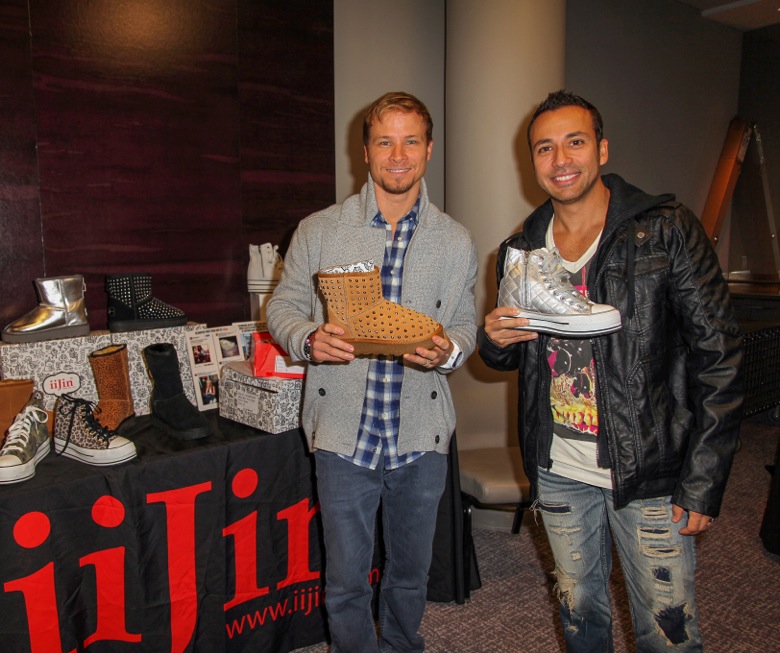 The Backstreet Boys' Brian Littrell and Howei Dorough with iiJin shoes.

For the skin, Revitalash handed out combo bags of products for the hair, brows and eyes including mousse, primer, mascara, highlighting pencils and much more. There were also Prograce serums and Reverge night creams from Oxis International. Cindi Nails provided manicures on-site using their famous base and top coats from their "Natural Silk System."
Supplements included a two-month supply of alternaVites Kids multivitamins. There were also weight loss capsules GCBX -- that uses green coffee bean extract -- and Nextrim.
Treats included cupcakes by mobile company Royal Red Velvet Cupcakes. DeBrand Fine Chocolates had boxes of Hot Chocolate on a Spoon that consisted of a spoon placed in a solid block of chocolate that can be stirred into a hot beverage.
The lounge showcased several musicians who had the opportunity to step into the spotlight and perform, including J-Dub, Stazz, Angelyna Martinez, Standely, Pullman Standard, Deqn Sue, DJ eTunes, Mike Burke, Branches and 10 year-old DJ Babychino.
Everyone had the chance to indulge in their inner rock star by getting wild and crazy in the creation of their own custom animated flipbook courtesy of Action Flipbooks.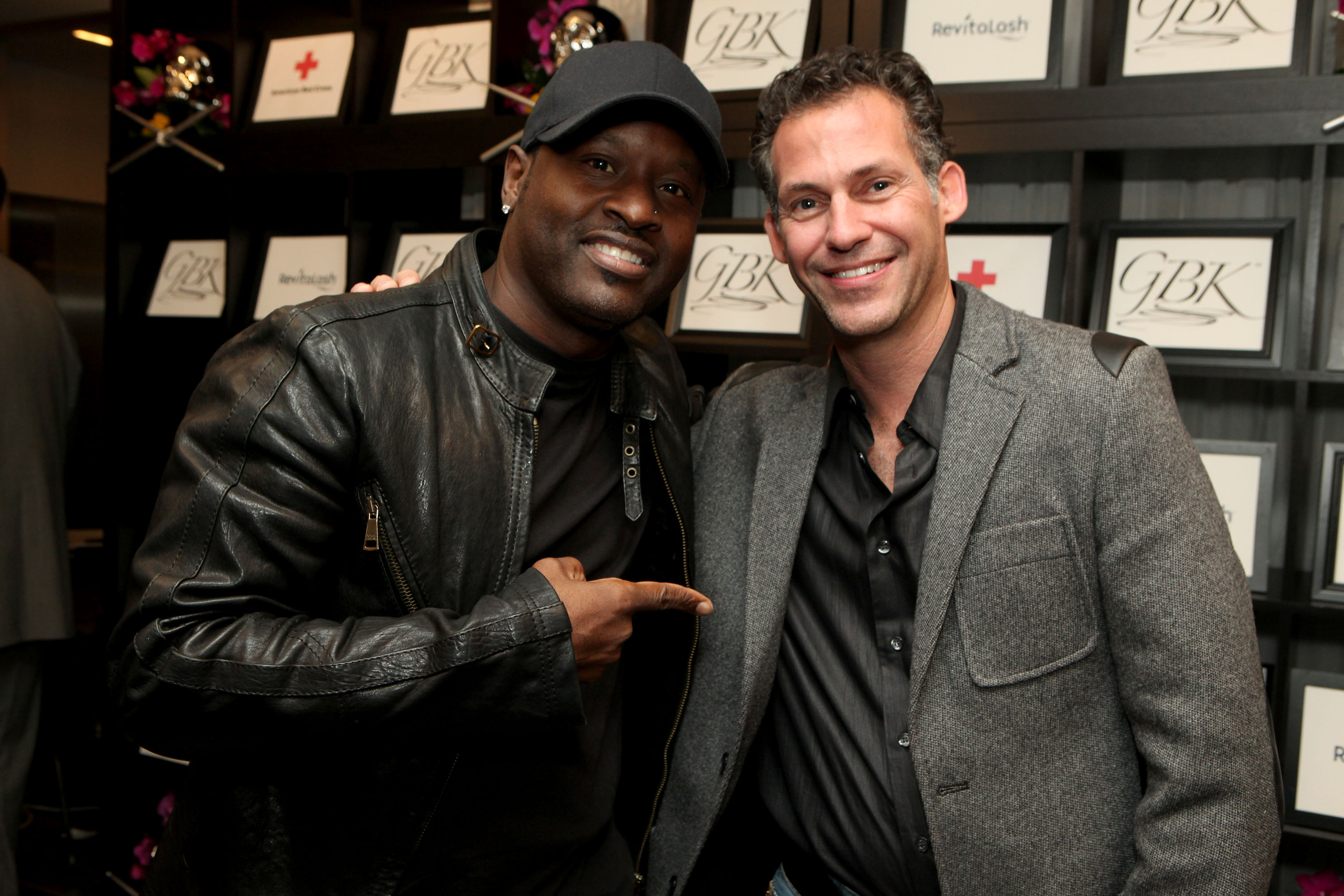 Johnny Gill with GBK founder Gavin Keilly