On Monday May 7, comedian George Lopez hosted his annual George Lopez Celebrity Golf Tournament at the Lakeside Country Club. Gavin B. Keilly's GBK Productions held court at the clubhouse with its George Lopez Gold Classic Gift Lounge where celebs could relax, have some refreshments and pick up some goodies.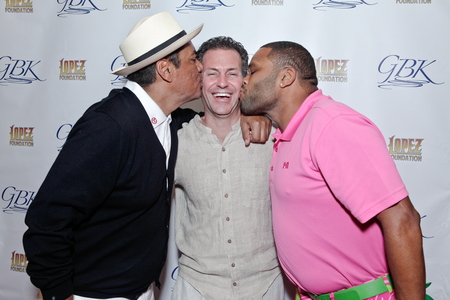 GBK's Gavin B. Keilly flanked by George Lopez and Anthony Anderson.
Crocs handed out their Crocs Golf with Hank Haney shoes that are versatile enough to wear all day while Bogey time, a line of golf apparel that plans on launching this fall, was offering up hats and golf towels.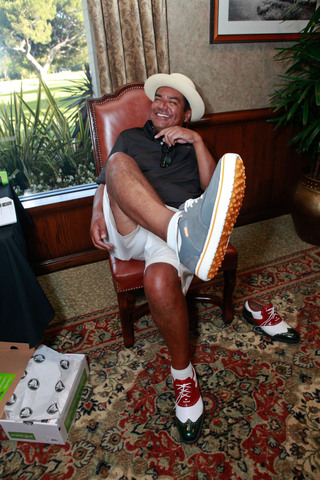 George Lopez with his new Crocs Golf shoes.
There were also ionic-magnetic bracelets from Colantotte, whose silver Magtitan Neo Legend line can be seen on Robert Downey Jr. in The Avengers. At this gift lounge, however, the company was handing out the silicon Flex bracelet which has the highest concentration of negative ions and magnets in the entire Colantotte line.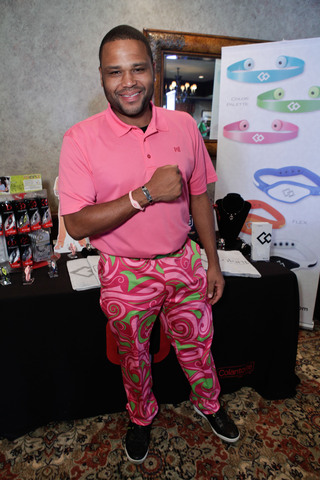 Anthony Anderson wears his magnetic Flex bracelet from Colantotte.
Food included custom designed candy apples from Apple Revolution, truffles by the Bread Basket Cake Company, which also designed a special multi-tiered cake for the occasion. Napa Valley winemaker Tracey Reichow had wines from her Black Cat Vineyard including the rose-tinged Saignee of Cabernet.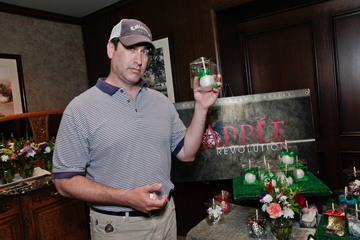 Rob Riggle holding a golf-designed candy apple from Apple Revolution.

There was also skincare from men's line Zirh and t-shirts, tanks and baby onesies by Halfbreed Clothing Co., a multicultural clothing line for all ages that celebrates diversity.
Celebs also got to take home soy candles from Milena's Boutique, whose unique frangrances include such scents as Chocolate Orange, Sage & Camomille, Blackberry Vanilla, Hazelnut Latte.
RevitaLash ADVANCED handed out bags featuring an array of products, including eyelash conditioner, eyebrow conditioner, hair thickening mousse, eyelash primer, mascara, a highlighting pencil for eyes & cheeks and a 12-hour eyeliner.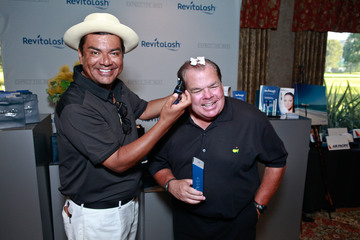 George Lopez puts some of Revitalash ADVANCED hair thickening mousse on friend and former sports team owner Bruce McNall.
Upon arrival at the golf course, celebrities were treated to a gift bag of Australian goodies when checking-in, including hats and sunglasses from Mad Keen and boxer briefs by SLY -- known Down Under for their colorful designs and a pocket on the right leg. The ladies received the more feminine iSly panties. The company is expected to launch stateside in stores later this year.