Movie review shows were once a dime a dozen, but slowly fell by the wayside as the power shifted from critics to the moviegoing audience themselves, who used social media to get and give out opinions on what they were watching.
Now PBS - the original home of the late Gene Siskel and Roger Ebert's very first movie review show Sneak Previews (1975-1996) - is getting back to reviewing with a new series titled Just Seen It.
Created and executive produced by University of Southern California alum David Freedman, Just Seen It has a decidedly 21st century format, incorporating TV reviews in addition to film, and jettisoning the stereotypical stuffy middle-aged critic in lieu of film industry professionals.
Freedman sat down with The Huffington Post's Zorianna Kit - who herself made an recent appearance on the show as a guest reviewer - to talk about Just Seen It, the format and why there is still plenty of life left in movie review shows.
KIT: After 'At The Movies with Ebert and Roeper' went off the air, subsequent incarnations by others failed to find an audience. What made you step in and create a show?
FREEDMAN: The only thing right now that's out there in terms of discourse on movies and TV is on the Internet. It's mainly people yelling at the camera and telling you why they liked a movie rather than why you might like or not like the movie. I thought there was a space to create something for real, hard core movie and TV show aficionados.
Q: 'Just Seen It' is unique in many ways. First of all, it's not critic-based. Who are your reviewers?
FREEDMAN: I came up with the idea for the show at the student cafeteria at USC, so we started off as a bunch of USC graduates. We were USC Masters and PhD's and Bachelors in film production, acting, screenwriting, directing - all the different disciplines. Then we all graduated and started working in the industry. So we went from film students reviewing movies to industry professionals. That's who we are.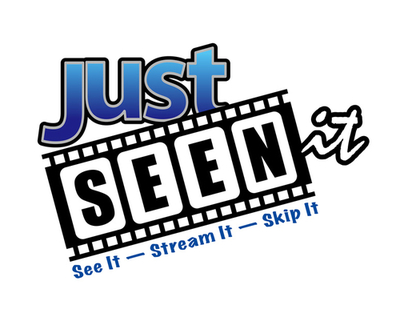 Q: How did you come up with the title, 'Just Seen It?'
FREEDMAN: It's a true title. When we review movies and TV shows, we literally have just seen it. When you tell someone, 'I've just seen it,' it's fresh in your mind, you're passionate about it, you want to talk about it and you feel strongly about why you like it or don't like it.
Q: Your format reflects that as well. Describe it.
FREEDMAN: We give a review either a 'See It,' 'Stream It' or 'Skip It.' 'See It' means that this is worth your time and money. You'll want to see the movie inside a theater, or pay cable to see the TV show, or take the time to watch it if its on broadcast television.
'Stream It' is a way many people digest entertainment nowadays, and what it means for a movie is: this might not be worth you going to the theater and paying good money and time for it. But it might be worth it when it comes out at home on pay per view or on DVD or streaming. For TV shows, it means it's not something you absolutely have to see right away. It's not 'must see TV.' It means DVR it, watch it at your own convenience and decide for yourself.
'Skip It' is not something we give lightly. When we do, we come from a point of being respectful. (As industry professionals) we know what it takes to make a movie or a TV show. Our reviewers are directors, producers, actors, screenwriters....Aaron Fink is a professional sound designer that's a reviewer on the show. We produce a TV show every week and have an unbelievable amount of respect and understanding for the process. So we are always respectful regardless of what we give the movie or TV show.
Q: You don't have one reviewer talking to the camera, or two reviewers speaking to each other. You've got three. How did you arrive at that number?
FREEDMAN: I wanted to make it a conversation. We originally started with five people but it was too many. Three seemed to be the magic number in terms of having a conversation and a discourse and having different opinions.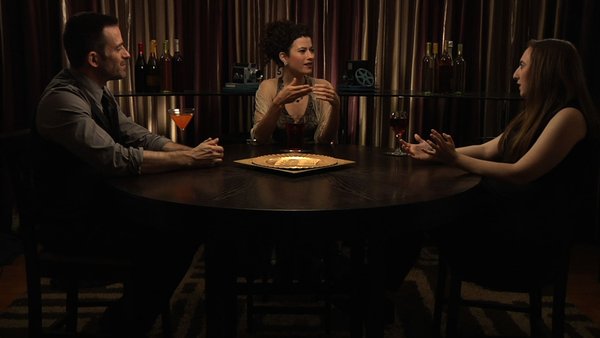 Reviewers Kevin Taft, Rachel Appelbaum and Liz Manashil discuss a film on 'Just Seen It.'
Q: Your show covers not only film, but television as well. Why include that?
FREEDMAN: There's so much great writing on TV. In some cases, it's superior to movie writing - Breaking Bad, Game of Thrones, Mad Men...Even regular broadcast shows like Elementary and The Big Bang Theory, which is hilarious. TV is a big commitment. You have to decide if a certain show is something that you'll want to watch on a weekly basis. You can't ignore what's on television these days.
Q: 'Just Seen It' first began on the Internet. How did it end up on PBS?
FREEDMAN: We started as a web series in January of 2011 and honed the process for about a year. In the summer of 2012, PBS SoCal said 'We really like your show, we want to pick you up.' So we were on their digital channel, PBS OC - which is part of PBS SoCal- for about three or four months.
At the beginning of this year, the National Educational Telecommunications Association (NETA), who is the largest distributor of PBS shows, said 'We'd like to pick you up.' So we've gone from one station, PBS SoCal, to 162 stations nationwide. And we're growing. We have 50 percent of the market after only four months on the air.
Q: How has the show expanded with these changes?
FREEDMAN: We've expanded the reach of Just Seen It beyond USC to get more voices. Kevin Taft, who has a film degree not from USC, is a reviewer for Edge Media, which encompasses all the LGBT magazines. Brenna Smith is from the Cal State system and she's getting her degree in acting. We wanted to create a community of reviewers, which is why we recently welcomed members of the Broadcast Film Critics like yourself. It expands our view of the world and the demographic of the show because our demographic is fairly young and now we're brining in some more experienced reviewers.
Q: Is it true you finance the show completely yourself?
FREEDMAN: I'm underwriting the show myself right now. I've have been since day one. But now that we're on PBS, we have an ad package to offer, just like regular network shows. We can offer that ad space to potential sponsors. Acorn Media, a DVD distribution company, just became our first sponsor.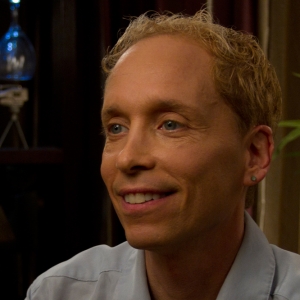 Show creator and executive producer David Freedman
Q: When do you shoot the show?
FREEDMAN: We shoot four segments every Saturday. Each segment is five to six minutes and they make up the half hour show. Plus there's some little bits of extras every week. We usually start at about 10:00 AM and generally wrap by 3:00 PM. There is a six day turnaround for us to get it up on the web (the following Friday) and then we air nationally on PBS the following Wednesday.
Q: So you're still online as well?
FREEDMAN: We have a YouTube channel, a Twitter and Facebook following, a new updated website, JustSeenIt.com and we're growing exponentially on PBS. So we're on a lot of different platforms.
Q: You're the show's creator and show-runner, and you're also a reviewer. What's your background?
FREEDMAN: I was one of the original members of Moviefone, wrote most of the original software and helped build the company. I have a heavy technological background. I worked for Sun Microsystems for a number of years running a global engineering division. Then I went to work for USC, running technology and that's when I decided to get my Masters in production.
David Freedman is the show runner for Just Seen It and obtained his Masters in Film and TV Production at USC and attended Brandeis University as an undergraduate in Film Production and Computer Science. For more information on Just Seen It, go to www.justseenit.com. To learn more about the reviewers on the show, click through the slideshow below.
PHOTO GALLERY
The reviewers of PBS's JUST SEEN IT