When you consider how many millions of people love to surf, it's good that there's not just one surfing capital of the world. For some it's the North Shore of Hawaii, the beaches of Australia, the Cape of South Africa, good old Malibu, or the Costa Rican coastline. If you want to learn to surf, choices abound, destinations where you can throw yourself in to the break and be forced to step up your game and master the wave.
For me, that place turned out to be the Costa Rica's Pacific coast: the waters are so warm that you don't even need a wet suit. And there's no shortage of clean waves. If Costa Rica was good enough for the 2009 ISA Billabong World Surfing Games, it was certainly was good enough for a novice like me to try and learn the sport of Hawaii's kings.
There are several famous breaks in Costa Rica, like Playa Hermosa and Jaco. I choose Esterillos Este, the home of long stretches of isolated beaches that are tourist free. Of the two available hotels, I stayed at the Alma Del Pacifico, a gorgeous 20-room boutique establishment.
Alma is unique, special. It was designed by renowned Californian architect Sherril Broudy and his painter wife Charlene Broudy. My ocean-front suite featured a private plunge pool and a shower that opened up to walled gardens. Also impressive: the facility grows its own organic fruit and vegetables on the property. Their meat is 100% free range cattle and chicken. All of the hotel's cleaning products are biodegradable and non-toxic, and its swimming pools use salt water instead of chlorine.
The resort offers numerous packages, from romance to adventure to relaxation. Mine was the surf package, which included two days of surf lesson: a morning and sunset. My official lesson began courtesy of Brett's Board Rentals. Owner Brett Schroeder came to the hotel to teach me, along with a few other novices, right on Alma's beach.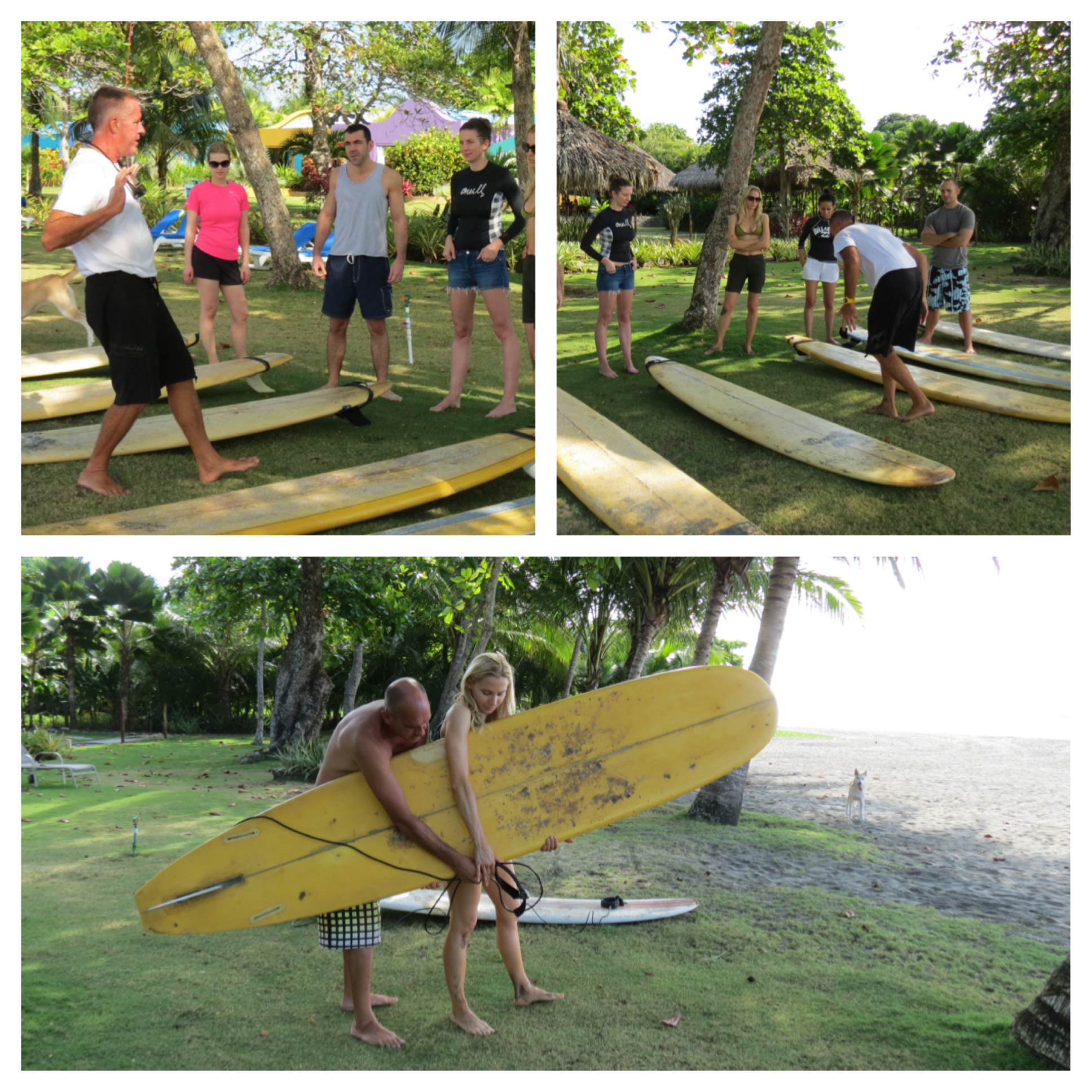 The "land" portion began with being taught how to lie on the board, segue in to what Brett called the yoga snake pose, then slide one back foot forward, and lift yourself up while bringing the other foot forward.
The steps seemed simple. After a few minutes, I ventured in to the water. Brett and his staff helped us navigate the shore break, going in, turning our boards around, climbing on, and then following the steps we had learned on land.
Call it beginner's luck, but the next thing I knew, I was riding straight in to the beach. Awesome! Without missing a beat, I paddled out and rode in again. Each time, Brett would give me slight adjustments to make, like repositioning my arms, or reminding me to straighten out my back.
If I fell over, he'd explain what went wrong, like my feet were too far forward on the board or I stood up too late. We'd tweak technique a little each time, or add in some new skill like steering right and left.
Suddenly, I hit a snag. It was fall, after fall, after fall. Salt water burned my eyes and gushed out of my nose like saline solution in a Neti pot. I was getting frustrated. My stomach was growling. My body was tired.
Yet despite the exhaustion and hunger pains, I couldn't stop. I was surfing in Cost Rica for goodness sake!  When would that ever happen again? Eating and resting I can do any time. But surfing? This was a rare experience. I had to continue. I was not going to leave that beach defeated. I had to end on a high note.
 
"Let's get back to basics," said Brett, in a way that told me he instinctively knew how to remedy the situation. We went back on the land and slowly went through each step from the cobra pose all the way to standing. I realized had gotten a little sloppy with my steps and each fall was sending me on downward spiral that I could not get out of mentally. Brett's mini-tutorial pulled me right back out.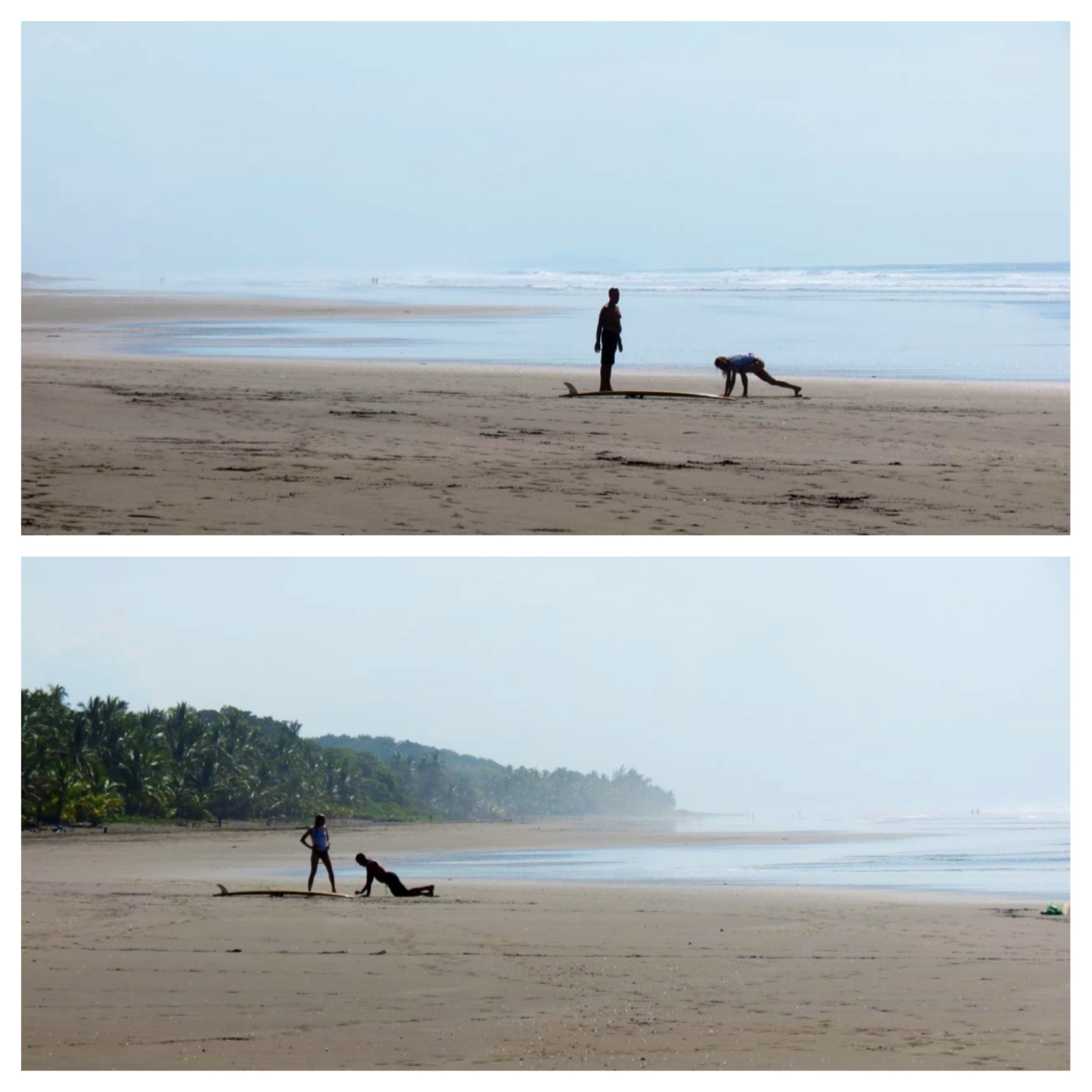 Back on the board and in the Pacific Ocean, I regained my mojo and the easy glides and rides came back. I got bolder and ventured farther out, body checking the on-coming waves. I scanned the incoming swell. Which wave would I tame? In my head I planned a strategy. Paddle, snake pose, scoot one foot up, stand up, bring the other leg forward.  Then the other. Up on two feet. Stay center on the board. Shoulders back. Watch the arms....
Stop!!!! I heard a voice yell. I looked around. The voice had been my own, in my head. I had been focusing too much on technique and couldn't get into the sweet spot where I could be one with the wave and the board and the ride. Time to toss the lessons out the window and let instinct take over.
I straddled the board as if on a trusted horse. Together, were we going to do it. Just then, I felt a swell lift me up and propel me forward, and even before I realized it, I was standing tall, gliding in. I passed Brett in the water and saw him cheering. I was officially a bad-ass surfer chick, going on instinct!
The next day, our surf lesson began at sunset. We did a quick review on land and then it was back into the ocean. This time, Brett's goal was not to be so hands on. We had to take what we'd learned the day before and build on it by ourselves.
 
It took me a beat to find my footing, so to speak, but within minutes I was on my own, catching wave after wave after wave. It was like an addiction. Every time I caught and rode a wave, I was on such a high, I immediately wanted to go back out there and do it again. If I messed up, the wipeout was incentive to go back and try for a better ride. 
As the sky turned orange and the sun sank below the horizon, I realized what all surfers finally figure out: there is never a good time to call it quits. Fortunately there's always another day, and another wave. One more wave. One more try. One more time. That's all I wanted.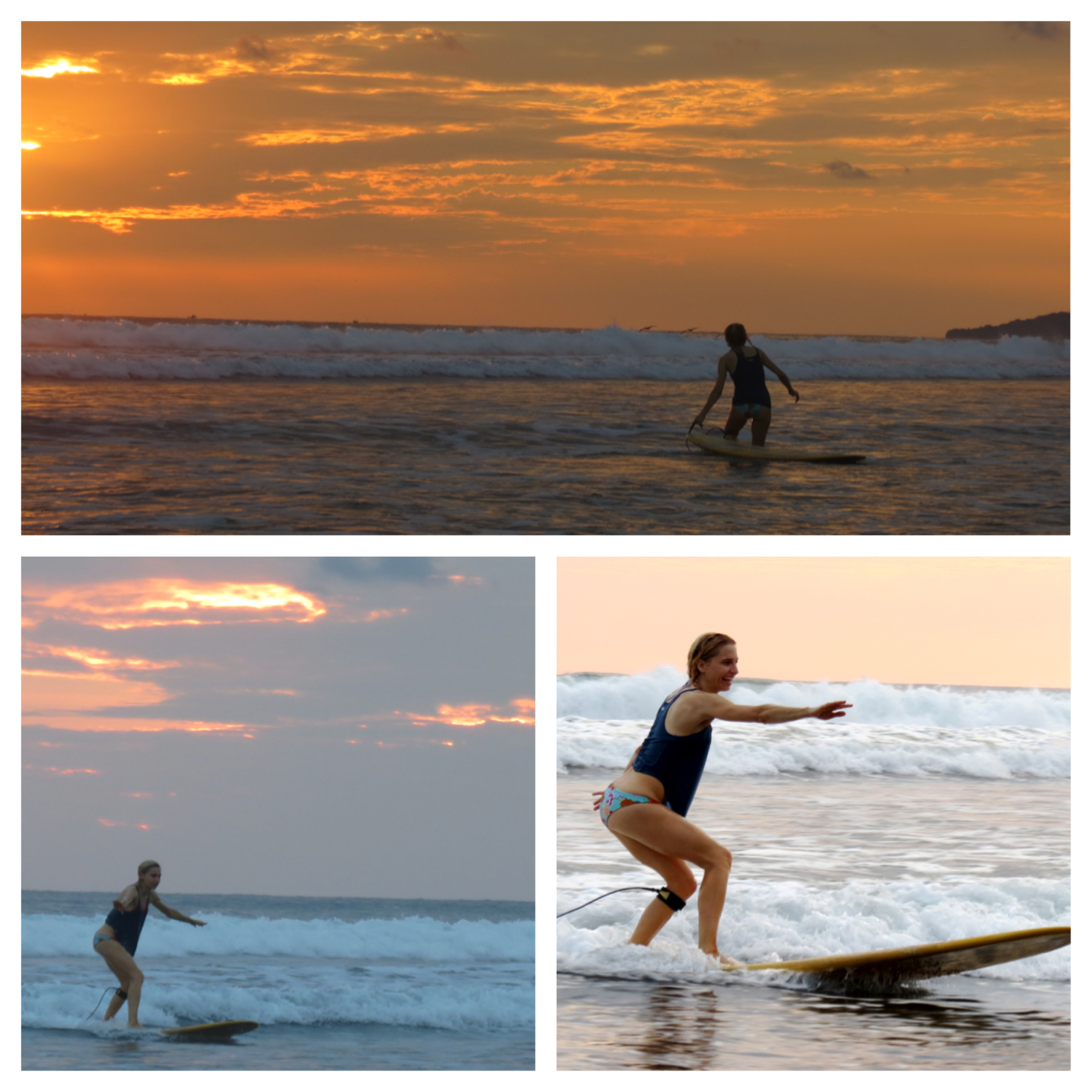 I also realized that surfing was about more than just riding a wave and riding it well. It was about mastery on the edge: trying to control what can only be controlled temporarily. Learning to be ready to make instant and instinctive decisions. Finding the balance between technique and instinct resulted in a ride to remember. 
I learned to love surfing, even after only two successful lessons, because it's a metaphor for living life. It's about walking the tightrope between control and letting go. It's not easy and the challenge repeats itself with every wave, and every day of your life. Too much control makes you freeze. Too much letting go can lead to a wipeout. But balance, when you achieve it, is a beautiful moment, both in life and on a wave.
For more of Zorianna's work, please visit her website: www.ZoriannaKit.tv or "like" her Facebook page to get regular updates on her articles and television appearances.
PHOTO GALLERY
Alma Del Pacifico - Rooms and grounds