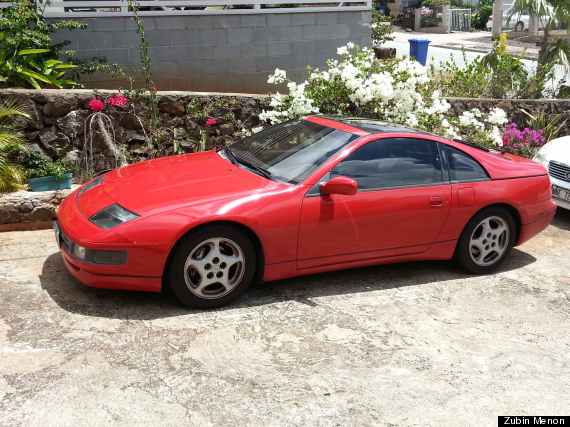 Everyday there seems to be a new story about social networking. We've seen some politicians trash their careers just by getting on Twitter. But participating in a social network can provide genuine results and help when you need it.
For the past eight years, I have been part of a social network that has provided immense value to thousands of other users. It existed before "social networking" became cool, and it serves a narrow segment of people worldwide -- passionate owners of a graceful, thrilling Japanese sports car, the Nissan 300ZX. I own a red, 23-year-old Nissan 300ZX that I love not one bit less when it succumbs to its idiosyncrasies.
Twinturbo.net draws Z enthusiasts, from novices (like myself), to experts, like Greg Dupree and Sebastian Chacoff at Specialty-Z in California, Tim O'Connor in Colorado, and Bernie Bilski in Virginia. It's a global meeting place, to buy and sell used/new parts, to exchange technical knowledge, and to discuss anything Z-related.

Twinturbo.net Has Saved Me More Than Once.
One time my brake lights were staying on even when the engine was turned off. After searching through the technical forum, I found a post from another member describing how he had noticed some broken pieces of rubber under his brake pedal. I got the flash light out -- and found the same thing. A small rubber stopper, essential to the functioning of a relay, had disintegrated. A quick trip to New City Nissan, and I had what I needed. Total cost: $3.04, plus 30 minutes of my time to install it.
Users across the world tear down and rebuild their engines based on technical articles on the forum, posting updates along the way. Many members offer words of encouragement. Some heckle. Twinturbo.net members also drive hours to gather, share stories, and work on their cars together. New friendships are made, old ones renewed -- and sometimes abandoned for good reason.
Making New Friends
When I decided to tackle a brake job for the first time in 2005, I put out a call for help on the general forum. Within minutes, Brad Lenox, a marine from San Diego, called. He'd done countless brake jobs on many Zs. Over the three years he was in Honolulu, Brad and his family put up with me lying on their garage floor into the wee hours of the morning, my car in various stages of dismantlement. Brad was the one doing most of the work. I specialized in asking incessant questions. (Sometimes, I provided a dish of curry as thanks!) Brad talked me into taking my Z to the track (when Oahu still had one), and doing what Katayama san, (or Mr. K, the father of the Z), intended: driving the heck out of his creation.
After nine years, despite a leaky rear main seal and power steering, I still enjoy every second I spend in the driver's seat of my Z. I don't care that she's near the bottom of the Z food chain -- a 1990 (first production year), naturally aspirated (most four door Civics are faster in a straight line), with an automatic transmission (think "slushy"). I even get someone else to drive my car sometimes so I can follow and enjoy the sight of it in motion!
Democracy At Work On Twinturbo.net
Some years ago, it came to light that a well-known forum vendor, Company X, had been copying a high pressure fuel rail, originally manufactured by 300 Degree, a company founded by the creators of Twinturbo.net. Company X had been selling cheap imitations as original 300 Degree rails. The sharing of information on Twinturbo.net led to this scam being uncovered. While some defended Company X's actions as "business as usual," most condemned their behavior. When Company X tried to advertise a new brake upgrade a couple of weeks later, most members of this online democracy voted to delete the post.
Expect Feedback
This is a forum for purists. If you install a hideously ugly body kit on your car, and post pictures, you're going to get a (virtual) earful. If you ask questions that have been asked and answered without even pretending to use the search feature, you will get an earful. If you post rude/non-Z related messages all day long, your posts will get deleted. But this is also a community that celebrates countless "new baby" posts by proud Z-owning fathers and mothers, and offers prayers and support when needed.

Remarkably, belonging to Twinturbo.net for eight years has not cost me a cent. Its creators and forum veterans have kept this community going for over ten years, without ever charging a fee. It inspires such devotion that when the site kept crashing in 2007 because new server hardware was needed, members (led by Kenny) took up a collection and donated over $2,000 in two weeks.
I have no great fountain of Z knowledge, no profound insights into how one should remove/reinstall the Zs venerable powerplants, the VG30DE (the version in my car), and the VG30DETT (the twin turbo, blow-your-socks-off version). Being in Hawaii, I don't get the pleasure of participating in Z meets across the country, or driving my Z to the holy grail of events, the annual Z Convention, or ZCON. But, every time I get into my Z and hear the engine come to life, every time I take winding coastal roads with the t-tops off, I experience some of what moved Automobile magazine's drivers to say this after their test drive 20 years ago:
"The 300ZX Turbo is a dance; it's a song; it's rolling, roaring automotive art. There is no color that doesn't suit it. There is no mood-lifting chemical substance it can't replace."
Share the exhilaration. If you own a 300ZX, visit Twinturbo.net. Don't just lurk and don't turn into a troll. Just do as the creators intended: "Boost Your Knowledge."
Zubin Menon can be found on Twinturbo.net as zmenon. He drives a 1990 Aztec Red NA, AT (Naturally Aspirated, Automatic Transmission).