Jenna Bush, always our "wild" child, has been re-ordained by as a "mild" child in the November issue of Texas Monthly. Jenna dishes to reporter Skip Hollandsworth, on life with Mom and Dad (she lives at home right now) and how hard it has been to for her and sister Barbara to "shake off their margarita-swilling reputations."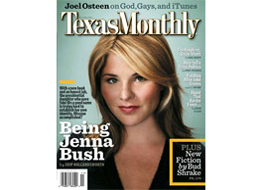 Hollandsworth gets Jenna to answer the question we've all been asking ourselves: does she too want to see this President go? She sure does! Jenna tells Hollandsworth, "Sometimes I say to myself, 'A year and a half and counting.'"
Read the entire piece here.