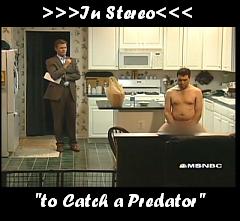 A week ago, I had the occasion to stop by the NBC Experience Store at Rockefeller Center, because I just felt like I hadn't had myself an NBC Experience in some time. As I picked over the merchandise, pricing 30 Rock swag (Season premiere tonight, by the way!), I was disappointed to note that the network had done precious little to market one of its key brands: Dateline's "To Catch a Predator" series. Where were the mugs and keychains? The T-Shirts? The exciting home game for the Nintendo Wii? (You think I joke, but please note that at this moment, you can purchase a DVD titled NBC News Presents: BTK Confessions--perfect for Christmas!)
Well, for those who can't wait for NBC to help make TCAP a leisure time activity, the good people at SoundBoard have stepped in to fill the void. They've put together a collection of Chris Hansen's greatest hits. You get all the classics, like:
"I Want to Wrestle You So Freakin' Bad"
"I'll Just Be Your Secret Lover"
"Let You In So I Can Feel You"
"I Could Probably Teach You A Few Things"
"I'm Big!"
"It Takes Him A Second To Get On The Stool (Because He's Under Five Feet Tall)"
and of course..."Bring Ice Cream"

Plus twenty-seven more Chris Hansen moments, perfect for ringtones!

SUBSCRIBE TO & FOLLOW THE MORNING EMAIL
Start your workday the right way with the news that matters most. Learn more