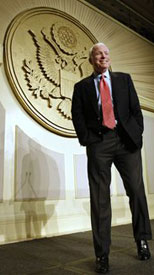 Senator John McCain has announced that he will participate in a Spanish-language presidential candidates' forum on Univision. The event on the Spanish-language TV channel is scheduled for December 9, and McCain released the following statement:
I look forward to communicating with Hispanic voters nationwide in this unique discussion of issues. It is an opportunity to broaden access to the democratic process and to participate in the political dialogue...I commend the Univision Network for hosting this historic presidential forum and am happy to accept their invitation to participate.
Rep. Duncan Hunter will join in, too, according to the Miami Herald.
This isn't the first time that McCain has agreed to participate in a Spanish-language forum. He was in fact the only Republican hopeful to not snub a September 16 debate that Univision had scheduled. The event was subsequently "re-scheduled," as the parlance goes.
Last month, the Huffington Post reported extensively on the decision of the four GOP frontrunners, including McCain, to sit out an African-American voters' forum moderated by PBS's Tavis Smiley. One has to wonder if Univision will decide to follow PBS's lead and put up empty lecterns for all who sit out the event.
Of the other Republican frontunners, Mitt Romney's office would not say yes or no.
"We haven't made any decisions on debate forum invites past the Oct. 21 debate we've agreed to with the Florida GOP," said Kevin Madden in a Monday morning e-mail to the Huffington Post.
Fred Thompson's campaign offered a similar noncommittal response.
"Senator Thompson is excited to be participating in the upcoming debate in Orlando, but beyond that, we have not confirmed participation in any other upcoming debates or forums," wrote spokesman Jeff Sadosky.
Watch HuffPolitics for more updates as they become available.