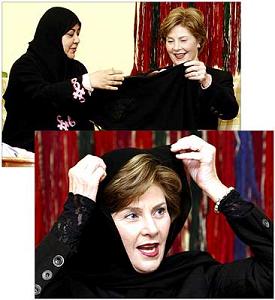 Yesterday, while, on tour in the Middle East raising breast cancer awareness (as well as working to "[restore] Washington's image in the region"), FLOTUS Laura Bush put on a traditional hijab given to her by Saudi doctor Samia al-Amudi.
Naturally, you might be wondering if you should brace yourselves for a coming torrent of outrage! After all, when Nancy Pelosi did the exact same thing back in April, the slings and arrows flew hot and heavy!
SUBSCRIBE AND FOLLOW
Get top stories and blog posts emailed to me each day. Newsletters may offer personalized content or advertisements.
Learn more