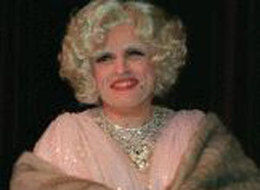 The Wall Street Journal's Gerald F. Seib takes in the latest polling data and finds that Rudy Giuliani is having great success connecting with voters who identify themselves as "very conservative." Recognizing the disconnect between Rudy's positions on sundry issues that are meaningful to the far-right, Seib asks, "What accounts for this gravity-defying performance?"
"It's all about leadership," says Scott Reed, a Republican strategist who ran Bob Dole's 1996 campaign but is unaffiliated this time around. "It's all about him being a tough guy who won't take c--- from anyone. Social conservatives have embraced this and have overlooked the traditional issues of life, marriage and the Second Amendment for the guy," Mr. Reed adds.
It should be noted: by agreeing to be a "guy who won't take c--- from anyone," Giuliani is, indeed, meeting social conservatives halfway.
SUBSCRIBE AND FOLLOW
Get top stories and blog posts emailed to me each day. Newsletters may offer personalized content or advertisements.
Learn more