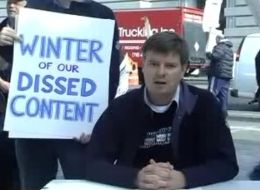 Have you missed your Daily Show fix? Well then enjoy this, the latest creative effort by the striking TDS writers as they clearly can no longer keep their collective rapier wit from busting out. The target: Not Giuliani and Kerik — though that's probably killing them — but the media companies, moguls, studio heads and otherwise exploiters of content without wanting to pay one red cent. It's pretty damn good (well, I laughed out loud a few times) and technically pretty impressive, actually, seeming to have been done in precious few takes. Anchored by writer Jason Ross (doing boss Jon Stewart proud) and featuring what looks like all the Daily Show writers (that's Tim Carvell holding the signs; plus in order of appearance: JR Havlan; Kevin Bleyer; picketing-but-still-punchy Rachel Axler, the lone lady on the writing staff; Scott Jacobson; Sam Means; Rich Blomquist; plus John Oliver cameoing as John J. Viacom III or whatever. Special guest appearances by Sumner Redstone, a sea anemone, and the kid who cried about Britney on YouTube. Missing but namechecked: Rob Kutner. Fin.
It's not that we don't want these people to be properly paid and put back to work, but we're sort of digging these guerilla strike videos. Watch and enjoy. Fight the powah!
SUBSCRIBE AND FOLLOW
Get top stories and blog posts emailed to me each day. Newsletters may offer personalized content or advertisements.
Learn more