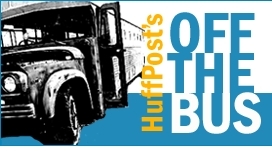 State field director predicts second, even first in Iowa
It seems like when we're young, we like to break a few rules. Staying out a little too late, sneaking a drink before that official legal age, or backing a candidate who's outside the established mold (YEEEEEAH!)
Several of those dynamics were on display Saturday at Olive Court, a notoriously wild tailgate spot three blocks from Iowa City's Kinnick Stadium. It was here, just a year ago, that John Kerry was infamously photographed with a beer bong. And into the anarchy marched the Ron Paul revolution.
Ron Paul wasn't imbibing himself, though a couple supporters appeared to have had their enthusiasm enhanced with a beer or three. "All we have to do is obey the law of the land and make the Founders heroes again, and make the people in Washington realize that it's your life to lead as you choose and not for the government to tell you what to do with it," the Texas congressman told a crowd of 200. The presidential candidate's message seemed to fit well in the boozy, young, free for all atmosphere of a Hawkeye tailgater.
"Every single day our numbers are growing exponentially, financially as well as volunteers," Paul told Iowa Independent after his speech. "Our job is to get them to the polls, and it looks like we're moving in that direction. Everybody's pretty excited."
SUBSCRIBE TO & FOLLOW THE MORNING EMAIL
Get top stories and blog posts emailed to me each day. Newsletters may offer personalized content or advertisements. Learn more