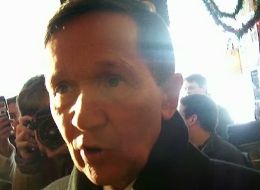 Manchester, NH— John McCain may have been the main show in Peterborough, NH today, but Democratic contender Dennis Kucinich still managed to pack a capacity crowd into Harlow's Pub just down the street from where the AZ senator was holding a large rally at the Town Hall. Despite being ruled ineligible for tonight's ABC/WMUR/Facebook debate (along with Mike Gravel, and Ron Paul who are also here in New Hampshire), Kucinich is still in the game — or, at least, still determined to play it.
Kucinich took great umbrage to the network's decision to disallow his participation, on his own behalf as well as that of the American people. "It's indefensible that ABC should be able to determine who the next president is going to be," he said. "That's not their role, as a matter of fact, the airwaves don't belong to them, it belongs to the people."
Kucinich further said that he was considering legal action against the network, saying that "ABC will be called to an accounting." Said Kucinich: "We are not through with them — I'm looking at various types of legal action, that are going to go long after this election, and ABC is going to be challenged. And they're gonna find out that they've met the one person in this government who isn't going to back down from them. They don't own the airwaves."
Kucinich also pointed out that he was leading in various online and straw polls &mdash which the Kucinich campaign noted in a press release late this afternoon, pointing out that that ABC and Facebook were disregarding their own data in excluding Kucinich from the debate: "Kucinich, according to Facebook's own figures, ranks fourth in popularity among Facebook members. In the latest ABC News Poll [he] ranked ahead of Richardson."
Full interview below: