I popped in to John McCain's headquarters this afternoon on my way to pick up a rental car at the airport. The McCain HQ is located in a huge converted mill in downtown Manchester (actually, just as a point of interest, at least half of the buildings here appear to be large converted factories of some sort), and it seemed a hotbed of activity for the short while I was there.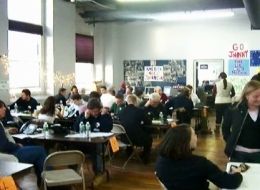 Obama has been generating most of the "youth vote" talk thus far, but to my eyes the room at McCain HQ skewed very much to the young side. While there one staffer told me that yesterday Lindsay Graham, the senior Senator from South Carolina, had dropped by yesterday for a surprise visit and some "straight talk." Apparently Graham, who was a strong supporter McCain back in 2000, told the campaigners that they should beware of Mitt Romney since Romney has the money and is desperate. This before reassuring the staffers that if McCain could pull of a win in New Hampshire, Graham could promise him South Carolina.
The South Carolina primary is a crucial one as it leads directly into Florida, with its rich pot of delegates, after which it's on to Super Tuesday, and then, well basically, the general election (yes, eventually, there will be an election). Whew.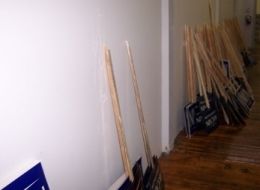 Anyway, the point being, and perhaps the point Graham was trying to make, is that if Mac really is back, he's going to have to convince the New Hamshirites he's the one, because a win here really is his only express route out.
As for our express route...so far, there isn't one. For the moment, at least. Upon I arriving at the airport I discovered there was not a rental to be found. Manchester is booked! Though, the nice lady behind the desk of the National did tell me that if I wanted to wait a few hours they were currently attempting to dig some out of the snow. I opted for the cab.

SUBSCRIBE TO & FOLLOW THE MORNING EMAIL
Start your workday the right way with the news that matters most. Learn more