There are more new details in the death of Heath Ledger Tuesday afternoon at age 28. Meanwhile, Ledger's parents and sister have revealed their immense pain in newspaper death notices in Ledger's native Australia. There are no plans for a public service.
Police now say Ledger's masseuse Diana Wolozin phoned Mary-Kate Olsen 3 times over 9 minutes before she called 911, and a 4th time after paramedics arrived.
Us Weekly has an updated timeline:
2:45 p.m. Wolozin shows up for Ledger's massage appointment and knocks on his door.

3 p.m. She calls his cell phone to wake him up.

She sets up her massage table.

3:17 p.m. She calls Olsen. The conversation lasts 49 seconds.

3:20 p.m. She calls Olsen again. The conversation lasts one minute and 39 seconds.

3:24 p.m. She calls Olsen a third time. The conversation lasts 21 seconds.

3:26 p.m. She calls 911.

3:33 p.m. Paramedics arrive and go up in the elevator to the apartment with Olsen's security guards (whom Olsen had called to check out the scene).

Paramedics do not allow the security guards into the bedroom where Ledger is.

3:34 p.m. Wolozin calls Olsen a fourth time. The length of that conversation is unknown.

3:36 p.m. Ledger is declared dead.
The NY Post learned from law enforcement sources that the pair were dating. People Magazine has details on their relationship, saying
"Mary-Kate and Heath were casually dating for three months before Heath's death," a source has told PEOPLE. "They were hooking up, but neither were particularly interested in making it exclusive... They had a bond that was based on partying, and they had the same tastes in partying."
About Tuesday details :
According to the police, around 12:30 p.m. on Tuesday, a housekeeper, Teresa Solomon, arrived at the apartment, at 421 Broome Street in SoHo, to do household chores. At about 1 p.m., she went into Mr. Ledger's bedroom to change a light bulb in an adjacent bathroom; she found him on the bed face down, with the sheet pulled up to his shoulders, and heard him snoring.

A masseuse, Diana Wolozin, arrived to give Mr. Ledger a massage about 2:45 p.m. At 3 p.m., after Mr. Ledger did not emerge from his bedroom, with the door closed, the masseuse called him on his cellphone but got no answer. She entered the bedroom and saw him lying in bed. She took a massage table out of the closet and began to set it up near his bed. She then went over to him and shook him, but got no response. Using his cellphone, she used a speed-dial button to call Ms. Olsen in California to seek her guidance, knowing Ms. Olsen to be a friend of Mr. Ledger's.

According to the authorities, Ms. Wolozin told Ms. Olsen that Mr. Ledger was unconscious. Ms. Olsen said she would call some private security people she knew in New York, and hung up. Ms. Wolozin again shook Mr. Ledger, called Ms. Olsen a second time, and said she believed the situation was grave and would call 911.

Ms. Wolozin called 911 at 3:26 p.m. to say that Mr. Ledger was not breathing. The call occurred less than 15 minutes since she had first seen him in bed and only a few moments after the first call to Ms. Olsen. The 911 operator urged Ms. Wolozin to try to revive Mr. Ledger, but Ms. Wolozin's efforts were not successful.

Emergency medical workers arrived at 3:33 p.m., at almost exactly the same moment as a private security guard summoned by Ms. Olsen. The medical workers moved his body to the floor and then used a defibrillator and CPR, to no avail. Mr. Ledger was pronounced dead at 3:36 p.m. By that point, two other private security guards summoned by Ms. Olsen had arrived, as had police officers.
At no time did Mary-Kate suggest phoning 911. "A law-enforcement source said the masseuse called Mary-Kate because 'she didn't want a media circus.'"
Late Wednesday, ex-girlfriend Michelle Williams and 2-year old daughter Matilda were photographed arriving back in Brooklyn from Sweden, where Williams had been filming on location.
A friend who was with Ledger in Australia over Christmas spoke out about how edgy he had been. Sophie Ward sister of supermodel Gemma Ward with whom Ledger had been reportedly linked, said:
"He smoked cigarettes, but that's about it. He was drinking diet Coke when we were together and he said he was very committed to not drinking alcohol...

"We went to the movies and just did normal stuff ... but he was a bit edgy. He couldn't really relax... He said he was going to London but was quite upset because he couldn't see his daughter as much as he'd like to. He was traveling so much and I think he was just frustrated with it all."
At the end of his holiday in his native Australia, Ledger phoned the local media to thank them for leaving him alone.
Wednesday evening the NYPD announced that tests on a rolled up $20 bill found near Ledger's body turned up negative for drug residue. The bill had initially raised suspicions that Leger may have been using the bill to snort drugs of some kind. Authorities found six different prescription drugs in Ledger's apartment, including ones for insomnia and anxiety and an antihistamine
TMZ reports some of the prescription medications found in his apartment were "Xanax and Valium, both anti-anxiety drugs. Cops also found Ambien, along with several medications prescribed in Europe."
According to Us Weekly, the Terry Gillian production of 'The Imaginarium of Doctor Parnassus', which Ledger was partially though filming, has been scrapped and everyone let go.
Early Wednesday, the medical examiner's office said an autopsy was inconclusive and that a complete investigation would take another 10 days.
Ledger's body was taken to a funeral home Wednesday afternoon, reports In Touch Weekly. George Amato, the general manager of the Frank E Campbell Funeral Home, said, rather indiscreetly, "We have been asked to take care of the body from those who are in charge of him and to remain discreet." Tissue samples taken will stay with the medical examiner to be tested.
Wednesday morning in Australia his family gave a statement .
We, Heath's family, confirm the very tragic, untimely and accidental passing of our dearly loved son, brother and doting father of Matilda, who was found in a peaceful sleep in his New York apartment by his housekeeper at 3:30 p.m. (EST)," his father, Kim, read while accompanied by mother Sally and Ledger's sister, Katie.

"We would like to thank our friends and everyone around the world for their kind wishes at this time.

"Heath has touched so many people on so many different levels during his short life, but few had the pleasure to truly know him.

"He was a down-to-earth, generous, kind-hearted, life-loving and unselfish individual who was an extreme inspiration to many.

"Please now respect our family's need to grieve and come to terms with our loss privately."
The family was speaking from Applecross, Australia. In Touch reports his parents found out from watching the news. Ledger's uncle said,
"His mother and father heard of his death on the news. We are all devastated. The whole family is devastated over his death, and more so over having to learn of his death from the media."
Michelle Williams' father Larry called Heath "a beautiful flame":
"I think Tennyson got it right in the poem when he described someone as having died at a young age but burning the candles at both ends, and oh what a beautiful flame he made, that was Heath, what a beautiful flame he made and a great talent."

"My heart goes out to everyone in his family and my family."

"The saddest thing is his daughter whom he just loved dearly."
Ledger's ex-girlfriend, Naomi Watts, is in Sundance. All her press for her movie has been canceled because of Ledger's death.
'Brokeback Mountain' director Ang Lee released a statement:
"Working with Heath was one of the purest joys of my life... His death is heartbreaking."
Also in Sundance, Charlize Theron was stunned when told the news of his death while on the red carpet for her film.
Former flame Helena Christensen told WWD:
"I was on my way over to pay him a visit when I found out. I had just left him a message and heard his voice on the machine...He was such a special and genuine person, so extraordinarily talented because he was so raw and honest with his feelings. He was so full of life, so electric... This is immensely sad."
Meanwhile, quotes Jack Nicholson has said simply, cryptically, "I warned him."
Ledger will next be seen reprising Nicholson's role as the Joker in Batman sequel The Dark Knight, trailer here.
Warner Brothers, which is releasing the movie this summer, released a statement reading in part, "The entertainment community has lost an enormous talent. Heath was a brilliant actor and an exceptional person."
Fellow Australians like Mel Gibson and Nicole Kidman (best friend to Heath's ex Naomi Watts) have expressed their sadness over his passing.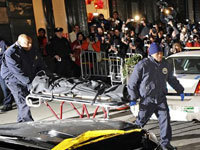 911 was called around 3:30 Tuesday afternoon, and the body was taken away by the medical examiner 3 hours later. At 6:30 pm Ledger's body left the apartment building in a black body bag on a stretcher. Here's the video.
TMZ reports Ledger was suffering from pneumonia at the time of death and that his family has been notified the death was accidental: "They are particularly distraught over media reports that he may have taken his own life. The family says he was not that kind of person."
At a press conference late Tuesday evening police confirmed that Ledger was found naked, face down in a bedroom in an apartment he was renting. He was found at 2:45 by his housekeeper and masseuse when the latter showed up for a scheduled appointment. Contrary to early reports, there were not pills strewn around, but there were pill bottles, including prescription sleeping medications. It is not known how long Ledger had been in the apartment.
Heath Ledger had been filming "The Imaginarium of Doctor Parnassus". Here are set photos, and TMZ has what it claims is last photo of Heath from the set last weekend.
Here is a picture of Heath with daughter Matilda and a slideshow of more pictures.. More here and here.

Here is video clip from 2 months ago of a Ledger interview for Bob Dylan biopic "I'm Not There". He seems mildly out of it and speaks of playing the Joker in the Batman film "The Dark Knight."
Here is video of Ledger on "Ellen" in 2006, happily talking about his then-newborn daughter and finding out about his "Brokeback Mountain" Oscar nomination.
Photos of his life.
Meanwhile, a "friend" of Ledger's told Us hours after the death that:
"To tell you the truth... we saw it coming. Heath has gone though a rough road of trying to get sober," the source tells Us.

"Things were very dark," the source says. "His one joy was Matilda."
Previously:
From TMZ who broke the story at 4:30 pm:
TMZ has learned that Academy Award nominee Heath Ledger has died in NY.

He was found dead in his bed in one of his residences in Soho by his housekeeper at 3:35 PM ET today. Law enforcement sources tell TMZ they believe it was not a crime.

The 28-year-old actor has a two year old daughter with former fiancee Michelle Williams. He was set to play the Joker in the upcoming Batman film "The Dark Knight."
An FDNY spokesperson said he was dead on arrival, and they did not transport him to the hospital. One fire truck and one ambulance responded to a 911 call.
According the AP:
Heath Ledger was found dead Tuesday at a downtown Manhattan residence in a possible drug-related death, police said. He was 28.

NYPD spokesman Paul Browne said Ledger had an appointment for a massage at the Manhattan apartment believed to be his home. The housekeeper who went to let Ledger know the masseuse was there found him dead at 3:26 p.m.
IMDB Profile
People's timeline of his life
Daughter Matilda born in October 2005
A fansite
Heath starred in "Candy", a movie about heroin use.
Heath went to rehab to learn about drugs for "Candy"
The body bag leaving, as streamed live over the internet at 6:30 pm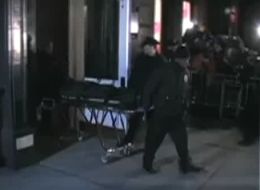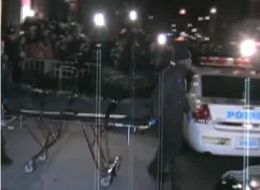 Heath Ledger as "The Joker" in the upcoming Batman movie, which is now in post-production: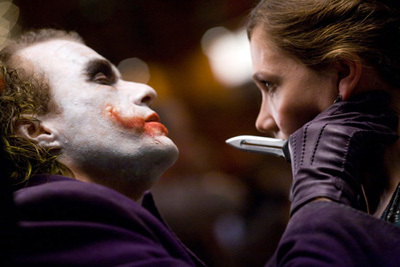 At the Venice Film Festival 3 months ago: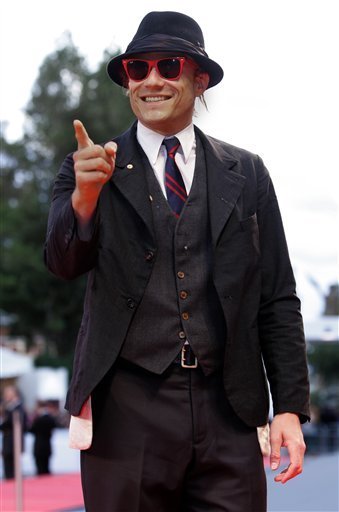 With then-fiancee Michelle Williams at the 2006 Oscars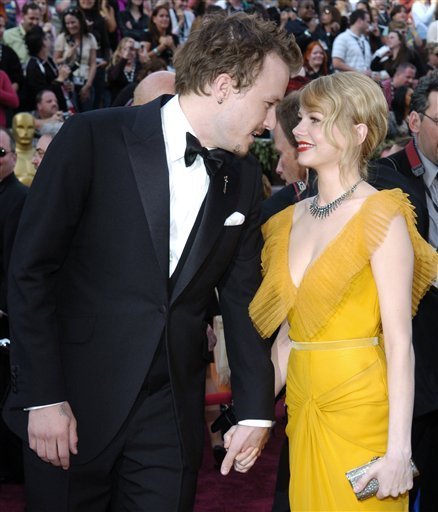 MORE:
Michelle Williams
,
Heath Ledger
,
The Olsen Twins
,
The Dark Knight
,
Heath Ledger Death
,
Heath Ledger Dead
,
Heath Ledger Died
,
Heath Ledger Dies
,
Matilda Ledger
,
Keith Ledger Dead
,
Heath Ledger Overdose
,
Heath Ledger Pills
,
Gemma Ward
,
Heath Ledger Autopsy
,
Heath Ledger Suicide
,
Heath Ledger The Imaginarium Of Doctor Parnassus
,
Heath Ledger Pictures
,
Heath Ledger Photos
,
Heath Ledger Heroin
,
Matilda Ledger Photos
,
Heath Ledger Pneumonia
,
Mary Kate Olsen Heath Ledger
,
Heath Matilda Ledger Pictures
,
Heath Ledger's Parents
,
Mary Kate Heath Ledger
,
Matilda Ledger Pictures
,
Diana Wolozin
,
Teresa Solomon
,
Sophie Ward