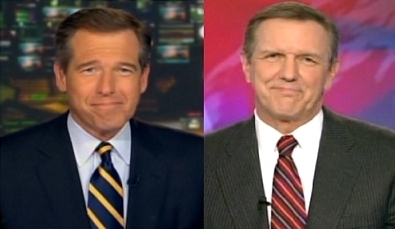 Drama! Conflict! Neck-and-neck competition! No, it's not the campaign (Mitt vs. McCain! Hillary vs. Obama! Rudy vs. The Worst Campaign Strategy Ever!) — it's that other heated battle for #1: The Nightly News Wars.* The past year has been spent in heated battle between NBC's Brian Williams and ABC's Charlie Gibson for the the number-one newscasts. The backstory can be found here, but all you need to know is that Gibson edged Williams for the top stop in 2007, but Williams has been on top for most of the past three months and for the past eight week straight. That all ends today with the release of Nielson data showing Gibson taking the last week in ratings, winning total viewers, households and the always-coveted 25-54 demo.
ABC had 9.81 million viewers to NBC's 9.64 million, with Katie Couric's "CBS Evening News" bringing up the caboose as usual with 7.13 million viewers (perspective: 170,000 viewers separate Williams and Gibson this week; 2.51 million separate Couric and Williams) (but, more perspective: Couric has broken 7 million a few times in recent weeks, which is a new high-water mark for the last ratings-challenged year at CBS). For the top two contenders, though, this week will no doubt mark the beginning of a renewed competitiveness for two broadcasts which have each lately touted themselves as "America's #1 Newscast." For ABC, the revisited taste of victory must feel very nice indeed; for NBC, who wrested the top spot back after losing it for some long, scary months, they aren't going to want to give it up again. Drama! Conflict! Neck-and-neck competition! We'll see what happens next week.
Evening News Ratings [TVNewser]
Anchor Wars: Williams And Gibson End The Year Neck-And-Neck [ETP]
*Sorry for being so melodramatic here, Jon Meacham told me to.

SUBSCRIBE TO & FOLLOW THE MORNING EMAIL
Start your workday the right way with the news that matters most. Learn more