Bill Clinton: Fix Bush Education Law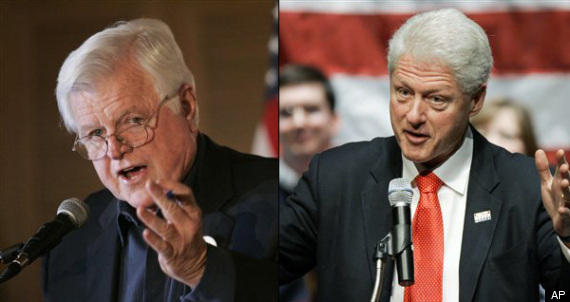 TEMPE, Ariz. — Former President Clinton said that if his wife is elected president she would radically change the "No Child Left Behind Act," which he described as an education disaster initially supported not only by President Bush, but liberal icon Ted Kennedy.
Clinton's association of Kennedy with the No Child Left Behind Act _ a federal education law unpopular with public school teachers, a key Democratic party constituency _ came just days after the Massachusetts senator passed over Hillary Rodham Clinton to endorse her rival for the Democratic presidential nomination, Sen. Barack Obama.
"I want you to think about this, and I have to say, this was a train wreck that was not intended. No Child Left Behind was supported by George Bush and Senator Ted Kennedy and everybody in between. Why? Because they didn't talk to enough teachers before they did that," Clinton told more than 2,400 people in a speech Thursday night at Arizona State University.
Hillary Clinton, a New York senator, also initially supported the No Child Left Behind law but has since said it has not been properly financed or run, and should be replaced. She has proposed $10 billion for universal preschool, more money for special education, and incentives for teachers who work in places and on subjects where shortages exist.
Obama, an Illinois senator, has said he also would change No Child Left Behind "so that we're not just teaching to a test and crowding out programs like art and music." He has also said he would encourage but not require universal pre-kindergarten programs, expand teacher mentoring programs and reward teachers with higher pay not tied to standardized test scores in an $18 billion plan to be paid for in part by delaying elements of moon and Mars missions.
Bush modeled the federal No Child Left Behind Act on a Texas education law adopted while he was governor. It aims to prod low-performing schools to improve by tying government aid to performance standards.
"The idea was we will increase funding to the schools _ which they did once but they didn't continue it, so they made it an unfunded mandate," Bill Clinton said, adding that the law also did away with programs from his administration that were helping to modernize old schools, build new schools to alleviate overcrowding and provide after school care.
Instead, the Bush law requires "our kids take five tests five years in a row," but allows school districts to "pick the test and the passing score, so you wound up with the worst of all worlds ... You could wind up lowering the quality of education," Clinton said.
Copyright 2013 The Local Paper. All rights reserved. This material may not be published, broadcast, rewritten or redistributed.