[Note: Headline updated. See end.]
The Clinton campaign convened a conference call with health policy experts to denounce Obama's new mailer (.pdf), which attacks Clintons plan for "forcing" Americans to sign up for insurance, and which features a couple at a kitchen table that recalls, for some, the famous insurance-industry financed "Harry and Louise" ads against the original Clinton plan.

"I am personally outraged at the picture used in this mailing," said Len Nichols of the New America foundation, a leading supporter of mandatory insurance, who called it a "Harry and Louise evocation."

"It is as outrageous as having Nazis march through Skokie, Illinois," Nichols said. "I just find it disgusting that this kind of imagery is being used to attack the only way to get to universal coverage."

[Update: At the end of the call, Clinton aide Howard Wolfson disavowed the Nazi reference, saying the campaign didn't think it was appropriate, though he acknowledged the passions the issue stirs.]
Len Nichols served as the liaison between President Clinton's budget office and Mrs. Clinton health-care task force.
Here's the image in question: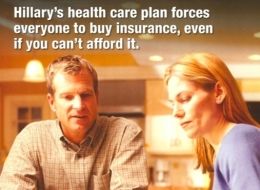 Sorry, but this is just destructive -- like the Obama plan, the Clinton plan offers subsidies to lower-income families. And BO himself has conceded that he might have to penalize people who don't buy insurance until they need care. So this is just poisoning the well for health care reform. The politics of hope, indeed.
But Obama adviser David Axelrod defends the ad: "He called the image 'standard,' and defended the argument against the plan. He also dismissed the suggestion that this mailing is similar to Clinton attacks that Obama has denounced. 'Ours is based in fact and theirs is based in fabrication,' he said."
Update: Both the Clinton campaign and Len Nichols have released statements.
Earlier today, the Clinton campaign held a conference call to discuss
the Obama campaign's negative health care mailer, which is reminiscent
of Harry and Louise ads used by industry to defeat universal health care
in the early 1990s. At the end of the call, Howard Wolfson made the
following statement:

"I heard someone make a reference to a march in Skokie in comparison to
the photograph in the mailer which is not a comparison that we would
make. And everyone on the call is obviously very passionate about this
issue, and rightfully so, but that is not a comparison that we would
make."

These remarks were made by a health care expert unaffiliated with our
campaign. They were totally inappropriate and the campaign rejects them
completely.
Len Nichols, via the New America Foundation:
Len Nichols, Director of New America's Health Policy Program, stated, "For nearly 17 years I have worked tirelessly to reform our nation's struggling health system. Today my passion overwhelmed me. I chose an analogy that was wholly inappropriate. I am deeply sorry for any offense that my unfortunate comments may have caused. I made unfortunate comments that do not accurately reflect my bipartisan conviction, political philosophy, or most importantly, my opinions about Senator Obama and his historic campaign for the United States presidency."

"While I have consulted with seven former and current presidential candidates, I am not affiliated nor a surrogate for the Clinton campaign, or any other campaign."

"I wholeheartedly appreciate Senator Obama's concern for Americans struggling to afford health insurance and I admire his amazing ability to inspire the nation. In fact, it is my own moral and religious convictions that lead me to believe that it is necessary for our country to guarantee quality, affordable health insurance for all Americans. My foremost priority is to advance the health reform debate by protecting a fact-based discussion."

"The New America Foundation is a non-partisan think tank, that does not endorse or advise any campaign in an official capacity " said Steve Coll, New America's President and CEO. "Len's decision to participate in the call and his comments on the mailer are regrettable. Len is passionate and committed to reforming health care in America, and I know that he sincerely regrets these unfortunate remarks."
Note: The original headline for this post described Len Nichols as a Clinton "backer" -- he has consulted with Clinton's campaign (and several others) but is officially unaffiliated in he race.
FOLLOW HUFFPOST