Some Top Clinton Backers Worry Campaign Is "Slipping Away"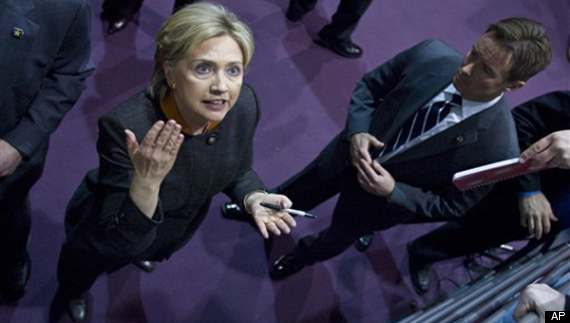 UPDATE: The New York Times reports that after a "buck-up-the-troops" conference call on Monday, some superdelegates supporting Clinton are now wavering:
Senator Hillary Rodham Clinton and her advisers increasingly believe that, after a series of losses, she has been boxed into a must-win position in the Ohio and Texas primaries on March 4, and she has begun reassuring anxious donors and superdelegates that the nomination is not slipping away from her, aides said on Monday.


Mrs. Clinton held a buck-up-the-troops conference call on Monday with donors, superdelegates and other supporters; several said afterward that she had sounded tired and a little down, but determined about Ohio and Texas.

They also said that they had not been especially soothed, and that they believed she might be on a losing streak that could jeopardize her competitiveness in those states.

"She has to win both Ohio and Texas comfortably, or she's out," said one superdelegate who has endorsed Mrs. Clinton, and who spoke on condition of anonymity to share a candid assessment. "The campaign is starting to come to terms with that." Campaign advisers, also speaking privately in order to speak plainly, confirmed this view.

Several Clinton superdelegates, whose votes could help decide the nomination, said Monday that they were wavering in the face of Mr. Obama's momentum after victories in Washington State, Nebraska, Louisiana and Maine last weekend.
++
Democrat Hillary Rodham Clinton said Monday that the replacement of her campaign manager reflected a need to add more people to her campaign staff.
Former campaign manager Patti Solis Doyle will remain a trusted friend and adviser, Clinton said.
"There is just too much to be done, so we had to add some more people. There really is not significant change, we really just got to get more help, we just don't have enough help," Clinton told a Chicago television news crew. Solis Doyle is a Chicago native.
Maggie Williams, a longtime Clinton confidante and former chief of staff from Clinton's days as first lady, replaced Solis Doyle.
Keep reading.
According to Marc Ambinder of Atlantic.com, Hillary Clinton didn't know about her campaign's financial straits until after the Iowa caucuses. The Chicago Tribune goes further to charge that then campaign manager Patti Solis Doyle had been "lying" to Hillary about her campaign's financial situation. Ambinder also points out another campaign problem that appears to be solved by this weekend's staff shakeup: Maggie Williams planned to leave the campaign if her role in the chain of command was not "clarified."
Clinton herself was not informed that the campaign was in dire financial straits until after Iowa, one adviser said. For two days, Bill Clinton camped out in the campaign's Ballston, VA headquarters and poured through the numbers with Williams and other aides. Aides and advisers say that Clinton's decision to lend herself money was not made by consulting members of the senior staff and was relayed to them after-the-fact.

The relationship between Maggie Williams and Patti Solis Doyle has been described as close but acrimonious, akin to two longtime friends who have the same goal in mind but argue about how to get there. They have argued in private, and increasingly, in public settings.

Two sources said that Williams last week threatened to leave the campaign -- she had only been on a 30-day consignment -- unless the chain of command was clarified -- what one person privy to the threat called "a mutiny."
Want to know more about Hillary's new Chief of Staff Maggie Williams? Read Arianna's blog here.
Read about more about the events surrounding the shake up this weekend and Solis Doyle's letter to Clinton campaign staff.