Just a quick post to wish celebrating ETP readers a very happy Passover, filled with delicious treats like croissants and pastries and rice and beans. Just kidding, matzah will never taste better than it will tonight so go have fun, enjoy some quality Manischiewitz and make a few "shank bone" puns if you're feeling saucy (I'm sure this year someone will make a Spitzer-related joke about exactly what the Israelites experienced in the House of Bondage). Or, er, maybe that's just me. In any case, the Pope is having quite a few historic meetings on this visit and the latest was to visit the Park East Synagogue in Manhattan, becoming the first pope to visit an American synagogue, and thus the first pope to take home a goody-bag of matzah and a seder plate. Said the pope: "I find it moving to recall that Jesus, as a young boy, heard the words of Scripture and prayed in a place such as this." What a great gesture on this holiday. Take that, Mel Gibson. ETP wishes you, the pope and everyone else a wondeful Passover with delicious and joyous seders tonight and tomorrow night, and a wonderful week of leftovers/creative ways to eat matzah/celebration! Next year in Jerusalem, or wherever makes you happy.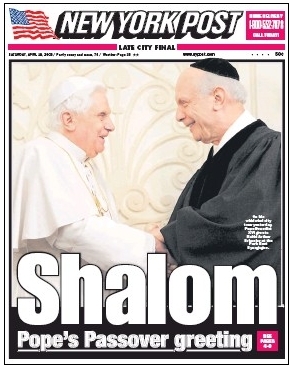 SUBSCRIBE AND FOLLOW
Get top stories and blog posts emailed to me each day. Newsletters may offer personalized content or advertisements.
Learn more