Obama, McCain Will Fight Over Mountain States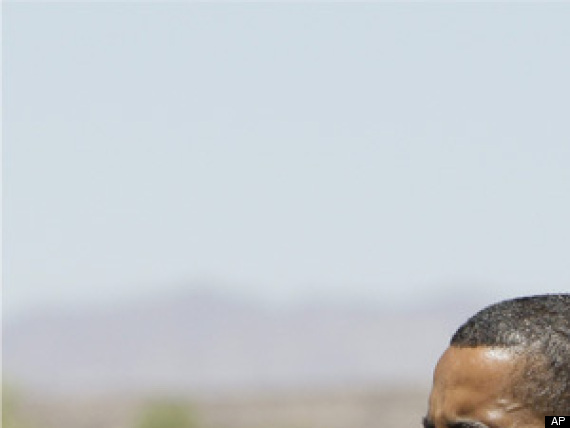 WASHINGTON — Democratic presidential candidate Barack Obama set his sights on the West on Tuesday, saying he will fight for states there that narrowly voted Republican in the last presidential election four years ago.
Obama, the Democratic front-runner, and presumptive Republican nominee John McCain were trading barbs as they began crisscrossing three western states that are likely to be pivotal battlegrounds in the November general election: New Mexico, Nevada and Colorado. President George W. Bush also was traveling west to raise funds for McCain and the Republican Party.
The two candidates recently have largely ignored Hillary Rodham Clinton, Obama's long-shot rival, who on Monday wrapped up three days of campaigning in Puerto Rico. The territory's primary on Sunday is one of just three left as the intense months-long battle for the Democratic presidential nomination winds down and Obama looks to be the inevitable nominee.
Obama is just 49 delegates short of the 2,026 needed to win the Democratic nomination. Clinton is trailing and has almost no chances of getting the nomination.
On Tuesday, Obama was heading to Nevada for campaign events in the Las Vegas area, where he was expected to focus on economic issues. In April, Nevada posted the worst foreclosure rate in the U.S., with one in every 146 households receiving a foreclosure-related notice, nearly four times the national rate.
McCain was scheduled to speak in Denver on Tuesday before heading the following day for a town hall meeting in Reno, Nevada. Obama was heading to Colorado later in the week.
Bush on Tuesday was setting out on a three-day western trip that will include one closed fundraiser with McCain in Phoenix and two in Utah. McCain and Bush are to appear together only briefly in public for a photo at the Phoenix airport.
The event marks the first time Bush, whose popularity has sagged to record lows, will appear with McCain since he endorsed him at the White House nearly three months ago.
Obama was signaling, even before the Democratic primary campaign formally wraps up, that he will campaign hard for those western states that the Democrats narrowly lost in the race between Bush and Democrat John Kerry in 2004.
Obama said he needs to introduce himself to voters there. Issues like improving the economy, ending the Iraq war and providing universal health care will appeal to everyone, he said.
McCain, who represents the western state of Arizona in the Senate, said Obama "has no experience, no knowledge or background" on the region's issues.
Together, the three states account for only 19 of the 270 electoral votes needed to win the White House. But those votes could be vital in a close race, particularly if Obama's weakness among white, working-class voters carries over from the primary race with Clinton and cuts his chance of winning some other states where Democrats usually do well.
The Obama campaign hopes that anger at Bush, combined with changing demographics as new voters move to the region, will nudge the states into the Democratic column.
On Monday, McCain and Obama, at separate events in New Mexico, highlighted their differences over the Iraq war. Polls indicate most Americans oppose the war. The conflict has been overshadowed by economic concerns on the campaign trail, but could be a defining issue in the presidential election.
McCain used the occasion of Monday's Memorial Day holiday _ which honors fallen troops _ to criticize Obama for not having been to Iraq since 2006. He also portrayed the first-term Democratic senator as naive on foreign policy and not experienced enough to lead the military, as the U.S. president is required to do.
Obama acknowledged that unlike McCain he has no military experience, but said he is committed to strengthening the military and improving veterans' services.
McCain, a Navy veteran and Vietnam prisoner of war, supports a continued military presence in Iraq though he recently said he envisions victory with most U.S. troops coming home by January 2013 if he is elected. Obama says he will remove U.S. combat troops within 16 months of taking office, though sometimes he shortens it to 11 months.
In the interview with AP, McCain noted that Obama's last trip to Iraq came before last year's military buildup that is credited with curbing violence, and said the Democrat's call for withdrawal is "inexcusable." McCain has been to Iraq eight times, most recently in March.
Obama spokesman Bill Burton declined to respond directly to McCain, saying it was a day to honor veterans, not for "political posturing."
In his speech to veterans, McCain distanced himself from the Bush administration's handling of Iraq, acknowledging that Americans are unhappy with the war, but arguing that U.S. commanders in the war torn nation need more time. If the U.S. were to pull out now, "our defeat would be catastrophic, not just for Iraq, but for us," he said.
Clinton on Monday wrapped up campaigning in Puerto Rico, where she hopes for a big primary victory Sunday. On Tuesday, she was heading to Montana, which along with South Dakota, hold the last primaries on the Democratic calendar June 3.
Some prominent Democrats have been calling for her to step down, fearing that a long nomination battle might ruin the party's chances in the general election.
The former first lady spoke of her determination to stay in the race despite trailing Obama, who has 1,977 delegates, just 49 delegates short of the 2,026 needed to clinch the nomination. Clinton has 1,780.
But only a total of 86 delegates are at stake in the last three remaining primaries.
Copyright 2014 The Local Paper. All rights reserved. This material may not be published, broadcast, rewritten or redistributed.