Brad Pitt Buys $293,000 Table At Art Basel (PHOTO)
Brad Pitt was in Switzerland Tuesday attending Art Basel. Perhaps he was shopping for pregnant partner Angelina Jolie's birthday, she turns 33 today, as he dropped a pretty penny on a hollow marble table (scroll for picture). He also bought an aluminum thread rug for an unspecified amount.
Bloomberg reports:
The film star paid 150,000 pounds ($293,000) for a hollow white marble rococo-style table by the Dutch designer Jeroen Verhoeven at the booth of the London-based Carpenters Workshop Gallery, Director Loic Le Gaillard said in an interview today.

``Most people come to Basel to look at contemporary art, but it's completely overwhelming,'' said Le Gaillard. ``Then they come to the design fair and it's quiet. They can see contemporary works that are affordable and refreshingly accessible.''

Pitt's 4-foot-long ``Cinderella Table,'' from an edition of six, is hewn from a solid block of Carrara marble. Another version of the table was among 16 pieces that the gallery had sold by the second afternoon of the fair, said Le Gaillard.

Pitt also ordered a rug made of aluminum thread from New York dealer Cristina Grajales, said director Elizabeth Murphy. The ``Silver Sky'' rug, created by Colombian designer Jorge Lizarazo and woven by the Colombian-based studio Hechizoo, will be priced at a rate of $175 per square foot, said Murphy. The exact dimensions of the star's rug had yet to be specified, she said.

Pitt was also interested in a gold lacquer-coated Fiberglas sofa by Zaha Hadid, offered by London-based dealer Kenny Schachter at $300,000.

``He's thinking about the piece,'' said Schachter.
According to Us, he also bought chairs and a lamp:
He bought two bronze chairs designed by Max Lamb (at $25,000 a pop!), a fair attendee tells Usmagazine.com.

He also scored a foam and fiberglass "Family Lamp" (see left).
Pitt's new table: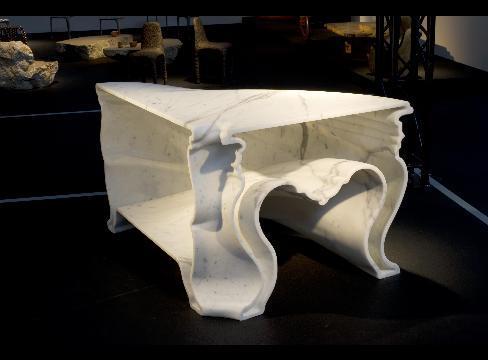 And lamp: